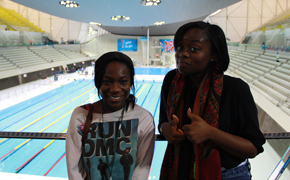 Fresh from their success as guest bloggers on the Guardian website, where they discussed whether young locals should have got priority for Olympic tickets, two of our young Social Media Journalists, Kimberley Nyamhondera (above left) and Bianca Manu (above right) were invited by BBC World Service to take part in live TV and Radio interviews.
They enjoyed poolside views of Tom Daley as he rehearsed the first 'official' dive for a special evening broadcast, and were made to feel at home in the buzz of excitement of the media area, mingling with the BBC London team, as they prepared for live broadcasts throughout the afternoon.
Kimberley Nyamhondera on BBC World News from A New Direction on Vimeo.
The Social Media Journalists are part of Headstart, A New Direction's programme for young Londoners (aged 15-25) preparing for creative and cultural employment. They are a group of young Londoners using social media to report on their city as it prepares to become an Olympic city in London 2012.

The group receives training and experience in all aspects of social media journalism from A New Direction and Broadcast Journalist, Multi-Media Producer and Creative Learning Consultant, Fran Plowright.