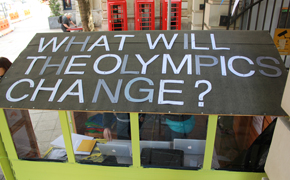 The aim of Shedspace was to produce an inclusive, quirky and fun event which introduces audiences to an unexpected Stratford. SHEDS appeared in and around the town centre each containing a different idea or experience …… a performance, a game, a feast, a story, with each shed developed by a different Stratford Rising organisation, artist or community.
Over the course of the day, our group of young Social Media Journalists interviewed people in the Media Hub to find out how they feel about the upcoming London 2012 Olympic and Paralympic Games, what they are expecting, how it might impact on their lives and what they are looking forward to.
Our Olympic researcher and blogger, Charlie Tims supported proceedings within the shed, following on from his recent stint hosting 'School of Research' as part of A New Direction's London 2012 inspired festival 'BigLopFest'.
Find out more about the day by reading their blog posts: