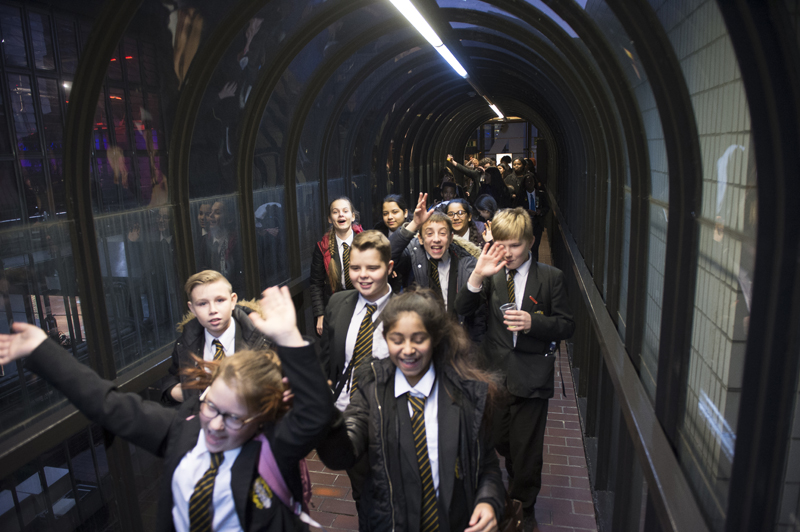 Photograph by Roger Brown
The power of partnerships has always fascinated me. Greater results can be achieved in a much shorter period of time with fewer resources by utilising smart allocation of time, mastering outsourcing and being strategic with funds.

In the last few years, most of my work has involved partnership working, so when asked me AND to lead the Museum's Learning Group working with 23 Museums to share learning, collaborate and pilot an Arts Award Discover programme and resource, I jumped at the chance. This work is part of the ambitious Museums and Schools programme that has been supported by A New Direction for several years now.

It's a difficult time financially for both schools and organisations, so joining forces is clearly the way forward. Modern school pressures often push arts and culture to the bottom of the list, and time for 'anything extra' is rare. Many schools and organisations are interested in engaging with Arts Award but this is often easier said than done, especially when they are just starting out and are unsure where to begin.

Having learned the hard way myself over the years, I am passionate about sharing my top tips and tricks - some smart ways of making life easier but without compromising the quality of the delivery.

Museums want to attract children, young people and schools but many of our museum teams are shrinking and so are their financial resources. Capacity to run Arts Award as a centre can be limited for an organisation, but if you get it right, a strong supporter offer as a base and starting point is totally manageable.

What works?
Share the workload
Learn from each other
Get support from experienced colleagues - it will fast track your progress
Put resources into excellent planning rather than delivery at first
Plan well and (almost) everything falls into place (eventually)
Test, reflect, adjust, repeat
So this is exactly the approach the Museums learning Group took with the support of A New Direction. By working in partnership and with the support of the bridge we were able to design a programme that all can use.
Our process
Audited each organisations understanding of Arts Award and their delivery
Looked at resources that already existed
Learned from the Greenwich Maritime Museum and their 'Discover' resource
Did some thinking around what would make a museum-specific Discover
Asked colleagues to test the Discover parts in a real museum, took their feedback… and went back to the drawing board
Brainstormed as a group about what we would like the resource to look like
A core team of experienced Arts Award and Museum colleagues designed the resource
A core group was consulted and the resource was edited (many times!)
We put together a supporting leader's pack which was also edited (many times!)
A Museum staff support session co-led by Trinity College London/Arts Award on their overall supporter offer is scheduled for January 2017
A Teacher support session prior to taking their students for the visit with all teachers involved in the pilot is scheduled for January 2017
Pilot visits and Discover assessment/certification in February /March 2017
Evaluation and next steps


Top 3 challenges
1) What was bothering me for a good while was the question of how we create a resource that is flexible enough to be used in a variety of settings, but which is museum-centric, has the right amount of specificity to support the facilitator and/or teacher, and is also flexible enough to be adapted. For a while this seemed like an unsolvable challenge!

2) Museums and heritage sites are full of stories about people and places - revealing worlds and unlocking stories that inspire. As an experienced adviser I know that any collection object, historic site or story can be a catalyst for creative work - even when the collection is not arts based. As a group, overcoming the difficulty of making connections between Arts Award and museum collections was an interesting challenge. Unpicking preconceptions, thinking about the use of language and rethinking the perspective when designing the programme were key

3) Practical and logistical considerations created an interesting creative challenge for us. For example, how large or small should the student logbook be?...

The student logbook
The student log is designed around the idea that art is all around us in objects, buildings, writings and displays. What we tried to do with the programme is inspire true cross-disciplinary exploration for children and their teachers and facilitators. So even if a school books a visit with a humanities focus, for example, a wider exploration can be facilitated by combining it with an Arts Award.

The student log is a tool for creative thinking, logging ideas and findings and of course collating evidence for assessment purposes. We wanted the logbook to be inspiring in itself. The A3 double sided student log can be folded in a number of ways to allow flexibility of delivery. We have incorporated an option to fold the A3 student log into an arrow (we called it the Museums and Heritage Arts Arrow). The arrow can be used as a physical tool to identify arts forms (for part A) and spot objects whose makers the children will find out about (for part B).

The leader resources are designed in a way that can be used by Museum staff, school staff or a combination.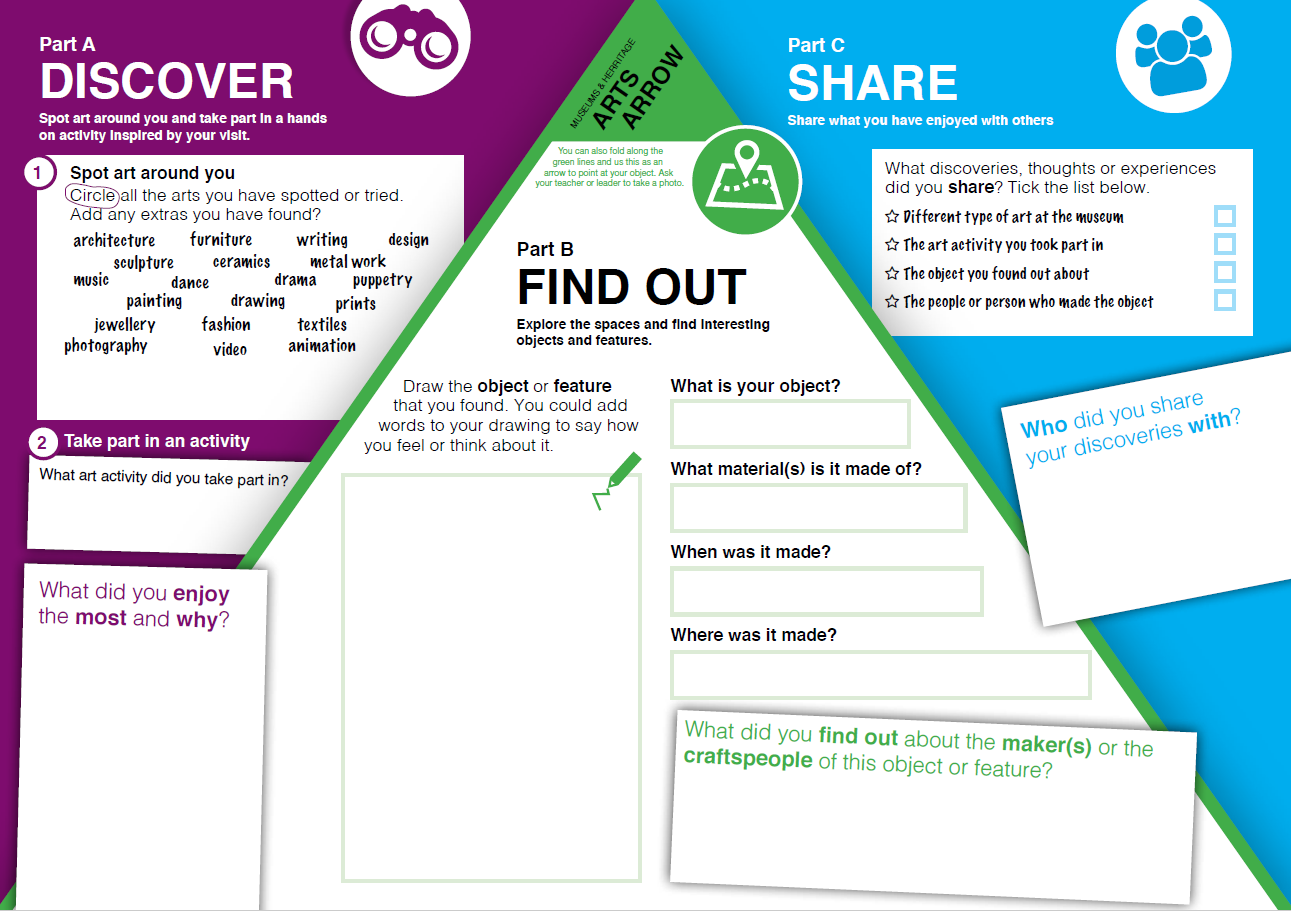 (Above: graphic of the student logbook)

What next?
For the next phase, we will pilot a Discover programme for 10 primary school groups (300 children) and will distribute copies of the resource to interested museums. Each museum will produce a help sheet that will accompany the student log book and the leader pack that can be used to support the specific visit and will highlight spaces, objects, collections and makers that lend themselves to a 'Discover' journey. The idea is that eventually this toolkit will be offered in a downloadable PDF form.

As a lead adviser for this pilot, I will asses the work of all 300 students (lucky me!) and a range of delivery models will be explored past this phase.

If you are a school or a London Museum that would like to find out more about the programme and the resource please click here, or get in touch with Louise Barnell - Arts Award Programme Manager at A New Direction: Louise.Barnell@anewdirection.org.uk.

I owe special thanks to Ruth Clark, Caroline Bray, Rachel Crofts, Tanya Harris, Tim Reed, Anthony Ruck and Louise Barnell. Their input, support and expertise have been key to this work.
---
Francesca Gkotsi is a cultural producer and Arts Award adviser. Fran supports cultural organisations, schools, business and the public sector to curate programmes that allow under 25s to access a rounded and up to date educational experience.