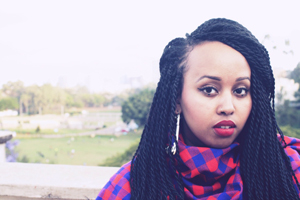 (Photo: Current Young Poet Laureate for London, Warsan Shire)
The search is on for the next Young Poet Laureate for London to follow in the footsteps of celebrated poet Warsan Shire, whose work For women who are 'difficult' to love was recently named as one of the '50 great modern love poems of the last 50 years'.

The Young Poet Laureate 2014/15, selected from a shortlist of six, will be announced on National Poetry Day on 2nd October, and will go on to benefit from a whirlwind year of superb development opportunities, a high profile platform for their work and commissions worth at least £7,500. Acting as a voice for young Londoners, they will advocate for poetry as an art form and be a positive role model for young poets, providing comment and reflections on current events.
The role of Young Poet Laureate for London was established in 2013 through Spoke; a visionary spoken word programme commissioned by Queen Elizabeth Olympic Park as part of its commitment to supporting arts and culture in and around east London. Spoke is managed by A New Direction, and delivered by leading poetry and spoken word organisations, Apples & Snakes, Spread the Word and Discover. The programme comes to an end in October 2014, when The Legacy List will support Spread the Word to continue the Young Poet Laureate for London programme for 2014-15 and beyond.
Warsan Shire, who was announced as Young Poet Laureate for London, by Carol Ann Duffy at the Houses of Parliament in October 2013, said:
'Being Young Poet Laureate for London has been an incredible experience. It has been challenging, humbling and rewarding. I've had really beautiful moments connecting with Londoners over the transformative power of poetry. It has beentruly inspiring and I'm excited about the way it has informed and accelerated my work as a poet.'
Warsan will be undertaking a two-week residency in the Poetry Potting Shed at Queen Elizabeth Olympic Park, from 17th - 31st July, as part of her role as Young Poet Laureate for London.
Applicants must be 18-25, and applications close on 19 August at Midday. Visit the Spread the Word website for details of how to apply
---
Like this blog?
We send out a monthly digest of all our blogs, news and updates - sign up here to receive straight to your inbox - www.anewdirection.org.uk/newsletter

You can also follow us at @A_New_Direction