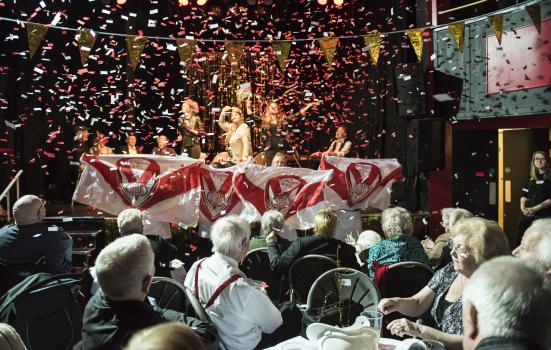 Researchers sing praises of Creative People and Places
A three-year evaluation has commended the Arts Council England programme as a source of learning for community arts, but raised concerns about its long-term sustainability.
Academic warns of crisis in arts education
GCSE pupils are choosing not to study art and design becasue of government messaging around the EBacc, a survey of Norfolk schools has suggested.
London named live music capital of Europe
The UK capital is by far Europe's biggest city for live music with what mayor Sadiq Khan calls its "world-class" venues hosting 19,940 shows in 2016 alone.

Teenagers launch seven-point pledge for future of London's Yard Theatre
A committee of young people has created a manifesto for London's Yard Theatre that will directly impact the venue's future programming.
Lily Allen among ambassadors for theatre project tackling cyber bullying
The Cyberscene initiative supports young people who have been affected by cyber bullying through a series of theatre workshops in London.
ROH to offer £10 tickets for those prepared to sit on the floor
New artistic director Oliver Mears is reviving Proms concerts at Covent Garden following a break of 30 years. Stalls seats will be removed for the opera house's most popular productions, creating space for audience members to stand or sit.

RSC chooses female directors for all plays in summer 2018 season
Royal Shakespeare Company's artistic director says decision to name first ever all-woman lineup was not a deliberate act.
British Library announces Season of Sound
The British Library is to celebrate its sound archive, which contains over 6.5 million recordings, with a Season of Sound.
---
EVENTS
Keeping Creative Conference - 10 October
Now is a time of increasing practical and financial challenges for London schools. So how can teachers, leaders and the cultural sector continue to provide a balanced, broad and diverse education rich in arts and culture, for children and young people in London?
Join us along with compere for the day, leading storyteller Jan Blake, and keynote speaker Ross McGill - founder of Teacher Toolkit, one of the most popular education websites in the U.K - to find out more.
Teachers - book your free place here
Organisations - book your free place here
London Design Festival - 16-24 September 2017
London Design Festival celebrates and promotes London as the design capital of the world. Now in its fifteenth year, the Festival will be returning to venues and institutions across the city between the 16-24 September 2017.
Too Young for What? - 07 October
Too Young for What? provides opportunities to develop young people's creativity and showcases a range of new work with and by young people from across east London and beyond.
Photo credit: Stephen King via Arts Professional