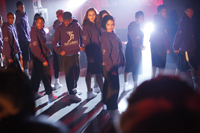 Trinity College London and Arts Council England are working together to provide new levels to the current Arts Award framework that will address the demand for opportunities for young peoeple to explore the arts and gain a qualification at a younger age than currently set.
Through the new Arts Award 7-11, children aged 7-11 will be able to:
explore connections between the arts and their worlds
learn new arts skills
investigate artists and arts organisations
Since 2005, the Arts Award has targeted young people aged 11-25 interested in gaining qualifications at three levels from Bronze and Silver up to Gold.
Prior to the launch in 2012, a pilot programme will take place nationally with a view to delivering the Arts Award in a wide range of settings including schools, arts organisations and non-formal education service providers.
Please note the deadline for pilot programme applications is Thursday 7th April 2011.
More information about the Arts Award 7-11 and applying for the pilot programme can be found on the Arts Award website.