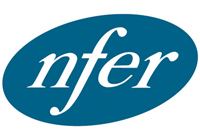 We are particularly interested in what kind of partnerships they have with artists or cultural organisations and what motivates them to develop those opportunities. At A.N.D we have good relationships with a lot of schools but there are nearly 3000 schools in London – more if you include independent schools – and we don't know them all.

With this research we are hoping to get a better picture of who is doing what from a schools perspective and hopefully generate some useful intelligence that we can use to guide and prioritise our work.

NFER are undertaking the research and to start the process we asked them to conduct a literature review – or Rapid Evidence Assessment. We needed to be sure that we really needed to conduct new survey. As a sector we have a lot of intelligence and research and yet we still struggle to feel like we really have answers to the right questions at the right time.

Our review shows that whilst we have lots of impressive material on the impact of arts and culture within the lives of young people what we don't have is any valid benchmark regarding schools at a regional level. Schools are 'the most important site' for cultural engagement (as described in Henley) yet we know relatively little about what approach individual schools take and how this adds up over a whole city.

We know there are big variations – 10% of all secondary schools responding to the GLA music survey account for 40% of all young people taking music qualifications at KS 4 and 5. Why is it that Harrow has the most Artsmark schools in London and Haringey the least?

We know quite a bit about the motivations for schools to develop their cultural offer. And perhaps most usefully we know that 'uncertainly' about the value of cultural engagement in terms of attainment is a significant barrier. In fact the REA makes a strong case for the importance of simple enabling factors such as better information and making it easier to timetable the work as having a big impact on outcomes. It may well be that we could support far more engagement with those schools and teachers who know the value of cultural engagement but need it to be easier to do.

Overall, we hope that when we put the lessons that the evidence already tells us together with the specific schools based segmentation we will get from our survey we will have the basis for making powerful and meaningful decisions about how to support and influence schools better. And this should mean we have more young people getting a brilliant cultural education in London.
Download the documents to read about the research progress.
Download London Schools Research Paper 1 Key Messages from (811.81 kB Pdf)
With the excellent work with President's Committee in the States has done on unpacking the evidence and with a new landscape in terms of policy in the UK it might be an interesting time to review our evidence needs as a sector – do we still need advocacy material? In which case how would this be different to what we have now? Do we need more 'how-to' type support rather than advocacy? Should we start investing in long term outcomes/life chances research? Would love to know your views…