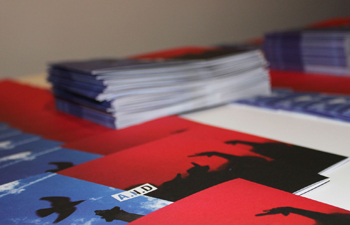 When I moved to London in 1989 to be the Outreach Worker for Theatre Venture, my office was in a building called the Engineers Building, on the Royal Victoria Dock in Custom House. The area was in decline, the landscape was bleak, derelict and largely a post industrial back drop for Derek Jarman films. There was no City Airport, no Jubilee line, no DLR, Canary Wharf was slowly rising in the distance, Hoxton and Shoreditch were "no go" parts of the city, the Royal Opera House had not been renovated and was then perceived as totally exclusive, - Tate Modern was a former power station in need of a new role – and now it is the most visited cultural venue in Europe.
The London we live in now is a very different place - in the last 25 years we have seen extraordinary change in the physical infrastructure of the city - it has been transformed, we currently have thriving arts and creative industries – a 6th of our economy is generated by creative people – and London is a global cultural centre.
The state education system 20 years ago had a reputation for chaos and failure – particularly in London. Then there was no concept of Academies, Free Schools or Studio Schools – no one ever considered local education authorities could outsource their education offer – we now have the most diverse education offer in the country.
After ten years of investment and innovation in our schools - London schools are now out-performing the rest of the country. We also see change in how we understand the city and its needs.
But while we have seen progress and success there is still huge inequality. Despite potential for work London still has higher youth unemployment that the rest of the UK. 1-4 young people are still not achieving an A-C grade at GCSE. The EMA has gone, the rises in tuition fees - particularly for arts subjects and cuts to youth services are making it harder for young people to access arts and creativity on their own. Pressure to focus on EBac subjects and structural changes to schools mean teachers are not always supported to focus on the creative education of their young people.
What this means is advocacy is not finished – yes some of the arguments for why children should have access to the arts and culture as part of their lives – are better understood and have more cross party support than they did when I started my career – but this does not mean everything is sorted, resolved or the argument has been won.
For every enlightened head teacher able to see how creativity in the curriculum can help them achieve all of their goals – there are many more struggling to provide sufficient provision. Yes, arts and cultural organisations are doing some fantastic work with young people – but there are large areas of the city that aren't really benefiting from this and there is still work of variable quality. As the economic situation kicks in and changes to government policy are implemented – it is really important we don't go backwards.
We still have much to learn – particularly around how young people define and participate in culture – the riots across the city last summer were a reminder that there is much about young people's lives we still need to learn and understand
Our new Bridge role is an opportunity to speak up for the importance of arts and culture and the lives of young Londoners. We believe that London has the potential to be the best city in the world to have a creative childhood. There is so much opportunity here that we need to set ourselves a higher standard. Raise our game – look at what is working – come together, regroup and represent.
But we can't do this alone.
We see the 'Bridge' as being as a collaboration of organisations and individuals committed to the importance of arts and culture in the lives of young people. We BELIEVE there is a real urgency to this – we welcomed the Henley Review and its clear articulation of what young people should have access to at every key stage – but we have over 1 million young people in London state schools at the moment – how many of them truthfully get access to a diverse creative and cultural education and what is the quality like?
The Mayor's Inquiry into Education in London is looking at the specific needs of London schools and pupils. We need a really highly skilled workforce, we need young people with the drive to make it in an entrepreneurial economy. The Inquiry is looking at how London's many cultural, scientific and sporting assets can play a really active role in the education of young people. This is a great opportunity for arts organisations, museums and heritage entities as well as libraries and others to get involved and be part of sustained improvement in London schools. This is not just about educational outcomes, it is also about building audiences of the future and nurturing talent – and creating a framework for young people to access, understand and value what is available to them in their city. Many of you will have been invited to Sadler's Wells on June 20 – what we hope will be a series of roundtables on the London Curriculum.
We already have core partners in four arts organisations who are part of helping us deliver the 'Bridge' programme in London – Apples and Snakes, Roundhouse, Sadler's Wells and the Lyric. They have varying sums of money from the Arts Council to help deliver the strategy for children and young people in London. But I hope we can see this as the beginning of a bigger alliance of organisations with shared purpose around this agenda so that we can make real and sustained change.
Over the next few months the information we have gathered will be released on the website. We have developed a new website which we launched today – the new site is designed to share the knowledge we have acquired and is a more strategic tool for the Bridge role. We hope you find it useful and participate in the discussions and debates that we initiate.
Key initiatives include:-
We are about to ask every school in London to tell us about their cultural activity. We want to understand where there is real excellence and where not much is happening. Basically a questionnaire will go to every school in the city. We will use this information to help target our support and also to understand the journey the city needs to go on
This research is led by NFER and the data will be published in September
Later in the year we will commission more in-depth work on Academies and Free Schools – exploring what their cultural provision looks like and where there are examples of good practice
We will also be commissioning work on the Independent Sector to explore how and what partnership opportunities there are for collaboration with state Schools
Leadership and networking:-
It's a real privilege to work in a city where there are so many amazing opportunities driven by passionate and creative people. We want to share some of this experience – and our aim is to develop some really imaginative and effective opportunities for sharing our knowledge and improving the offer to children and young people in London. In the autumn we will initiate a knowledge sharing programme
We will be bringing together colleagues from Museums, Libraries and the Film sector to be part of this process
One of the key areas requested from our consultation with National portfolio Organisations was Leadership in learning roles within organisations. This is an area we wish to explore and will tie into emerging cultural education hubs
We will also be working with Senior Leaders from schools and will host an annual conference - this year in the autumn at the British Library, partnership focussed sessions in the spring and celebratory events focussed on good practise in the summer
We will also be working in partnership with pan London strategic organisations – for example Sound Connections on their Youth Music funded Musical Inclusion and Networking programme.
Artsmark and Arts Award
Part of our work will include promoting Artsmark to schools and encouraging more children and young people to take up the Arts Award. Both initiatives are unique – there is nothing else like them across the world – they are great measures to show us where schools are being creative and where young people are taking opportunities to enhance their skills and learning – and as part of the Bridge role we will be exploring how to communicate the value of them to schools but also the benefit for the arts and cultural sector
One of the most noticeable recommendations of the recent Art and Design and Music OFSTED reports was the value given to teachers working alongside professional artists and engaging with contemporary work – this is all possible
By 2015 we want 50% of London schools to be on the way to achieving Artsmark – that means 1500 schools where 12% of curriculum time is focussed on arts and culture, Imagine if we are able to achieve this - 1500 dynamic relationships with cultural organisations, and many more schools actively supporting young people through the Arts Award
We also see 2012 and 2013 as the moment that our CREATE Jobs programme really starts to make an impact. This is a programme specifically delivered in partnership with CREATE, the Host Boroughs Unit and funded by the LLDC targeting young people in the 6 Olympic Boroughs – giving them new kinds of opportunity to get useful work experience in the arts and the creative sector. Over the last 6 months we have been impressed by the appetite of many organisations to deliver mentoring opportunities, contribute to careers fairs, offer training opportunities and create the first real employment for young people in the sector. We currently have over 100 placements with over 20 organisations supporting young job seekers to find work – of the 15 that have completed, so far 4 of them have moved on to paid work.
It's the Olympic year – London's bid was built on the optimism and energy of our young people and the Games capacity to inspire a generation to reach their true potential. This should not be a superficial or surface offer – to truly be successful - 2012 must reach all young Londoners and give them an insight into the possibilities of their lives – whether it is through sport or the arts. We have been working with young people on projects connected to the Olympics since 2005 and our focus has been to support them to navigate their own relationship to the opportunity, the space to comment, to be heard to have a voice in their city.
With partners including Free Word, Discover Young Hackney, Bernie Grant Arts Centre, young people have used this to both practise and question 2012. We are working with the Creative Intelligence Agency encouraging young people to develop art work in response to the Olympic Truce and using this as a springboard to imagination and thinking about conflict in their own lives. We will also be supporting hundreds of young people to engage in a number of Cultural Olympiad projects including, Liberties at the Savoy, the BBC weekender and the Paralympic Opening Ceremony.
This is really what it is about – opening up the city and the opportunities London offers to young people – in a real and sustained way, giving them a new kind of focus and experience and learning opportunity – I personally would like to see this summer as the start of something – young people owning their city – seeing London in a new way and experiencing it on their own terms – let's learn from what happens – and use these lessons to build a platform to create a more coherent and consistent offer. We have 3 years… let's work together, learn from each other and make this happen.
We very much look forward to working with you all.
Image Credit: Tahmina Rahman