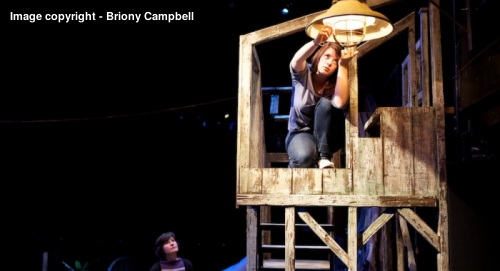 (Image: Nell Allen, Apprentice at The National Theatre. Photo borrowed from Creative & Creative Skills website)

There was a tangible current of excitement in the air in Tate Modern's Star Auditorium on Tuesday last week, as figures from across the cultural, creative and training sectors gathered to celebrate and promote apprenticeships, and to discover the latest about the hotly anticipated Arts Council England / National Skills Academy for Creative & Cultural Skills Creative Employment Programme. Here's a quick summary of what we learned, and the role that AND can play in supporting London's response to the opportunity.
Caroline Collier, Director of Tate National set the scene by detailing Tate's burgeoning commitment to paid internships and work-based learning, including their bold decision to end unpaid placements in favour of paying interns a living wage, their participation in the Heritage Lottery Fund's Skills for the Future programme, and their intention to focus recruitment of such opportunities through local community-level partners. View on Youtube
Moira Sinclair, Executive Director of Arts Council England's London Office, picked up the theme, emphasising the fact that a commitment by the sector to work-based learning opportunities will ensure that young people from the full span of our society will have the chance to build careers in our industry, broadening the available talent pool and helping to sustain the sector's high projected growth. She pointed out that the UK currently has 1.3m young people who are not in education, employment or training (NEET), and that there are 36,000 young people in London who have been unemployed for 6 months or longer. She appealed to attendees to play a part in preventing the sad possibility of a 'lost generation' restricted to a future on benefits, observing that to do so would be good for business, good for young people and 'good for the soul'.
Jon Thorn from the National Apprenticeship Service celebrated the burgeoning commitment of the arts and culture to apprenticeships and work-based learning, noting that they have observed a 600% increase in the number of apprenticeships created between the Creative & Cultural Skills and Creative Skillset footprints since 2009 (in the context of a doubling of the overall number of apprenticeships created in the UK over two years, to 500,000 in 2011/12). He also explained the impartial support service that the NAS offers to employers, including expert assistance in planning for the hosting of apprentices, identifying appropriate courses and training providers, and also setting up the recruitment process. Finally, he promoted the AGE grants that the NAS is currently able to provide – £1,500 potentially payable to small and medium-sized employers looking to take on an apprentice for the first time.
Creative & Cultural Skills' Joint CEO Catherine Large drew all of these strands together with a detailed explanation of how the Creative Employment Programme would take shape. She explained that between now and 2015, the programme intends to allocate £15m to create:
1,600 pre-apprenticeships

16-week placements with a college or training provider
12 days work experience with a creative or cultural employer
Cost of the training drawn down from mainstream skills funding – could include employability skills, QCF units and Arts Award bronze
Co-ordination of the work experience placements conducted by arts organisationsand other relevant partners
Aimed at 16-18 year-olds
2,900 apprenticeships

Part-wage subsidies available for employers (which are compatible with the National Apprenticeship Service AGE grants, the DWP's Youth Contract and other aspects of the mainstream offer)
These are work-based learning placements of at least 30 hours per week, for a minimum of 12 months
Must be government endorsed apprenticeship frameworks
Can be delivered by individual organisations, or through clusters of employers called 'Group Training Associations' to share expertise and administrative aspects, etc
Must be advertised on the National Apprenticeships Vacancy Matching Service (but can also be promoted through other channels)

2,000 paid internships

High-quality 6-month placements (adhering to ACE/CCSkills sector guidelines)
Use of formal training encouraged
Part wage subsidy also available (which can be topped up with the Youth Contract and other local offers eg. Local Authority funding where possible)
Intended development of 'National Internship Academy' to enable interns and employers across wider programme to meet, learn from and support each other
Focus on entrepreneurialism and a 'make a job, don't take a job' mentality
Aimed at unemployed 18-24 year-olds, can include graduates and non-graduates who must be claiming Jobseeker's Allowance (though it will not be specified how long candidates should have been claiming JSA).
Internships must be advertised through Jobcentre Plus
The Creative Employment programme will be formally launched at the annual National Skills Academy for Creative & Cultural Skills industry conference (6-7 March 2013), with a series of regional roadshows intended the same month. An applications portal for organisations wishing to participate (either to host placements individually, or to coordinate the engagement of multiple employers) will also be unveiled soon afterwards, with open and competitive, independently assessed and moderated regular bidding rounds (dates will be published on the CEP pages) and a likely 6-week turnaround on funding decisions.
The structure of each component of the programme was clarified through a series of 15-minute breakout sessions/Q&As. Recurring themes from these groups were outlined in a plenary session by AND's very own Holly Donagh at the end of the day, with people particularly interested to find out about the mechanisms and support for formation of consortia in response to the programme; and the opportunities for young people to progress from one tier of the CEP to another (eg to move from a pre-apprenticeship to an apprenticeship). The questions captured will assist in the development of a list of CEP FAQs.
To bring the focus of the day away from technical programme considerations, and back towards the matter that Moira so movingly addressed earlier on – the importance of providing a generation of young people with the opportunity to flourish – the final session brought conference attendees two inspiring case-studies.
First up was Chenine Bhathenia from the Greater London Authority, and three of the five apprenticeships that they created through their Culture Squad programme (A New Direction were one of the recruitment partners in this, with placements hosted by the Roundhouse, English National Opera, Waterman's, The Barbican and The Albany). Next, Livity's Erica Neve and four of the 13 recent pre-apprentices spoke about the opportunities created with partners such as Google through the Advantage programme.
Throughout, it was remarkably powerful to hear directly from seven young people who have been given not just the chance to move on from the individual struggle of being workless during a recession, but the opportunity to blossom as creative professionals with long, exciting careers now opening up in front of them. We have the incredible opportunity as a sector to repeat such successes many times over; let's all get thinking and talking about how we can meet this responsibility head on, with the energy, creativity and commitment that we all evince daily and which makes London the most vibrant cultural hub in our world today.
At A New Direction we're already considering how we can play a facilitating role to ensure that individual London cultural organisations are able to capitalise on the opportunities arising from the Creative Employment Programme. Our role as London's Bridge Organisation, as well as our highly successful Headstart and CREATE Jobs programmes, have enabled us to establish strong networks with colleges and training providers, as well as Job Centre Plus and wider community employability partners; a detailed knowledge of the skills and qualifications system; and extensive experience in coordinating the sector's provision of work-based learning opportunities for young Londoners. In addition to our own longer-term programmes mentioned above, we're regularly asked to partner to the delivery of one-off initiatives like the GLA Culture Squad and the Whitechapel Gallery's current Skills for the Future recruitment.
If you think your organisation would like to host an apprentice, a young apprentice, an intern or any combination of these, come and talk to us (oliver.benjamin@anewdirection.org.uk / 07725 213377); we'd love to work with as many partners as possible from these early stages to ensure that our contribution is tailored to the wide needs and shared strengths of a diverse range of London cultural organisations right across the arts, heritage, museums, libraries and the community engagement sector.
Youtube videos of all the day's presentations can be found here, whilst CCSkills' have published a brief summary of the event here.