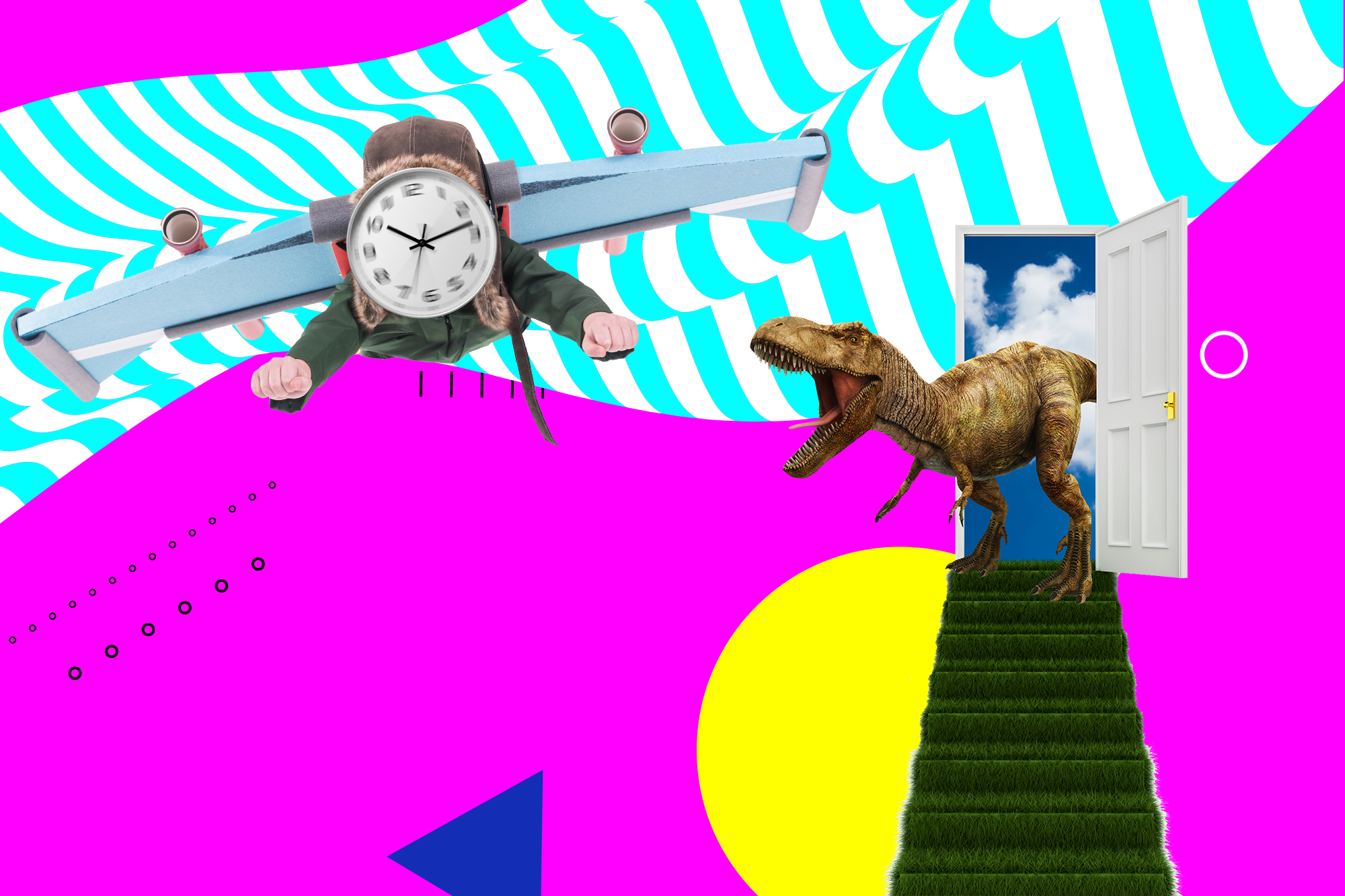 Our Summer Arts Boredom Busters are here to help you and your family get creative, have fun, and make the most of the summer holidays. Although this summer will be very different for most of us, there are still plenty of free, engaging, and fun things you can do together as a family that will make you smile. Each week in the summer holidays we'll be sharing a roundup of some of our favourite arts and culture activities to help keep you and the kids entertained!
This week, we invite you to time travel with a range of exciting resources that encourage you to explore the past, document the present and imagine the future. We've suggested a path you might like to follow below, or you can download all of this week's activities as a PDF resource:
From cave paintings to roman ruins, we learn about the past through records and objects that past civilisations have left behind. Archaeologists and historians have the job of uncovering the past and piecing together the stories of people who lived before us, but today we have the chance to record our own stories in our own words. The stories we capture are particularly important as they will help people in the future understand these unusual times we are living in.
Capture the Present
Start your week by exploring the Coronavirus Time Capsule. Company Three have worked with youth theatre groups from around the world to record the stories of young people during the pandemic. This time capsule tells a specific story, but you could create your own one which focuses on any aspect of your life. Follow the activities to gather content that you might like to put in your own time capsule.
Letters and diaries are very useful in helping us understand what happened in the past. Check out the diary and doodles of Earnest Baker – a teenager living in an Almshouse in Hackney in 1882 – via the Museum of The Home, and then try creating your own doodle diary. You could draw a comic that tells a story or create abstract doodles that capture your mood or feelings. How do you think someone living 100 years from now might interpret your drawings…?
Revisit the past
Music and memory are very strongly linked. Travel through time and listen to everything from classical concertos to modern jazz quartets at one of the London Symphony Orchestra's online 'coffee sessions'. The LSO's musicians have chosen music that means something to them – what music is important to your memories? Is there a specific song that will remind you of this summer?
London's history is full of many important moments, but one of the biggest events that changed the city forever was the Great Fire of London. Explore the story of the Great Fire online via Museum of London and find out how this event completely reshaped the City of London. Play the online game, which explore stories connected to the fire, and see a modern re-telling via Minecraft! The game highlights some of the artefacts and records that have taught us about the fire – what things would you collect to help tell your story of 2020?
Imagine the Future
We can learn a lot about the past from watching films, including how people in the past imagined the future. Watch Fugitive Futurist on the BFI Player to see what people in 1924 imagined life in London might be like today. What do you think life will be like in 100 years' time…?
Search the BFI player to find more films of London – there are some short films showing London during a heatwave in 1923, for example. How does it compare to the heatwave we've experienced this summer?
The Fugitive Futurist uses old school film techniques to predict the future. Why not have a go at creating your own photos or videos about the future? You could even make a futuristic self-portrait following this tutorial from Tate Kids.
Make your Time Capsule
After your journey through time, come back to the present and pull together the contents for your time capsule. Follow this step-by-step guide from The Sill or use your imagination to create your own unique record of today. You could make something physical or create something digital using recordings and photos. Be as fun and playful with your time capsule as you'd like!
If you enjoyed the time capsule activities, there are lots of other fun ways to play with time at home. Follow the steps in our blog post by Nimble Fish for more activities to help you time travel through the week!
Share your creations
Have you made a discovery about the past or created a new vision for the future? After a busy week of boredom busting, be sure to share your creations on social media with the hashtag #SummerArtsBoredomBusters and tag @A_New_Direction (Twitter) | @anewdirection_ldn (Instagram)