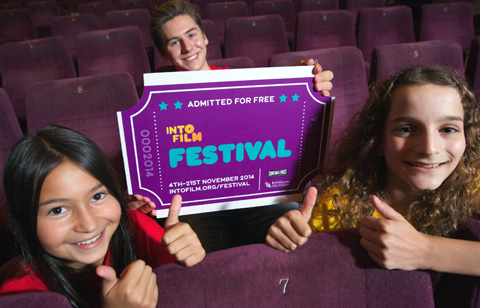 (Images courtesy: Into Film)
London boasts an opulent film culture and a rich cinematic heritage – one need only see the mosaics of Alfred Hitchcock classics at his old local tube stop in Leytonstone to recognise that. Now of course, the eyes of the film world are firmly fixed on the capital, with the 58th BFI London Film Festival in full swing.
But how can young people access all this local industry talent? And more importantly, why should they choose to spend their time watching a film over and above the dozens of other forms of entertainment available to them. What does film have to offer?
The key word for us is "engagement". A great film is an immediate and arresting thing, something that can stop you dead in your tracks and consider something that previously had seemed irrelevant – be that a social issue, a different culture or a classic text.
Take The Imitation Game as an example — a new breed of British thriller that had the distinction of opening the London Film Festival this year. Focusing on Alan Turing, the genius who cracked the enigma code and was instrumental in Britain's World War Two effort. Films like this are a gateway to further study, broadening the horizons of their entire audience.
That's why film and education charity Into Film is currently joining the umbrella parade at premieres and press junkets enabling London's young students to talk to some of the talent involved. Young reporter Lily was present at the gala screening of The Imitation Game, speaking directly to Benedict Cumberbatch, Keira Knightley, Mark Strong and more about how the film can impart a number of valuable lessons to young people.
Now, for the majority of London's young people, who most likely couldn't catch the gala screening, Into Film is hosting a preview of The Imitation Game at their very own Into Film Festival, prior to its cinema release, and for free: www.intofilm.org/festival/events/odeon-covent-garden-imitation-game

Into Film Festival screenings and Q&As will take place not just in local multiplexes, but also in unusual spaces like the Victoria and Albert Museum where students can enjoy a screening of Belle alongside a visit to the relevant collection.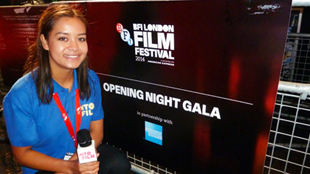 Too good to be true? Our festival programme keeps growing….
The cornerstone of the Into Film Festival is the educational power of film, enabling 300,000 young people, aged from 5-19 attending the festival to watch, make and learn through and about film – for free.
There are numerous screenings and events taking place across the Capital, set to engage young people in the subject of the film and learn more about the filmmaking process and film industry itself, including Q&As with film industry professionals such as Harry Potter director David Yates, actors Imelda Staunton and Jason Flemyng, VFX specialists and an opportunity to learn about the animation process with editor Mark Soloman. Events also include a BBFC Q&A on film classification followed by a screening of Oscar-wining film Gravity, a screening of Pride followed by a debate with Debate Mate linking to Parliament Week, a glimpse into space with the Royal Astronomical Society and screening of Space Station 3D and talks with Oxfam and UNICEF UK. There is a wide variety of films to start and progress young people of all ages on their film journey, including The Maze Runner, Fruitvale Station, The Railway Man, Maleficent, The Boxtrolls, Frozen, Les Enfants de Timpelbach, Dallas Buyers Club, The Armstrong Lie, Mandela: The Long Walk To Freedom, Wadjda and many more. Plus, a range of educational resources are available to assist educators with pre and post event discussions and activities.
Last year's festival saw 200,000 young people attending screenings and events across the UK, and 71% of teachers surveyed after the Festival said they were more likely to use film or cinema to support curriculum delivery.
Oscar-nominated actor and Londoner Helena Bonham Carter (The King's Speech, Les Misérables, Harry Potter) says; "Film is such a fantastic medium, it can bring you to places and show you places...immerse you in a world of stories. Storytelling is the most important thing as it's lasted for so long. It's just another way of telling a story but amazingly compulsive. I find it fascinating, I mean you just have to sit there and it comes to you and if it's part of a free festival... even better."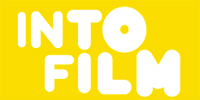 So what is Into Film?
A UK-wide programme of learning through and about film. We provide 5-19 year olds with unparalleled opportunities to see, think, make and imagine. We aim to put film at the heart of children and young people's learning, contributing to their cultural, creative and personal development.
Joining Into Film is free for all UK state funded schools and colleges settings, and is supported by the BFI through Lottery funding and support from the film industry.
Young people and teachers access free film learning programme including CPD training, resources, filmmaking opportunities, one-to-one support and a curated catalogue of over 4000 films.
To start your Into Film club, go here
Into Film is also working with Arts Award to encourage young people taking part in film clubs and filmmaking activities to achieve arts accreditation. Find out about Into Film's Arts Award offer and use the joint mapping resources to help you link your Into Film activities with Arts Award Discover & Explore and the Bronze Award.