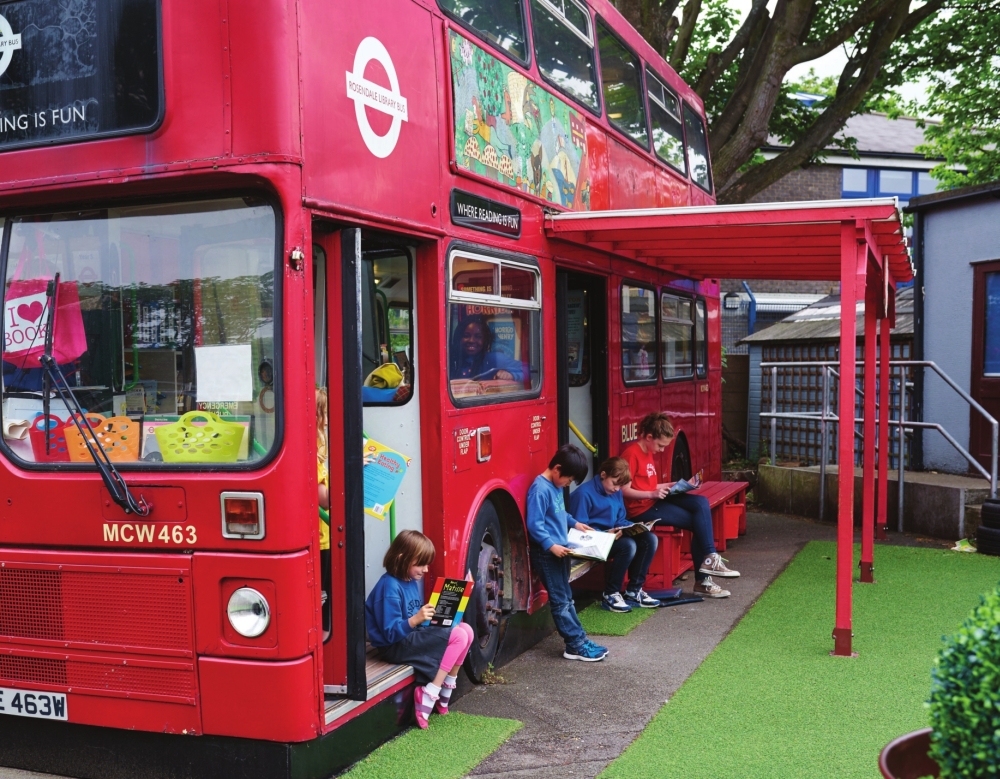 Image credit: Teachwire
One of my first projects working with the community was the design and creation of an innovative school library from an old double-decker London bus (see image above). Although I had initial plans in place, the project grew, and in the end I recruited and coordinated over 100 volunteers, local businesses and formed important partnerships.
Through collaborating and allowing them to contribute skills and expertise, the bus became more than I could have imagined. It won the School Library Association Design Award, and had a story written about it by children's author Michael Morpurgo which was then made into an animated film and released in cinemas across the country. I still receive messages and questions about the project to this day, and am happy to say it has been emulated by other schools nationally.
I have since become a teacher, leading Art and Culture at The Belham Primary School in the heart of Peckham. I still very much believe that an idea can grow into something much more remarkable, vibrant and dynamic when collaborating with the wider community and forming partnerships to the benefit of all.
Here are a few of things I have learnt about forming strategic relationships and collaborating with the wider community.
1. Keep your eyes and ears open
Walk as much as you can. By walking around your area, you notice things – bill posters, tucked away studios, street art and signs. Listen to conversations: where have people been? What have they done? What have they seen? What did they like?
Do the online legwork too. Follow conversations on Twitter and Instagram, and join gallery email lists. Search for a local teacher's arts network and join it.
Look out for competitions or projects run by arts organisations and galleries. These can provide the starting point for a project.
2. Get to know your parent body
Parents and carers already have a commitment to the school and on the whole are willing to give time, where they can. Do a call out for each project and then contact each parent individually when you need them. Importantly, be specific in what you are asking of them. Don't ask too much, and they may offer more! Also remember to always say thank you!
With a project like the library bus, this proved to be invaluable. We had carpenters, painter and decorators, labourers, an upholsterer, architect and more. More recently, I have held workshops for the children run by a jeweller, architect and engineer.
3. Have a project in mind but be flexible
Similarly, when approaching an organisation, artist, or gallery, know what you are asking of them.
For example, an online arts charity were commissioning schools to make 4-minute films about local sculptures. I knocked on the door of a local gallery, with a clear surmise of the project. By recruiting a local artist and incorporating the children's ideas, we were able to make a film, just using an iPhone.
However, when collaborating with outside artists and organisations you have to accept that the outcome of the project might not be what you had anticipated – hopefully it will be better! – but be ready for this to adapt. Make sure to use their creativity and expertise, and be process-led. Otherwise you might as well have just done it yourself!
For example, in one past projet, what started off as a cultural textile map of Peckham became stunning screen-printed fabrics that were displayed in the restaurants that took part in the project, complete with a trail to find them. A suspended, recycled plastic sculpture was also transformed into a beautiful illuminated coral reef that was central to our art exhibition.
4. Tap into universities and art schools
Although London College of Communication already worked with secondary schools, they wanted to extend this provision to primary schools. Along with growing university fees and a lower arts uptake at GCSE and A Level, the university wanted to invest in not just the children's future, but their future too.
The Plastic Project was the first of three collaborations with LCC. They have been generous in their support, providing free teacher CPD, allowing us to utilize their space and resources, lending staff and students to facilitate workshops and inviting ourselves and other London primaries to showcase our work in their exhibition space. It appears universities have funding for wider learning and are keen to form strategic partnerships with schools.
5. Connect with other schools
Primary schools are often in networks with secondary schools. We regularly have visitors from sixth form students providing art, drama and music workshops for our classes.
Many independent schools also have a commitment to state funded schools as part of their charitable status. Last year, we were part of an excellent pilot in immersive theatre, giving the children important performance experience. We have also hosted an interschool dance festival – sharing our own dance provision.
6. Connect with local galleries, museums and theatres
It is definitely worth investigating local galleries, museums and theaters. Many already run learning sessions for schools and have access to funding, and many hold open events to make connections with teachers.
From experience, some are also open to a collaboration based on your specification, so it is definitely worth contacting their Learning Officer with a project in mind. For a good example, read Hannah Peaty's blog on her work with The London Transport Museum.
7. Find an Open Studio
Look out for artist's studios with Open Studio events. You may find ceramicists who are willing to run a workshop or lend you use of their kiln, or a print studio that would let you use their resources or supply a staff CPD. Some studios have a commitment to give a certain number of hours to the community as part of the studio contract.
At the Belham, we have also developed relationships with studios by offering them exhibition space during our annual Artists Open House programme. This gives the children the unique experience of exhibiting alongside artists, and the artists access to a new and wider audience.
8. Involve your high street
Local businesses love to support schools. We often approach them for prizes for raffles in the summer tombola, but what about live projects too?
In DT, Year 4 were designing and making pizzas to represent ancient Pompeii. Not only did our local pizzeria judge the pizzas, but put the winners on their Specials Menu for the rest of that week!
Year 5 had a similar project with the local bakery, designing and selling cakes – good for the school and good for business. I recently visited a school surrounded by extensive urban redevelopment, who had initiated a street gallery on builder's hoardings. A local secondary created a pop-up art gallery for GCSE students in a vacant betting shop. Genius!
9. Think about what the partner could gain
Someone is far more likely to want to collaborate if they also gain something from the relationship. Following filming, I have arranged for our local gallery to host a teacher's network meeting, introducing them to a body of teachers to advise and collaborate with on future projects.
Bold Tendencies, who have been regular collaborators with The Belham, have also benefitted from widening their portfolio of schools and receiving important feedback on projects to boost further funding. While businesses who laid carpets, supplied glass, donated heating equipment for the library bus, all had a mention in the opening programme, which was circulated amongst hundreds of parents and beyond. In return, many of the specialist tradespeople added images of the bus to their websites.
It is always worth thinking about who is gaining what – and not just the children. This way relationships are more likely to be a positive experience and with more prospect of an enduring relationship.
10. Communicate well from the start
At the beginning of a collaboration, arrange how you can communicate and manage the project. A meeting at 10am on a Monday morning is not going to work. If the artists are visiting school, they need to be punctual and time effective. You need to have discussed what the children can realistically achieve in that timespan and also their skills level. This is where collaboration is key.
Throughout all of this process, the main thing I have learnt is that the more you reach out – the more comes your way.
---
Kate Gorley is the Art and Cultural Lead at The Belham Primary School, and is also part of our Advocates programme. Click here to find out more about her and the programme.
More 10 Tips for teachers blogs