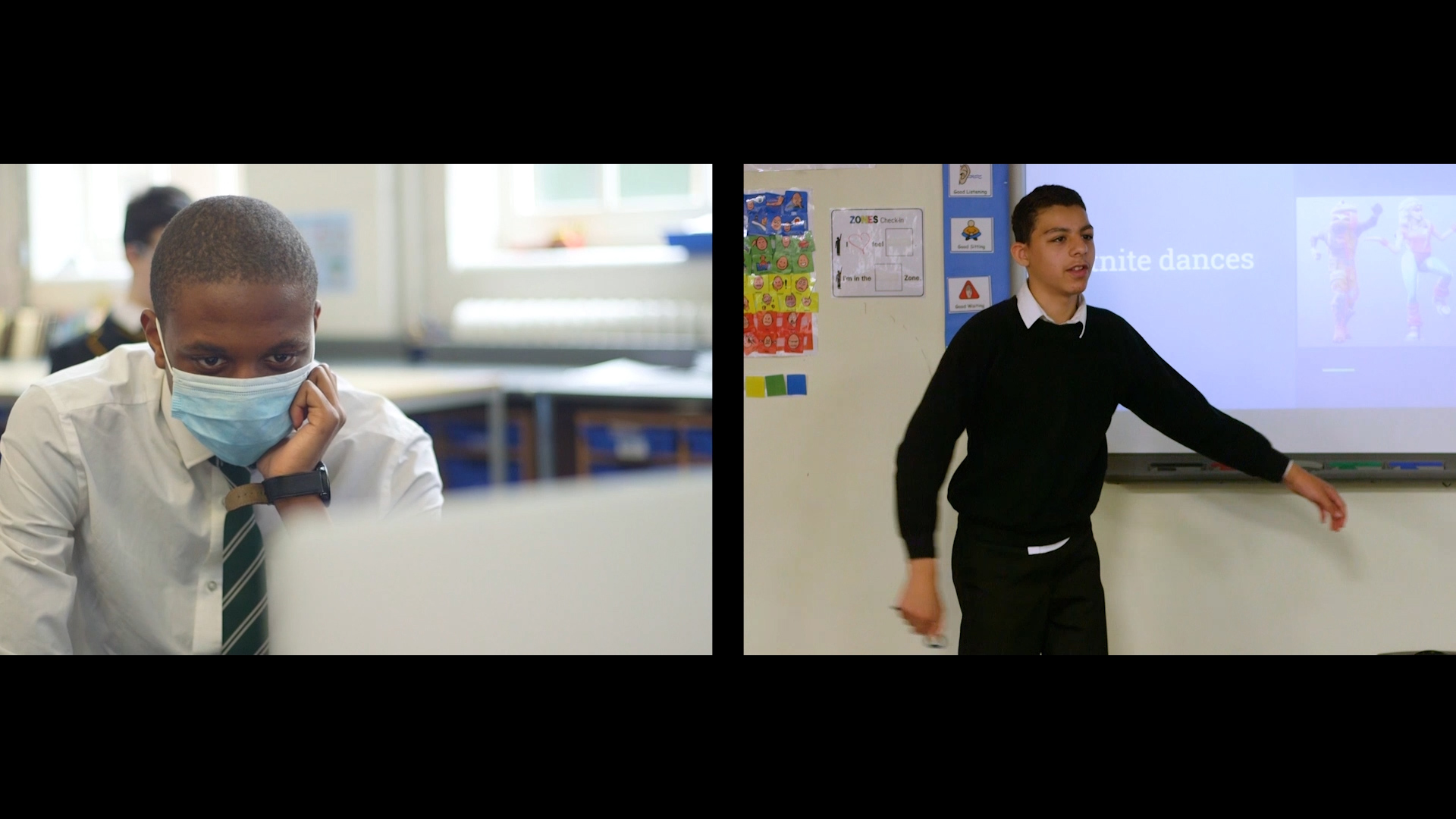 I Am Festival is our yearly celebration empowering D/deaf, disabled, and neurodivergent young people to explore their creativity. Over the past five years the festival has provided a platform for hundreds of young people to showcase their talents, leadership, ideas, and opinions. This year's festival took place from 14-18 June and featured a range of interactive online events centred around celebration, creativity, and learning.
After being forced to move the festival online at the last minute in 2020 due to the pandemic, this year we were able to plan for a virtual festival from the start. Everyone has had to adapt quickly to new, digital ways of working, and these newfound skills allowed us to create a blended programme of activity comprised of virtual workshops, remote artistic collaborations, and live-streamed events which were beamed directly into schools for students to take part in.
This short film brings together footage of activities from across the week, excerpts of videos created by schools, and interviews with teachers, students and practitioners.
Highlights and successes
While the festival itself took place virtually across one week, we were also able to arrange for some in-school activity to take place. In the weeks leading up to the festival, 56 students from across six schools took part in a series of workshops from visiting artists. The artists had to work within COVID guidelines, but were still able to engage students in a host of creative activities ranging from dance, filmmaking and virtual reality. Many students had missed months of school due to the pandemic – a situation particularly exacerbated in SEND settings where many children were also shielding – so it was brilliant to be able to facilitate some real-life experiences for them again.
The experimental nature of the in-school activity typified a more confident approach among many of the schools. For example, the virtual reality project at The Vale School was a completely new experience for the both the facilitators, teachers, and students involved. The project was designed specifically for students with Profound and Multiple Learning Disabilities (PMLD), however there was no guarantee they would respond positively to the VR format. By keeping the outcomes open, there was a freedom to try things out and see what happened, which lead to positive outcomes for the students involved.
Another way we overcame physical distance was through our Care Packages programme. Delivered in partnership with disability employment charity my AFK, the programme reconnected us with the Festival Assistants – a cohort of young people originally set to be co-delivering the festival in 2020. This year, the Festival Assistants worked to assemble Care Packages for schools which contained a range of materials designed to spark students' creativity. As well as physically putting the packs together, the Festival Assistants spent time speaking to teachers and students to find out more about what each school would enjoy, before researching and purchasing the items for the packs.
In the lead up to #IAmFestival2021 our group of Festival Assistants has been working with @my_afk to research & assemble Care Packages for schools ?

Each package is full of creative materials which will be used by students throughout the week ?‍? ?‍? pic.twitter.com/1SmadU4oA8

— A New Direction (@A_New_Direction) June 15, 2021
The students have absolutely loved the amazing things that you sent to us in the package, the play dough, bubble swords and the ribbon sticks were so much fun for the students (highlight of the week). Students and staff were enjoying themselves and everyone was smiling. 

– Teacher from Woodfield School
During the festival week we were able to run a series of live-streamed events for students to get involved with from school. These included an ambient guitar improvisation, a punk anthem music and poetry session, a dance party, and a rock band performance. Sessions were either delivered by teachers involved our SEND Network or disabled-led organisations. Feedback was very positive and attendance was high, with the dance party alone reaching an estimated 450 students. This is something we never could have hoped to replicate in a physical setting, highlighting one of the huge benefits of digital delivery.
Our online approach meant that many of our creative partners were also able to reach more schools and expand their own ways of working online. For example, Action Space facilitated regular online sessions between the Garden School and artist Linda Bell, which was then expanded during the festival week so a number of different schools could join and take part in a sculptural make-along session.
Thanks for the session this morning – all of class enjoyed it. The Hokey-Cokey and Baby Shark were firm favourites with smiles, giggles, and some great moves

– Teacher from Riverside School
All these events came together on our bespoke I Am Festival site alongside creative work produced by students. The site was designed to mimic a real-life festival map, with content from across the week grouped in 'stages'. The site is something we hope to build on and develop for next year's festival.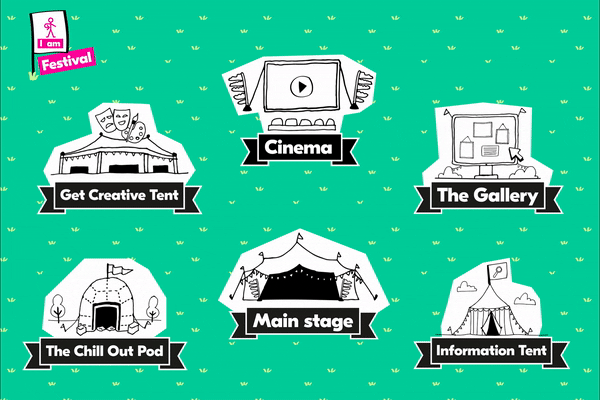 Challenges and lessons
The two biggest challenges we faced this year were around scheduling and safeguarding. Figuring out the timing of live events to suit all the participating schools, each with their own timetables and routines, proved to be very tricky, however most schools did their best to prioritise festival activity. The fact all participating schools are involved in our SEND Network and many had already attended the festival in the past meant that it remained high on the school agenda. Additional nervousness around safeguarding in digital spaces required confidence and trust to be built. We ensured that online session access was tightly controlled, and only the speaker view was ever recorded for sessions that were being filmed.
Teachers also mentioned that being able to see other schools taking part in virtual events made a huge difference. It was harder for them to imagine the presence of others but seeing them on screen gave a much greater sense of being together. This is something we will be sure to factor into future planning.
Previous in-person iterations of the festival have taken place at Tate Exchange in Tate Modern, and this was something we all missed this year – particularly at the beginning of the planning phase. The excitement of meeting in a venue like Tate Modern gave previous planning sessions an added dimension, a buzz, and lots of inspiration and resources. Meeting online there were sometimes distractions for teachers who had to deal with day-to-day school activity or technical issues. School internet can often be unreliable, so getting a good connection is not always guaranteed! That said, the core team of teachers did an amazing job coming up with ideas and adapting to the situation.
Looking ahead
The collaborations with artists and organisations at this year's festival were largely successful, with teachers reflecting that the collaborative process was just as important for them and their students as the end product. This is something that will inform the way we work next year – ensuring there is plenty of time for experimentation and project design to emerge naturally.
Working with the same group of artists and organisations over successive years is also proving to be fruitful as we grow a common understanding of the aims of the festival. Head to the festival Information Tent to find out more about all of artists and organisations involved in this year's festival. If you or your organisation would be interested in working with us on the festival next year, please get in touch.
We hope to return to delivering festival activity in person next year, whilst also retaining an element of digital delivery to ensure we can reach as wide an audience as possible. From continuing to develop our festival microsite, to live streaming workshops and events, and profiling students' creative work online, we're excited by the possibilities this blended approach can offer to help address issues of accessibility, representation, and inclusion in creative and cultural spaces.
---
Where next?
Find out more about our SEND network