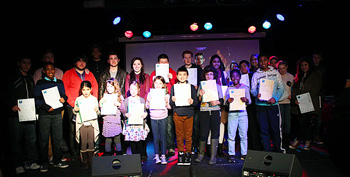 (Image credit: Harrow Arts Centre website)

Our aim in taking part in this project was to improve progression routes for young peopleworking towards their Arts Award at Harrow Arts Centre (HAC). We have a really strong offer for Bronze and for Gold, but Silver has always occupied a funny middle ground, being tagged on to other projects or trying to help one or two young people complete Silver while everyone else in the group was completing Bronze.

A lot of our projects lend themselves really clearly to part of the award, but only one of our existing projects enables young people to complete Silver just by participating in that activity. Therefore the Silver project we are running with AND needed to enable young people to bring together all the different projects and activities they are taking part in, supporting them to evidence what they have done. We're running monthly group sessions for 10 young people to meet with the adviser, collate evidence and build portfolios, with a bank of 'flexi' hours for the adviser to support individual young people and group opportunities to complete the leadership unit, visit events and meet professionals.
This has been a really different way of working for us, because usually our projects are set up with the artistic idea coming first, and then being designed to incorporate Arts Award, whereas this project has been set up around the Silver outline, in such a flexible way that young people working in any art form could participate. We're now able to offer the opportunity to young people with a much broader range of interests.
The sessions are led by Kate Duffy, supported by myself and our two Young Associate Artists, Emma Norman and Gaby Nimo, who are undertaking the Gold Award through a separate HAC project.
This week Emma spoke to the Silver group about how their Unit 2 activities (the arts leadership element of the Award) are coming along and what sort of challenges they are facing in the planning process. The group are working towards a weekend of workshops during the Easter holidays.
"Having decided what their workshops are going to involve, everyone is at certain stages of developing their plans, whether they have their ideas finalised in there head and need to write them down into a plan or have completed their plan alongside estimated timings for each part of there activity. People that want to run their workshops in a specific place are contacting the relevant people to enquire if this will be possible. For example, Oliwia has contacted her primary school to see if the can run her workshop" there as she knows they sometimes do craft activities at the after school club. Also people that need to purchase materials for their workshop are researching this.
Some are finding that their workshops may be too complicated and they are trying to take on board too much in one go, and are having to re-evaluate to find ways to make small changes to their workshops, for example, instead of working under a very broad theme, they are concentrating on a more specific subject matter giving the participants a more focused workshop. Furthermore, those who have had to simplify to suit their chosen age group are considering also doing a more in depth workshop with an older age group as well.
It's nice to see that there is a wide range of types of workshops and that everyone has had their own way of planning and preparing."
It's been great having Emma and Gaby involved to support the young people alongside Kate. It means there is a really wide range of art forms represented in the staff team and role models for the Silver participants, helping them see where they could progress next.
Emma's last comment sums up the way we have run the project. It's really important for us to be flexible and respond to the young people's different ideas and ways of working and this project is doing that well so far. This enables HAC to make the Silver Award accessible to a wider range of young people than we were previously able to.

---
Harrow Arts Centre, Tomorrow's Warriors, Geffrye Museum, Tricycle Theatre, Tiger Monkey and Almeida Theatre are working together to explore innovative ways in which the delivery of Silver and Gold Arts Award can be embedded within the organisations. The programme runs from Sept 2013-June 2014. The learning from this will be documented and disseminated at the end of the programme. Further information about Arts Award can be found here.

---
Like this blog?
We send out a monthly digest of all our blogs, news and updates - sign up here to receive straight to your inbox - www.anewdirection.org.uk/newsletter
You can also follow us at @A_New_Direction