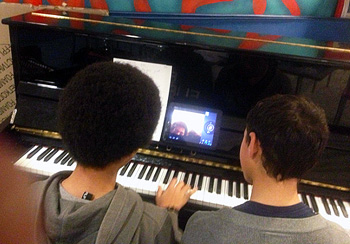 (Image credit: Tomorrow's Warriors website)
Tomorrow's Warriors champions, develops and promotes the most diverse collective of gifted and talented jazz musicians in the UK. We have a primary, though by no means exclusive focus on young people from the African diaspora and girls. The organisation has been a weekend resident at Southbank Centre, London since 2009 and has been offering Arts Award accreditation as part of its programme since late 2012.

In August 2013, Tomorrow's Warriors was invited to participate in a new initiative led by Bridge organisation, A New Direction (AND) to explore new ways of delivering Arts Award at Silver and Gold levels.

Talk about perfect timing!

At the time, all six of our first cohort of Arts Award participants had just achieved their Bronze Awards, and we were starting to plan our next programme, expecting to do more Bronze, and introducing the Silver Award. So this new initiative gave us the impetus not only to run our first group of Silver Awards, but also to up our game by offering accreditation at Gold level to a select number of our young people.
AND's facilitation made it possible to meet peer organisations and other Arts Award Advisers, bringing us together with the shared goal of finding new and innovative ways to deliver the Arts Award. Getting to meet others involved in Arts Award was really inspiring and energising.

Through our weekend Young Artist Development Programme, we work on a regular basis with 150+ children and young people from in/around London. They're a fantastic group of budding young jazz musicians, coming from very diverse backgrounds and spanning a broad range in age and ability. Arts Award is offered to our most dedicated participants – those young people who attend week in, week out and show a commitment not only to their own development, but also to the ethos of shared learning and community that is at the heart of Tomorrow's Warriors. With this in mind, our aim was to deliver up to three Gold and ten Silver Arts Awards as part of our programme.

So far, at a little over the halfway mark, we have been focusing predominantly on Unit 1 (arts practice) of both the Silver and Gold Awards, but are now in discussion about what Unit 2 (arts leadership) may look like. Although this has been a slightly longer process than originally anticipated, it has definitely been worthwhile, as each young person has gained a lot of insight into how the musical activities they're already involved in can contribute to their Arts Award. Key learning has been around documenting the process, and some of the participants who achieved Bronze Award last year have found that while the Silver is a little more work-intensive, the same principles apply in terms of providing evidence and reflecting on everything they do.

---
Sam Barnet, Silver Arts Award Participant (aged 13) says,

"Doing the Silver Arts Award has helped me explore new regions in music and expand on skills I've already gained. It has helped me gain friendship and shared interests with other musicians my age."

---
We have generally been working on ways in which students might develop their own arts practice in fields closely connected to each musician's primary art form (jazz music). This has sometimes involved specific challenges, such as developing sight-reading skills, but has also embraced broader artistic challenges including composition.

We are incredibly privileged to work with some fantastic staff, artists and music leaders at Tomorrow's Warriors who, between them, have worked with or performed at several of the world's major jazz venues and festivals. They are always readily available to share their experience and skills with our young people so that, whatever challenge our Arts Award participants have chosen, they can have access to expert knowledge.
With plans for Unit 2 beginning to take shape – including, amongst other things, plans to run workshops, host performances, and premiere new work – there are certainly some very exciting, if busy, times ahead for the next few months of our Silver and Gold Arts Award programme. We have great expectations of our young musicians and are looking forward with much excitement to seeing how their projects develop.
---
Harrow Arts Centre, Tomorrow's Warriors, Geffrye Museum, Tricycle Theatre, Tiger Monkey and Almeida Theatre are working together to explore innovative ways in which the delivery of Silver and Gold Arts Award can be embedded within the organisations. The programme runs from Sept 2013-June 2014. The learning from this will be documented and disseminated at the end of the programme. Further information about Arts Award can be found here.
---
Like this blog?
We send out a monthly digest of all our blogs, news and updates - sign up here to receive straight to your inbox - www.anewdirection.org.uk/newsletter
You can also follow us at @A_New_Direction