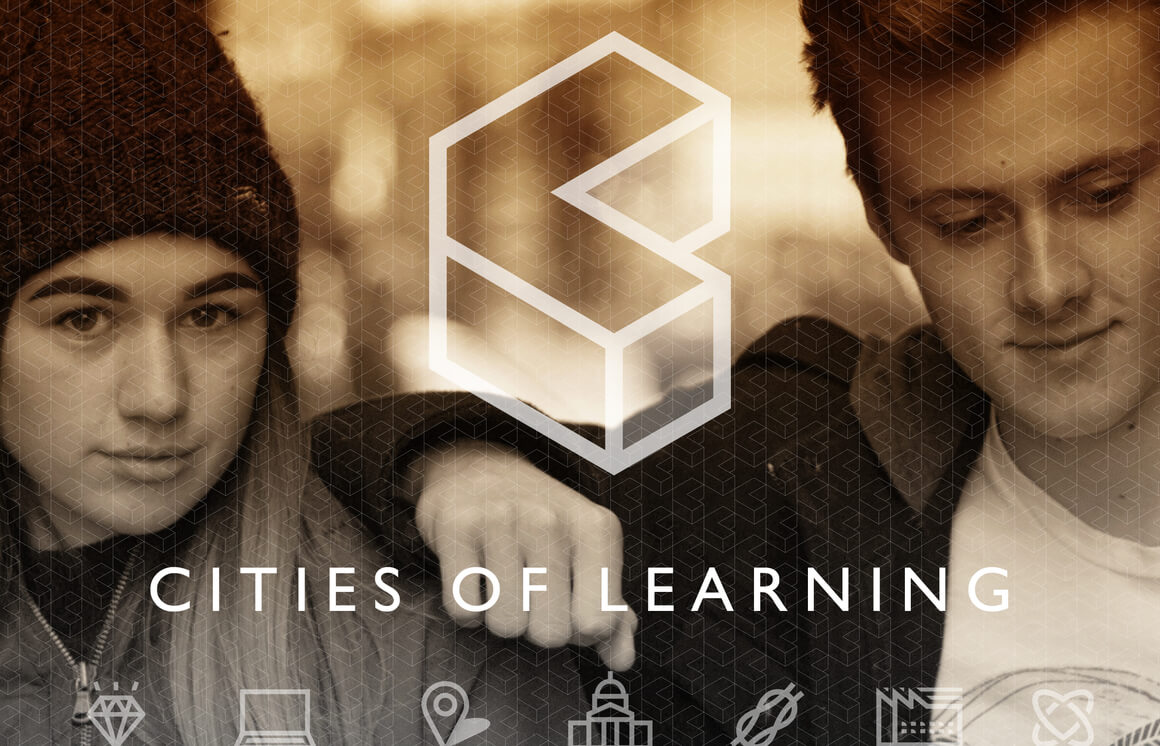 Image credit: hundrED
Cities of Learning is the RSA's flagship learning innovation programme. In 2019 and 2020, after receiving investment through A New Direction's Challenge London programme, the RSA ran a London-wide competition to identify and work with three London 'boroughs of learning.' Our mutual aim was to develop sustainable, innovative partnerships to connect young people into learning and work opportunities in the cultural and creative industries.
Cities of Learning takes a place-based approach to learning. We work with local leaders to help them galvanise cultural organisations, schools, communities and employers to work together as an ecosystem, helping young people to meet their potential in life and work.
We use our standardised digital badges to validate the skills that schools don't capture. We give students the confidence, motivation and tools to explore local learning opportunities, and we build these opportunities into pathways that lead to meaningful training and employment.
Our mission is to badge, map and connect all non-formal and non-accredited learning in places across the UK. We do this to help young people develop their skills and pursue their ambitions both at school and as they move into the world of work.
The Cities of Learning London Competition engaged stakeholders across London. We met with 21 local authorities, cultural institutions and learning providers through a series of networking and engagement events. These events provided information on the potential of digital badging and ecosystemic convening to develop cross-sectoral learning pathways.
In March we received six excellent proposals to join the programme. In May, an expert panel selected three winners to join a Cities of Learning prototyping process. Each winner received a small grant to support local engagement with Local Cultural Education Partnerships, Education Boards, school and college networks, and cultural learning delivery partners. The three winners were: Westminster City Council, Culture Mile (City of London), and Waltham Forest Council.
It's fair to say that a lot happened between organisations submitting their proposals and being selected. The country was in lockdown. It was clear that we weren't coming out of it any time soon. Organisations and councils were working on how to pivot their working practices with severely straitened resources, and there was a burgeoning realisation that young people were going to be disproportionately hit by the economic fall-out from the pandemic.
We were extremely fortunate in that all three organisations were willing and able to continue participating in the prototyping programme. But the way in which we worked had to change with the circumstances. What had been conceived as a series of one-day intensive workshops with networking opportunities and engagement events had to move to an extended online learning journey.
We re-designed our workshops into a series of two hour Zoom sessions, using interactive whiteboards to collaborate. These sessions were spread right across the summer to accommodate the different working patterns, furloughs and increased workloads of the participants and the RSA team.
One of the most successful innovations for the work process was to establish bi-weekly 'Virtual Learning Circles' – a regular knowledge-sharing catch up for the lead organisations in each borough to exchange notes with City Leads in the existing Plymouth and Brighton pilots.
Over three months, we worked with the borough teams to:
Unpack and refine their vision for learning in their borough
Determine key outcomes for their stakeholders
Use tools to understand how to map and engage their stakeholders and future partners
Undergo training on the technology and process of creating badges
We were delighted to be able to move ahead with the programme and, I'm happy to say, that the participants found the process valuable.
For us the mirror that the Cities of Learning Team provided us to our work was invaluable. Those insights and outside perspective will help our strategic development as we go forward.

- Beth, Senior Programme Manager, Culture Mile Learning
Participation in Cities of Learning has … catalysed a new council Youth Strategy and helped us earmark Section 106 Education funds to deliver programmes to address acute skills development needs.

- Michelle Salerno, Westminster, Cultural Policy & Projects Officer
As well as developing the strategy around their Cities of Learning, the boroughs also created their own badges and explored how different learning opportunities in their borough connected together to solve local challenges and ambitions. Areas of focus included how to open up the creative and cultural sectors to borough residents (Westminster), Finding your Voice (Culture Mile) and Sustainable Fashion (Waltham Forest).
That isn't to say the project was perfect. We learned a great deal through trial and error about the challenges and benefits of running an accelerated learning process online. At the same time, the Cities of Learning team was gifted its own accelerated learning experience – an education in where our model was too complex, too expensive or required further refinement.
One of the challenges of running innovation programmes is that there are still bugs in the system. Working through and responding to these with the help of the excellent borough teams has helped us to refine our future strategy for Cities of Learning.
We now aim to focus on how we can empower organisations to start badging more quickly, how we can manage communities to share learning and best practice and how we at the RSA can bring more of our research and convening power to bear where national employers or institutions have a local presence.
Next steps
After their work in the prototyping process, Waltham Forest Council (WFC) want to put their strategy into action and put badges to work for young people in their borough. With the COVID-19 pandemic and the resulting economic crisis, their focus is even more firmly on improving the economic and employment chances of underrepresented groups aged 16-25.
WFC's prototype process identified a number of key sectors which are likely to be a focus, including sustainable fashion, enterprise and green jobs. Youth Hubs will also be a key focus, as will bringing employers onboard with the programme.
The Cities of Learning UK Partnership are working closely with WFC to make this a reality.
RSA and the Cities of Learning Partners (Real Ideas, Future Creators, Navigatr) are very grateful to A New Direction for their support delivering this project and for their flexibility as a grant funder during the many challenges of 2020.
---
Where next?
Find out more about Challenge London
Find out more about cities of learning