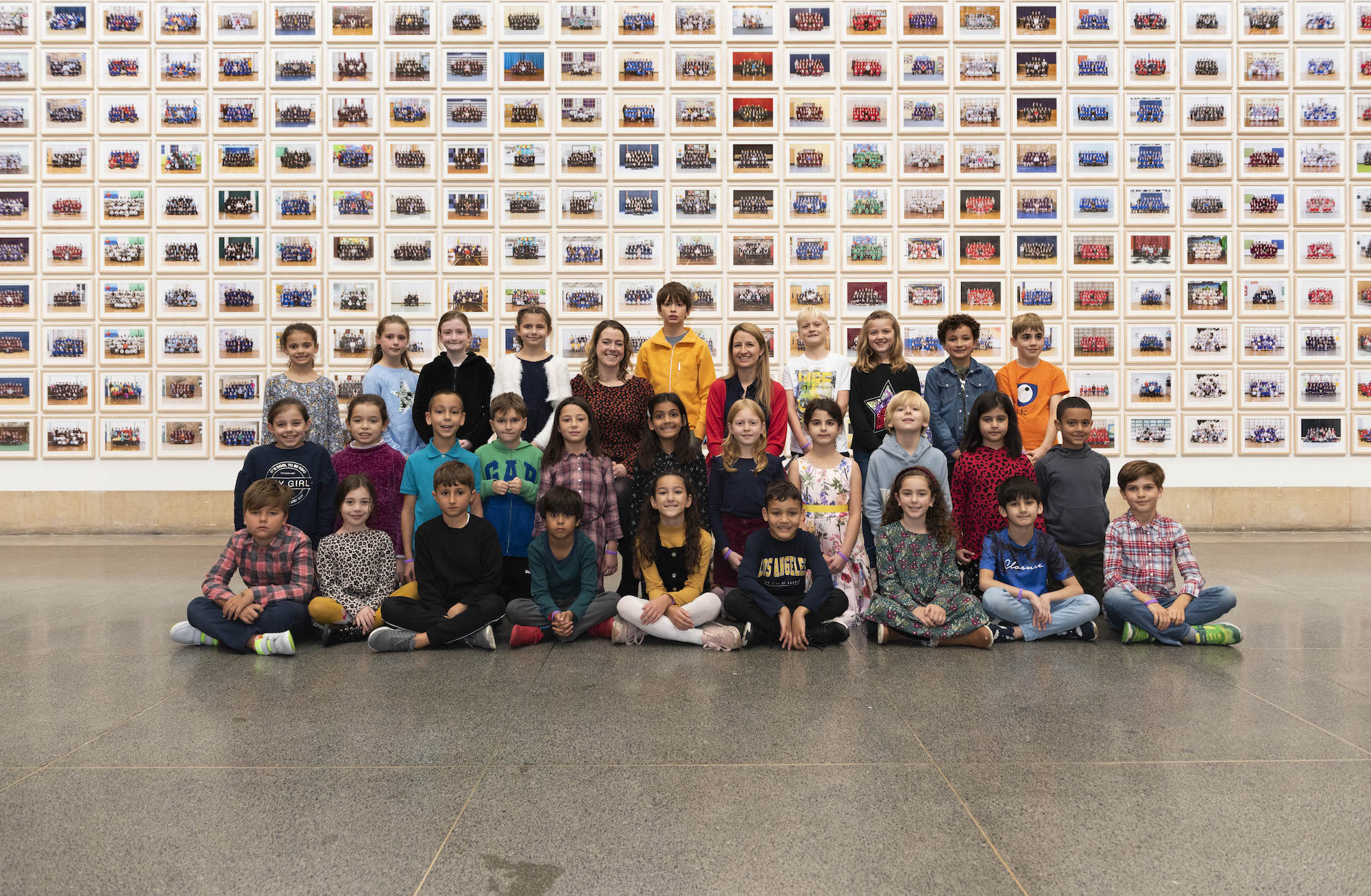 (Credit: Little Ealing Primary visiting Steve McQueen Year 3 at Tate Britain © Tate. Photo: David Lennon)
We are delighted that Steve McQueen Year 3 has won the award for visual arts at this year's South Bank Sky Arts Awards. This is fantastic news, not just for A New Direction, but for the tens of thousands of London teachers and pupils who were the subjects of the artwork.
For the children who participated in the project, the effect of seeing themselves as part of such a high-profile artwork in one of the nation's leading galleries cannot be underestimated. Steve McQueen himself has talked about how visiting Tate as a child changed his life, and the same can now surely be said for children across the city. This award is the icing on the cake, and one which we at A New Direction are immensely proud of.
It is significant to note that, while Year 3 culminated in a vast collective artwork at Tate Britain, the project was in fact a hybrid – part visual art piece, part learning project. This makes winning in the visual arts category all the more exciting.
To get to the exhibition stage, a huge amount of work had to take place behind the scenes. A New Direction was first approached by Tate and Artangel to be part of Year 3 in early 2016; initially to offer advice, support and help. We then went on to lead and manage the recruitment of schools at the end of 2018. This involved not only reaching out to every school in London, but also developing a robust safeguarding process, building a bespoke online registration and booking system, before co-ordinating each of the 3,128 photography visits to schools and developing an engaging range of workshops for the children, while continuing to support the photographers to deliver the educational sessions. Alongside this we also developed a range of learning resources and hosted a series of CPD sessions for teachers to strengthen students' learning and ensure authentic student voice was embedded throughout the project.
The resulting artwork is truly staggering: 76,146 children, 1,504 schools covering all London boroughs, 3,128 individual class photographs; one of the largest visual portraits ever undertaken, and a glimpse of our city's future. The ambition and scale of the project is mind boggling, particularly when you begin to consider the number of people who have been touched by the artwork – the thousands of family members who have visited Tate, many of them for the first time – not to mention over 7 million Londoners who saw the artwork billboards co-ordinated by Artangel.

In the New Year, A New Direction will be publishing a series of reflective essays that explore the successes and legacy of Year 3. The follow excerpt is from an essay by Pauline Tambling entitled 'Achieving scale and quality in a cultural endeavour'. For me, it sums up the arc of the project perfectly:
The credits for the final project read more like those of a feature film than a typical gallery education project and show the complexity of the enterprise. Like a feature film the project started with a seemingly simple concept followed by a feasibility stage with fundraising and detailed scoping moving to assembling a team, production of the work, the indoor and outdoor exhibitions followed by public engagement with the work. And like a feature film a partnership came together specifically to deliver the project. The project extended over three years for which planning systems were built to achieve one unified artistic enterprise. Over the course of the project the partners were joined by curatorial teams, producers, administrators, photographers, editors, designers, printers, media partners, framers and installers. There was an impressive list of funding partners including foundations, trusts, philanthropists and public bodies. This was a project that in some ways defied classification: it was both a learning project and an artwork. 
I would like to take this opportunity to thank all of the staff at A New Direction for their hard work on the project, and of course, say a huge thank you to all the teachers, teaching assistants, support staff and pupils who took part, alongside the photographers and the freelancers who worked with us and our partners Tate and Artangel. A special thanks must also go out to Steve McQueen himself – it was a real privilege and a joy to be part of Year 3.
Steve Moffitt, CEO of A New Direction
The South Bank Awards will be free for everyone to watch on Sky Arts, Freeview channel 11, at 8pm on Sunday 20th December.
---
Steve McQueen Year 3 is a partnership between Tate, Artangel and A New Direction with collaboration from media partner BBC London and film partner Into Film.
Where next?