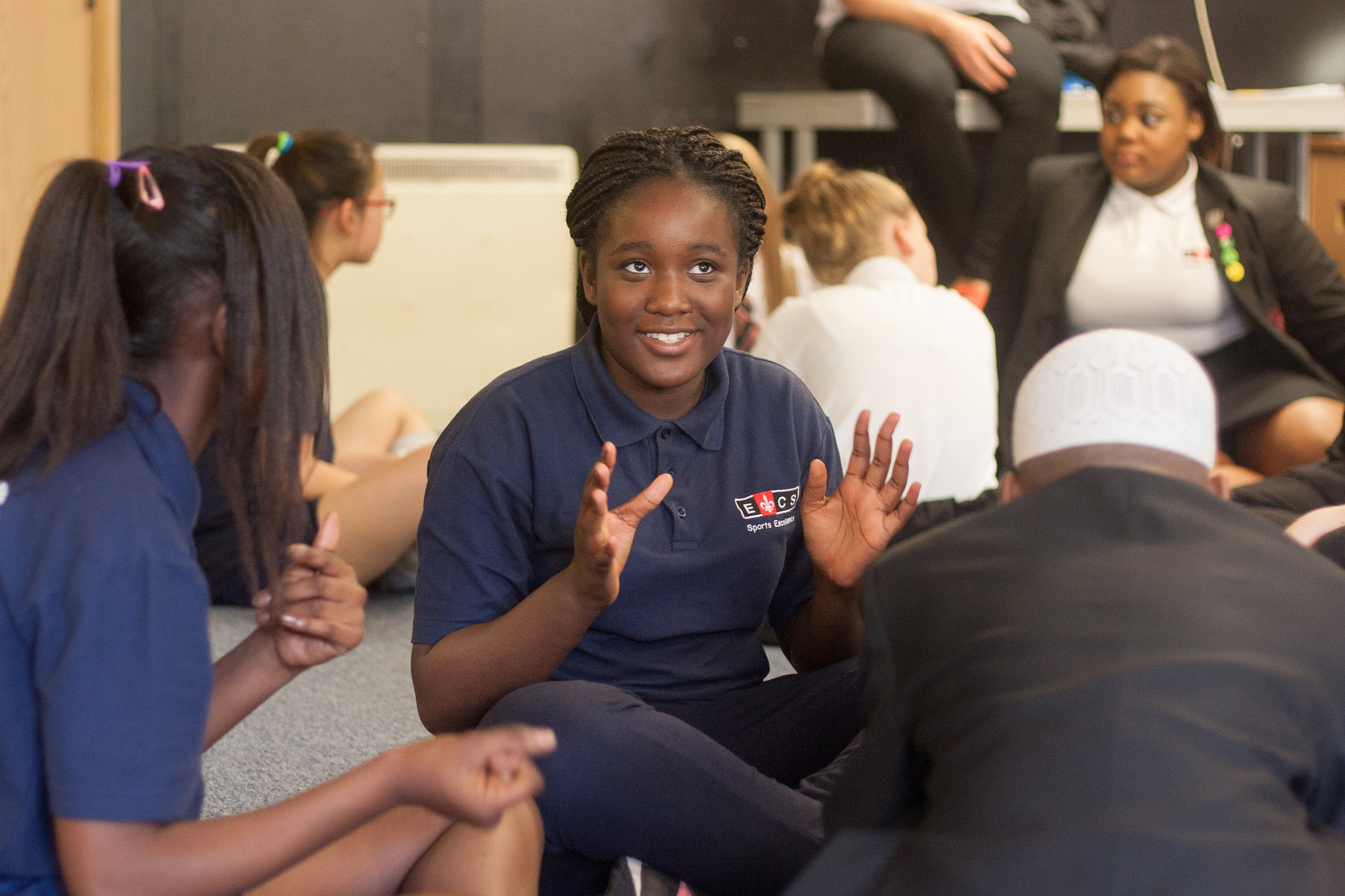 Image credit: Barking & Dagenham INSPIRE festival 2015. Photo © Greenshoes Arts
Inspiring Futures, the Barking and Dagenham Cultural Education Partnership, works across schools, cultural organisations, and local stakeholders to ensure every young person in the borough can fulfil their cultural entitlement. The partnership ensures teachers have the training opportunities they need, develops the local cultural offer, and provides career pathways into the creative industries.
In July 2020, we set up a new project, the Transition Arts Award Programme. The aim was to help students in Year 7 adjust to their new school environment and introduce them to arts and culture, using Arts Award Discover as the tool. We set out with high targets, hoping to work with six secondary schools and over 1,200 pupils – just under 50% of young people in this age group in the borough.
We were lucky enough to receive a support package from Trinity College London – the awarding body for Arts Award – which offered a discount rate of £2.20 per student, along with some additional funding from A New Direction, which helped us sell the pilot activity internally and externally. We put our resources towards working with Green Shoes Arts, who brought their Arts Award expertise and moderated all booklets. We then had the time and capacity to create resources for teachers and offer online tutorials to guide them through the process.
There was uncertainty with the project taking place in the middle of the Covid pandemic, and we had never delivered an Arts Award project in the borough of this size before. Thankfully, we launched the project in schools successfully in September 2020, and the benefits far exceeded our expectations.
Benefits of the programme
All teachers reported an overall positive experience for the students and the development of creativity within their setting. Schools enjoyed leading the activity and found it enriching to students and staff – helping with social interaction and building relationships, which was more important than ever after an isolating year.
The award's accreditation element was important, as it gave a sense of achievement and built students' confidence. It was positive to be able to communicate with parents right at the beginning of their secondary school journey that this was a place that their child could achieve and be successful. It was also a selling point to senior leadership – all of whom were very invested in the project – as it made it feel important, official, and had a clear endpoint.
There was also the unexpected benefit of putting art at the forefront of activity in the school. Having art as one of the transition point activities set a clear intent to pupils, staff, and parents that art was a priority. It made art essential to learning, wellbeing, and school development.
Learnings for the future
The turnaround was tight, being at the start of a new school year and, with Covid adding extra capacity issues, the pressure was on to get the booklets completed within the first few weeks of term time. This meant some schools struggled to complete the project within the time frame.
Many schools reported that the Arts Award was delivered by multiple teachers across the curriculum, and some of these staff hadn't attended the original briefing sessions. Some teachers benefitted from creating new relationships and working with departments they wouldn't usually work with; others felt less confident in delivering the project.
Next steps
We were ecstatic that the project reached our target of young people engaged, with 1,244 pupils completing Arts Award Discover. Overall, we felt the project was a huge success, with many schools exploring how to embed the Arts Award further in the curriculum.
In the future, we will be opening development sessions to all school staff, giving a longer delivery time, and boosting the programme's celebration element. We plan to create even more resources, engage more schools, and continue to support teachers at every stage.
After the pilot year, the council has committed to funding the 2021/2022 Arts Award Transition Programme, and we cannot wait to start engaging more schools and hit a new target of 1,500 students this year!
With thanks to A New Direction, Green Shoes Arts, Dagenham Park, Eastbury School, Greatfields School, Jo Richardson School, All Saints School, and Riverside School.
---
Inspiring Futures are receiving investment through Challenge London – A New Direction's partnership investment programme. Find out more about their Challenge London programme here.
Where next?
Arts Award discover Online resource
Challenge london – find out more