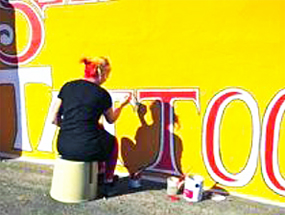 (Image taken from Matt's report)
I am a firm believer in going to see work and meeting the people who make that work happen. It is always a privilege to meet committed, passionate, and knowledgeable people who are building extraordinary programmes and projects in their location and context wherever in the world they are based.

I know a small number of Winston Churchill Memorial Trust fellows - all of whom have had a 'catalytic' or 'epiphany' experience as part of their research and travels. If you are not aware of the fellowship concept or wish to find out more about it there is some excellent content on the Churchill website.
Ideas and lessons for policy and practice from US and Canada
Matt Little, Founder Director at Real Ideas Organisation (RIO), describes his experience in the US and Canada as 'the richest learning experience' of his life and he is a profoundly different person as a result.
I have known Matt since 2002. He was one of the first 16 Directors of the Creative Partnerships programme. He is a generous, principled and clever man. As a Founder Director of (RIO) in the South West region, he is committed to the concept of social enterprise and creating the conditions and environment where people can construct a better future for themselves. He believes children are naturally and socially enterprising and can provide us with some answers, but the systems surrounding them do not develop these abilities to the fullest extent, or place young people in positions where they can make real social change happen for themselves, their schools and community.
This is a great report and a really useful read. Matt's document shares good practice approaches with young people around social enterprise, community service learning and innovative investment models in North America and Canada. It is a fascinating, well written report with some valuable insights and observations of what is potentially transferable to the UK. He shares projects and models where learning for children and young people is purposeful, real and authentic and carries wider consequences. Young people are encouraged to develop social enterprise ideas that make positive change happen in their lives and community.
I was particularly drawn to community service learning as a concept, non-profits establishing commercial ventures, the relationship between the corporate sector and small community based enterprises as investors, mentors and partners alongside the broader ambition of communities working together to build networks to establish progression routes into employment for young people.
What really comes across from all the individuals and organisations Matt encountered is that these people really know why they are doing what they are doing, what needs they are addressing, what they are changing, and how best to describe their work to engage partners and investors in their vision for change.
I feel that we in the UK need to look at colleagues across the ocean to develop this clarity and shape how we best describe our young people in the arts and cultural sector.
I am also keen to see how A New Direction can support different ways in which young people's social enterprise ideas can be developed and sustained. This particularly within our employment and skills work as part of Create Jobs, moving from how great ideas and projects are developed, to realising emerging and sustainable businesses that create rewarding jobs, that in the long term work have a positive and measurable social and environmental impact. We have also this year piloted work on entrepreneurship in formal education settings through the Creative Entrepreneurship in Schools programme, using RIO's Social Enterprise Qualification. Recommendations from this international network programme can be found here.

I found Matt's report valuable, inspiring and in many places quite moving. When you get those 30 minutes where you have a task that you really know you need to get on with but need some inspiration, download Matt's report and enjoy.
Download Churchill report final version
---
Like this blog?
We send out a monthly digest of all our blogs, news and updates - sign up here to receive straight to your inbox - www.anewdirection.org.uk/newsletter
You can also follow us at @A_New_Direction