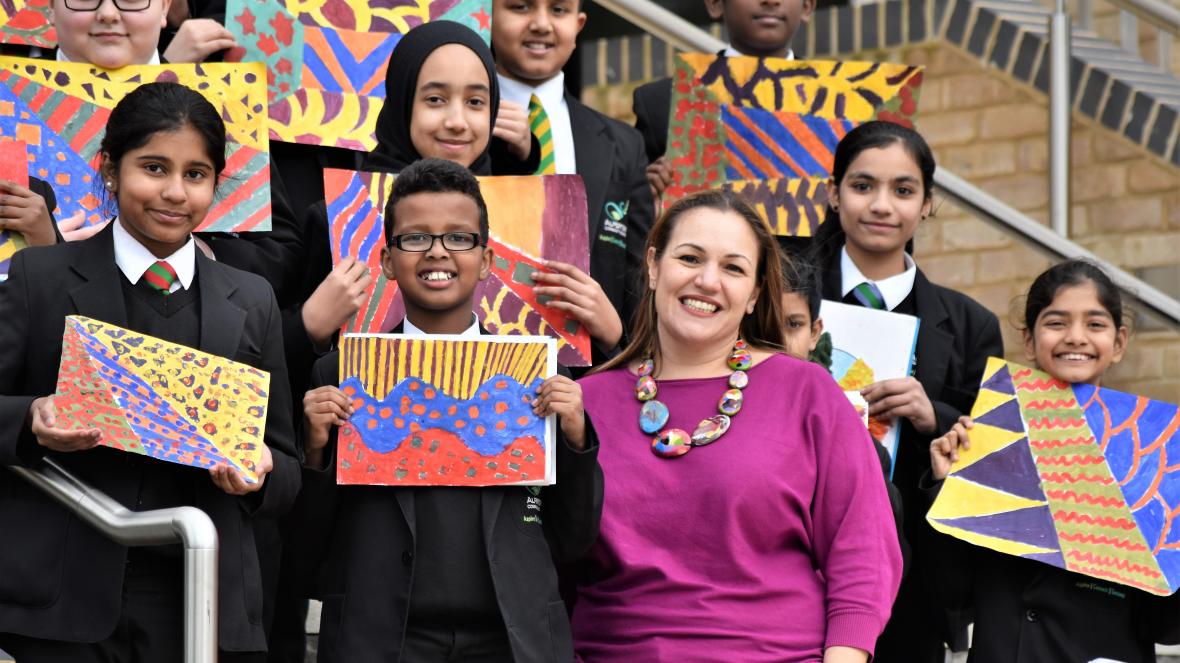 Andria with her pupils at Alperton Community School. Credit: The Times
Hi Andria – congratulations on the publication of Those Who Can, Teach. I am really looking forward to reading the book. It is an amazing achievement to win the Global Teacher Prize, set up and run a successful new arts education charity, continue to work at Alperton School two days a week in a busy role, travel all over the world presenting and influencing, run a family, and then write a book! You are quite the high achiever.
You have had two and a half hugely busy years since the Varkey Foundation awarded you the Global Teacher Prize, and I wanted to ask you a few questions about your motivation to write this new book: What was your intention? What made you decide to write it?
Hi Steve. After winning the award I was inundated by requests from publishers to write a book about my story. I was so surprised by these requests as I honestly didn't know what people would find interesting about my story – about being a teacher in my school and about what motivated me to become a teacher.
I then realised what an incredible opportunity I had to share with the world what it is really like to be a UK teacher. What our day-to-day is really like, the challenges and barriers that we face, and the incredible hard work and dedication that exists in these school buildings.
I wanted to highlight what motivates me to walk through those gates on a daily basis, why I love what I do. But, most importantly, I wanted to scream and shout about the importance of the arts in education and in the lives of our learners by evidencing through the entire book, and by sharing stories of the powerful magic that exists in art rooms.

Who is the book for? Who do you think your readers will be, and what would you like them to get from it?
This is a really great question! I think the beauty of Those Who Can, Teach, is that every teacher who has so far read the book has said to me, "this is my book too," and, "these are my students who I teach."
This is why I believe that the audience for this book should not just be teachers but everyone and anyone who is interested in the climate of the classrooms of today's world and the realities of our young people. It is important that all audiences know the importance of the pastoral care and lengths that we all go to to ensure that our young people can succeed.
I want the reader to feel proud of the teachers of the UK, to celebrate them and to be able to empathise and connect with the individual stories that I tell about my students. I also want the reader to understand my belief that the arts subjects are vital and should be considered a core factor that benefits the heightened learning of all young people.

What key points do you make about education system and teaching, and what message do you want to get across to the readers about this?
I'm really worried about the wellbeing of teachers in our classrooms and the pressures that they have experienced over the last 18 months. I read recently that a third of the UK teachers have reported that they will not remain in education within the next five years. This is a shocking statistic, and we need to investigate why this is the case and remedy it.
The main message I want to get across to readers is that being a teacher is not just about teaching a subject – it's so much more. Being a teacher now involves looking after the mental health, the wellbeing of your learners, being a nurse, cook, mentor and, on occasion, providing a laundry service too. Our role has changed as our young people are changing and I would like the world to acknowledge that this is not recognised half as much as it should be.
I have seen extraordinary work by educators recently and I am in awe of how we have adapted and changed our pedagogy to support our learners during lockdown. It has been really hard, and we've had to be resilient. However, what is clear as daylight for me is that we are not appreciated enough and that our professional judgement is still questioned.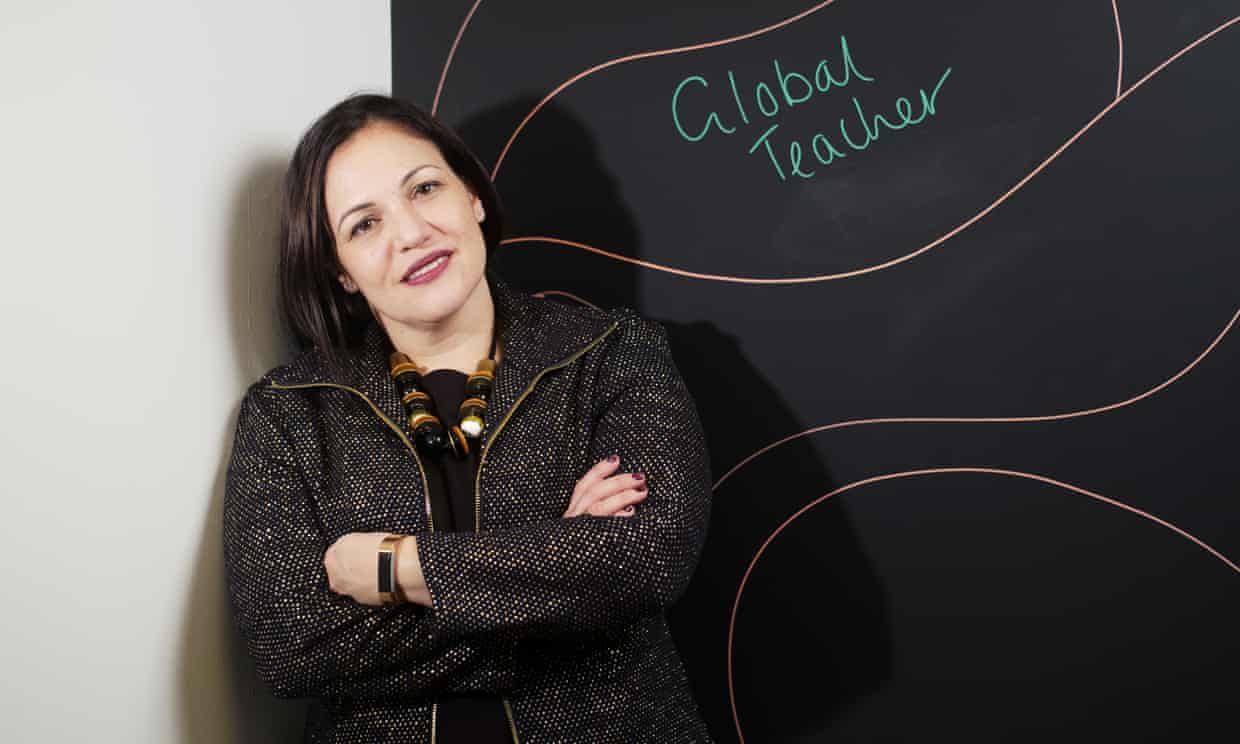 I have known you for a couple of years now and you are a charismatic and natural storyteller. What stories did you want to tell with this book?
Wow thank you for the compliment Steve! I honestly believe that some of the best teachers I've had over the last 15 years have been my students. By sharing some of their unique stories of hardship, personal challenges, struggles and, sometimes, celebrations, I have tried to demonstrate the impact and the great learning that I've experienced from these important moments which I have kept in my toolkit throughout my career. I have to warn you though, some of these stories might you make you shed a tear or two.
What I found fascinating whilst writing this book is that I can remember all of these stories to the exact detail as if I experienced them yesterday. That's how significant they have been in my life. I'm looking forward to sharing the story of Alvaro, my student who against all odds and with many labels of Special Educational Needs not only gained excellent exam results but actually knocked it out of the ballpark. I will tell you the story of Binal and Geeta, two students whose artistic talent had to be hidden from their households and how they overcame this. I will also talk about those pastoral stories that often hit us hard; about the students that, although we tried everything, it still wasn't enough.


How was it writing this? Did you enjoy the process? What did you learn from it?
I think it was more like being in therapy (haha). I really enjoyed being able to connect the dots of how I was taught, who inspired me and to see that morph and translate into who I am, my identity, and the way I teach my young people and live my life. It was wonderful to just have the opportunity to reflect, to pause, and to appreciate how much of an impact I've had on young people and also how much of an impact they've had on me.

With the book about to come out, what are the plans to promote it?
Thankfully it's the Easter holidays and so I have had the time to try and promote it. I have been busy with lots of radio and broadcasting events and was really chuffed to see my book be an Amazon orange label 'best seller' without it being released yet! Yesterday I also looked at their 'New Hot Releases' in books and Those Who Can, Teach was number three – beaten by HRH Prince Philips' memoirs, and rightly so.
I have many events lined up throughout the next few months, but the one that I'm particularly looking forward to is The Hay Book Festival in May which I still can't quite believe I have been invited to.
I'm just really loving this incredible ride and hearing back the comments of how my book has inspired or moved the reader.

You have had a busy period with your organisation Artists in Residence, and I know you recently undertook an evaluation of the first two years of the charity – what were the key learnings from the evaluation?
The one statement that has been engraved into my head was when the evaluator mentioned that Artists in Residence is, "an equitable success." Just those two words have helped to confirm to me that our model, projects and services that we provide work and benefit the lives of young people across the country as well as their teachers.
I'm so proud of our achievements and if I may gloat for a bit, it just once again proves that teachers are great at problem-solving and given the opportunity can come up with any solutions.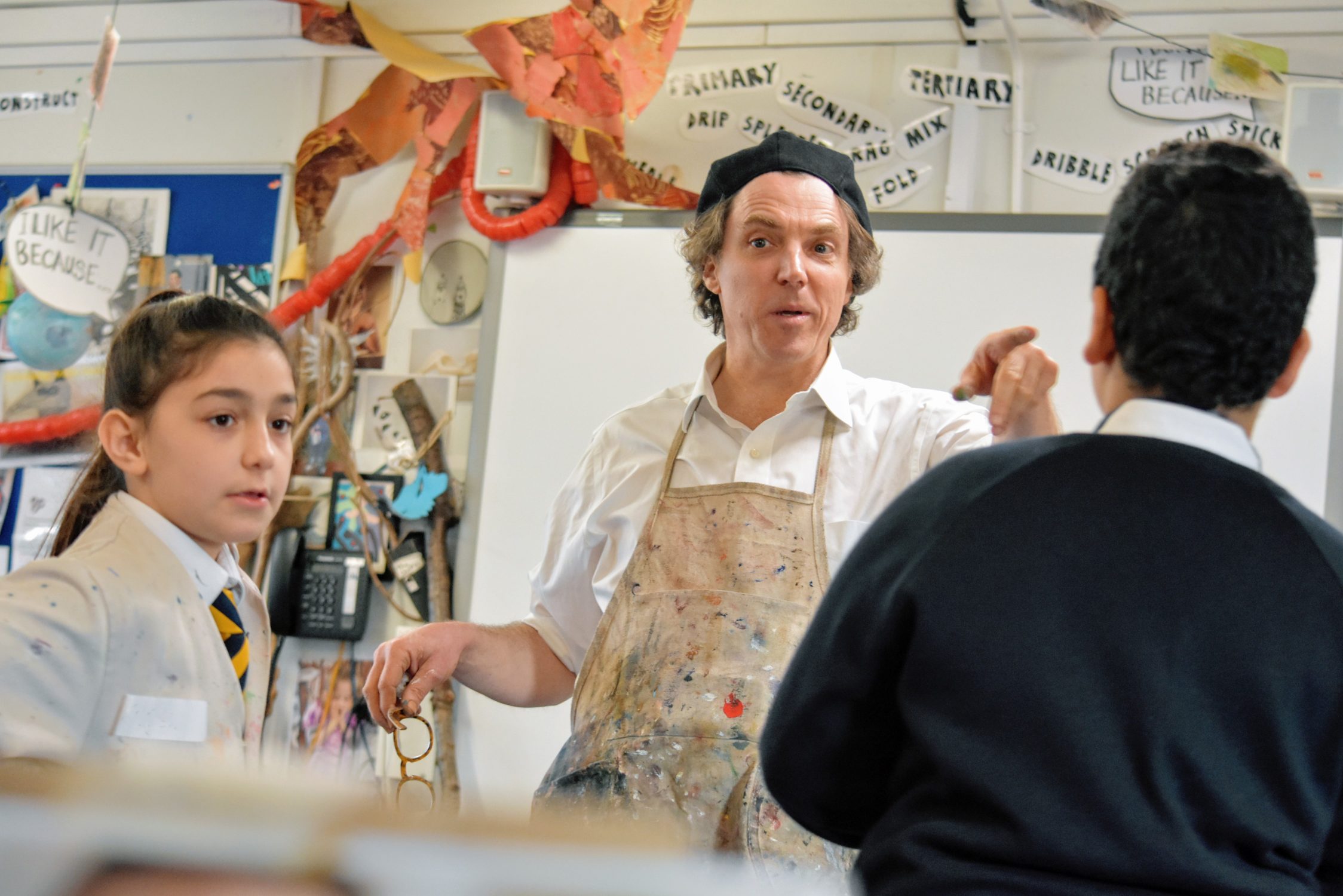 How has the COVID- 19 pandemic been for you and your work? I assume you have been teaching throughout? How have you found this and what lessons have you learned over the last 12 months?
I've been one of those fortunate people who have enjoyed the lockdown, simply because I've not been on an aeroplane and could spend more time at home with my family.
Having the extra time has also helped me to complete my book, and I was also able to undertake lots of CPD. I am delighted to share with you that I am now a certified qualified coach, and I am excited to help others.
Another thing that's been really interesting is seeing the learning of my daughters from a parent's viewpoint. I really enjoyed this and would like to praise their teachers for how they have managed to keep my girls engaged, motivated and inspired during this strange time.

Congratulations once again, and I really look forward to reading your book. Final question: what's next for Andria Zafirakou?
Thanks so much Steve. What's next for Andria? Well, so far, my journey since winning Global Teacher of the Year has been wild and wonderful and has created so many opportunities. I have loved every minute of it and enjoyed seeing how it has helped to transform my own school community and me.
I feel blessed and energised and look forward to seeing what other adventures life continues to bring my way. Does that mean will I stop or move on from being a teacher? The answer to that is: no way.
---
Andria's book, Those Who Can, Teach, will be published by Bloomsbury Publishing on 15 April 2021. You can read a great review in The Guardian here.
Where next?
Find out more about our schools programme