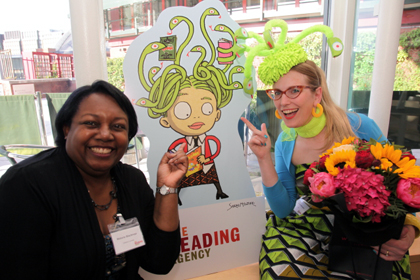 (Image courtesy of The Reading Agency)
It was a sunny afternoon full of excitement and joy at the British Library as The Reading Agency celebrated the launch of this year's Summer Reading Challenge 2014 (SRC) in libraries across the country.
After an introductory speech from Roly Keating, Chief Executive at the British Library, Sue Wilkinson, Chief Executive at the Reading Agency, started her speech by saying: "Everything changes when you read". This was only the beginning of a very inspiring speech in which she not only thanked all of the supporters of the SRC but also talked about how rewarding it is to see children discovering a new passion for reading.
"It's great to see parents happy about their children taking part in a very inspiring activity and also to see the kids cultivating a passion, developing their skills and making the most of the summer".
For Sue, the SRC is the reading event of the summer and it is exciting to see how many libraries and kids take part every year.
"We all believe that the Summer Reading Challenge gives new and innovative ways for kids to find reading exciting and help them to become more creative and more inquisitive".
Sue finished her speech thanking the British-American illustrator and writer of children's books Sarah McIntyre for her great and inspiring contribution to the SRC 2014 as illustrator and creator of this year's theme: the Mythical Maze.
It was then Malorie Blackman's turn to reflect on last year's achievements and share the excitement of this year's SRC. The Children's Laureate inspired everyone in the room by sharing some of the parents and children's testimonials from last year.
This was definitely a fantastic way to wrap-up the launch event and inspired everyone to keep working with children in libraries all over the country and share with them the magic of reading and embark on a new adventure this summer.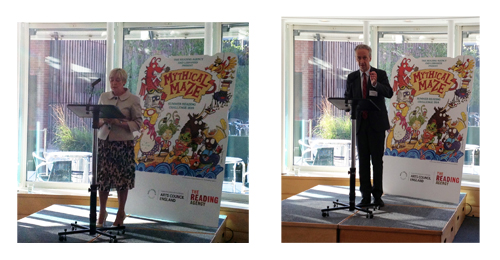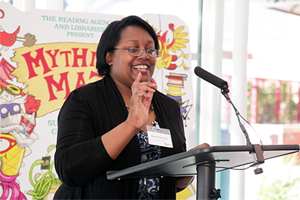 (Sue Wilkinson, Roly Keating and Malorie Blackman speaking at the launch)
About the Summer Reading Challenge
On its 16th anniversary, the SRC encourages children aged 4 to 11 to read six books during the long summer holiday. Each year it uses a new theme to inject fun and creativity into reading.

Last year an amazing record of 810,000 children (all over the UK) took up the challenge to read six books at their local library and this year the target aims to be surpassed. Even as Malorie mentioned in her speech hopefully we can all hit the million mark next year!

To find more about the Sumer Reading Challenge go here
And to find more about the illustrator and this year's theme go here
How is AND supporting the SRC this year?
Last year, we worked with 13 of the 33 Boroughs to pilot Arts Award Discover within Summer Reading Challenge, using 'The House and the Mouse' to support young people to complete their Arts Award.

This year we are working with libraries from 14 boroughs and we are very excited to be offering a flexible menu of support including Arts Award Discover & Explore Adviser training, free SRC Mythical Maze activity booklets (which double as Arts Award log books), and support for certification costs.

More information to come soon!
The Mythical Maze App
For the first time, libraries and families will be able to download a free mobile App onto their devices which will recognize key Mythical Maze illustrations and trigger audio visual content including videos, games, and messages from the mythical creatures.
To find more about the App go here
---
Like this blog?
We send out a monthly digest of all our blogs, news and updates - sign up here to receive straight to your inbox - www.anewdirection.org.uk/newsletter

You can also follow us at @A_New_Direction