Connected London is A New Direction's flagship programme to explore, at a local level, new models of partnership, delivery and funding sustainability for cultural education. Over the past 18 months, we've worked with 12 partnerships in different areas of London to trial a great diversity of approaches.
Support from public service reform think-tank the Innovation Unit has been central to our work with the places engaged with Connected London, and this in turn has been underpinned by the Innovation Unit's remarkable Radical Efficiency model.
Radical Efficiency is a framework to allow organisations to generate fresh perspectives on both the challenges that they face, and the solutions that are available to them. The full, detailed version of this tool can be found here, but Innovation Unit have also revised and adapted the model for a cultural education context: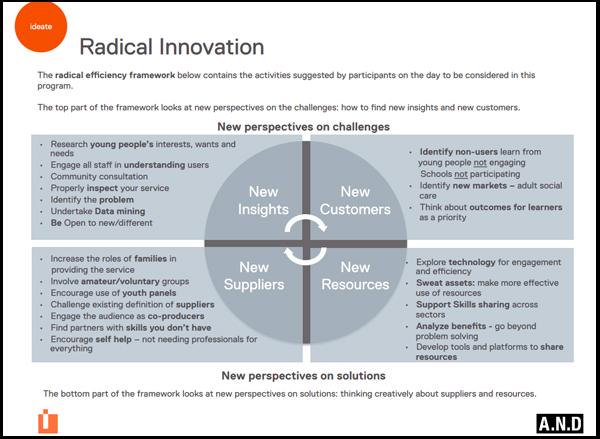 Download Radical Efficiency model
New Insights can be developed, for example through an improved focus upon user engagement and consultation, or by more active, intensive mining of the data that your organisation already collects.
In Connected London, Stratford Circus has invested great effort in improved, active engagement of the Head Teachers of local schools, allowing them to build a cultural education partnership for Newham.
New Customers groups can also be found. Who are the user communities with which your service doesn't traditionally engage; how could this be changed; and what benefits might arise? Who are the potential funders and commissioners – youth services or adult social care, for example – that you could work with, but currently don't?
Orleans House Gallery's Connected London project, for instance, is enabling Richmond Arts Service to build the capability of neighbouring boroughs to provide cultural opportunities for children and young people in care. In turn, this will reinforce the relationship between the cultural sector and local government children's services not only in Richmond, but in Kingston, Hounslow and Ealing, too.
Finding New Suppliers, including through co-production and delivery with user groups, can also unlock immense new value. Where, meanwhile, are the partner organisations with skills or capacities that you don't have, and what can you offer them in return? What role can youth panels play in the development of future programmes for young people?
Lewisham Education Arts Newtwork (LEAN) are taking a very exciting approach; having determined that high-quality arts and cultural interventions can directly meet some of the key priorities of the Early Years foundation stage, and are fostering networks and collaboration between Lewisham's nurseries and children's centres, and local artists and cultural organisations.
New Resources are also potentially transformative. How can we collaborate to better share our capcity and expertise across the cultural sector at a local level? How can we sweat assets, to make the most effective use of what we have 'in-house'? And what potentially transformative role can technology play?
With the support of Bridge funding from Sadler's Wells, Creative Islington and Islington Council's Arts Service are addressing a number of these questions, by developing a new e-portal for cultural learning that will allow local arts and heritage organisations to directly communicate their learning offer to local schools. This will soon be launched in beta, before going live in September. If successful, the platform has the potential to be extended to other boroughs in North East London.
How could these approaches by applied to your own programme? What obstacles could be seen afresh, and what new answers could be arrived at?
We'll be publishing further blogs soon to explore the use of the other resources that Innovation Unit have developed for us through Connected London, including ones for strategic planning and user engagement. If you find Radical Efficiency, or any of these other resources, useful – please share your experiences with us in the comments below, via Twitter, or through Basecamp.*
* If you would like to join Basecamp please email us.
---
Like this blog?
We send out a monthly digest of all our blogs, news and updates - sign up here to receive straight to your inbox - www.anewdirection.org.uk/newsletter
You can also follow us at @A_New_Direction