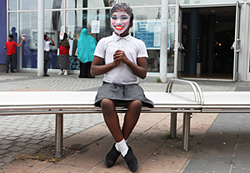 The celebration highlighted the great achievements of the Year 5 pupils, who over the course of two years have worked closely with artist in resident, Helen Marshall to create an amazing living and virtual archive of stories, videos, and photomontages exploring the past, present and future of Stratford. See the website
The 'Story of Stratford' project documents the progress of the Westfield Stratford City development, from a building site in 2009 to an operational retail centre upon its opening in 2011, and explores how the history and subsequent regeneration of Stratford will change the lives of the students and their families. The project is supported by Westfield Stratford City and managed by A New Direction.
In spring 2010, focusing on the theme of 'Games', the year 4 pupils together with their teachers and artist Helen Marshall created a series of large scale photomontages that included images of the Westfield Stratford City development site, the surrounding streets, spaces and buildings. Through play they investigated their area, using the Newham Archive to research historical references and stories about Newham residents.
Highlights includes stories of when Charlie Chaplin and Mahatma Ghandi stayed in Newham, the rise to fame of champion boxer, Lennox Lewis, and war time actress Dame Anne Neagle.
Throughout the project, pupils visited Holden Point's Olympic viewing platform, and have forged links with the residents who live in the building. Pupils wrote to the residents, to find out more about their own histories - where they come from, their expectations of the new Westfield shopping centre and the arrival of the Olympic park.
The school aims to continue working with the residents, using Sykpe technology to keep in touch, with pupils teaching the residents how to use the social software to connect with families far away.

-----------------------------
Alison, Year 5 Colegrave Primary School:
'I think the Story of Stratford is interesting and exciting because you get to go out and find out different histories and information. It has helped me think about what I want to be in the future.'
John Burton, Director of Westfield Stratford City:
'We commissioned 'The Story of Stratford' public arts programme as a means of local young people being able to connect with their environment and learn more about its past, present and future during a time of major regeneration activity within Stratford. Working with Helen Marshall and A New Direction, the young people have taken part in a series of arts-based programmes ranging from archaeological digs to photography projects, and have learnt a great deal about Newham and its history.'
Steve Moffitt, Director of A New Direction:
'Focussing on the themes of the past, present and future, A New Direction has connected local young people with the Westfield Stratford City development to encourage them to participate and own the changes that are happening around them. A unique learning collaboration for all involved!'
To view artwork from the 'Story of Stratford' project go to the website