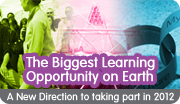 The Biggest Learning Opportunity on Earth encourages young people to think critically about their place in the world and what it could mean to be a global citizen in the 21st century.
It is run by A New Direction, as London's 2010/11 Creative Partnerships Enquiry Schools programme, and is delivered alongside 13 of London's leading arts and cultural organisations, each developing a different Olympic-themed project concept.
The partner organsations are:
Cineclub - The Young Filmmakers Network
Clayground Collective
Discover
Eastside Educational Trust
Emergency Exit Arts
Fundamental Architectural Inclusion
Graeae Theatre Company
Kinetika
LIFT
MakeBelieve Arts
Nimble Fish
Punchdrunk
RollingSound
The programme will culminate in a celebratory festival in July 2010, with all 145 schools coming together.
'The Biggest Learning Opportunity on Earth' has been granted the Inspire Mark the badge of the London 2012 Inspire Programme, which recognises innovative and exceptional projects that are directly inspired by the 2012 Olympic and Paralympic Games.
The programme webpages are now live, and participant schools and their partner organisations will be providing content throughout the coming months as their projects develop and take shape. From here you can also visit the supporting blog, run by DEMOS researcher Charlie Tims.