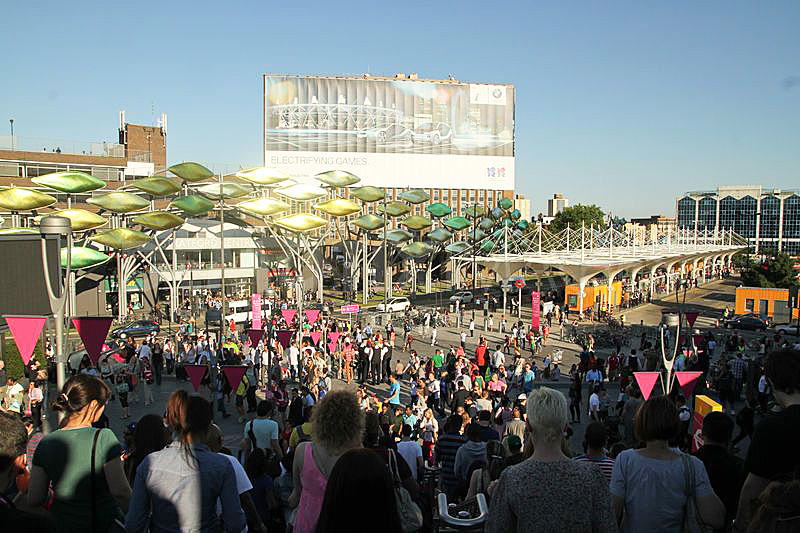 (Image credit Wikimedia Commons)
From tomorrow we will be working on the edge of silicone roundabout – offices on the third floor on Somethin' Else's building – a lovely light bright open space with flexible meeting spaces and plenty of room for our expanding team.
Moving can often be stressful and I have never been particularly good at it – so this week privately and now publicly I have found a couple of moments to be sentimental about Stratford.
The move is part in response to a break in our lease with Discover – their need for more space - an opportunity to reinforce our pan London brief as the lead Bridge organisation for the city – and more importantly to bring the team into one space – no longer working across two smaller offices.

It was in July 2002 that I arrived in Stratford in my new role as Director of Creative Partnerships London East.
Kiran Rao had been commissioned to find offices for the two London Creative Partnerships teams - the best contender for me was a young emerging organisation called Discover. At the time the building was a shell. A former Edwardian temperance hotel stripped back to a series of large open spaces ripe for reinvention.

I worked in a corner of the Discover team's main office - not really ideal - the realisation of what is now the story trail was all pending a huge capital grant from the London Development Agency.
Once funding was agreed the narrative of Discover's success unfolded over the next 10 years under the maverick leadership of Sally Goldsworthy. It has been a pleasure and a joy to watch Discover become the triumphant organisation it is today - providing the opportunity for over 80,000 children and young people annually to experience a high quality imaginative creative learning offer.

As a team we have moved around the building – built walls, knocked down walls, decorated and reconfigured our working space around our needs – and hosted all manner of events and convenings.
This is the building where all Three Creative Partnership teams merged in 2008 to become the home and effectively birth place of A New Direction. It feels strange to say that now – the reality is we are what we are – but this is where we came from and part of our history as an organisation will always be connected to Stratford.

One vivid memory of the early days is Sarah Weir asking me to speak about Creative Partnerships at an Arts Council away day – in the building in now what is our main office - to an audience of officers and senior management – of whom 90% of the people in the room put their hands up and admitted they had never been to Stratford.
It is fascinating now to look back on – but this part of London before the Olympics was a place that many people had never visited, and it is only that this has recently changed as the focus of the city has turned eastwards.

Having been based in Newham from 1989-1996 (with Theatre Venture) I returned tin 2002 to a much more confident Stratford - newly connected to the rest of the city via the Jubilee line and the Docklands Light Railway.
Although hosting the Olympics was still just a twinkle in Sebastian Coe's eye - Stratford was alive, buzzing, culturally diverse and busy. It felt like a great place to be.
I remember sitting with Peter Jenkinson (the first Director of the Creative Partnerships initiative) in a cafe on Stratford High Street after a long and scrutinising visit from representatives of the Treasury and Peter commenting with delight as people passed by "the whole world is here".
This narrative of the world in London and how we might describe the diversity of our city was here long before LOCOG managed to devise the rhetoric of London 2012.
I will miss the energy and messiness of the place. One lasting memory is sitting here last summer with the window open listening to the roar of the crowd in the stadium – and feeling like we were connected to the world.

Newham has been a great place for us to work.
Through Creative Partnerships we worked with over 50% of the schools in the borough. Andrew Mutter as the borough arts advisor was a great advocate and supporter.
We worked with Westfield on The Story of Stratford project – culminating in a series of wonderful hoardings outside Stratford Station and an interactive exhibition at East Thames - which led to a lasting intergenerational partnership between Colegrave Primary and the residents of Holden Point on the HLF Stratford Explorers project. I have enjoyed contributing to the Stratford Rising partnership and wish the consortium luck in their future endeavours and opportunities.

Highlights of my time here are largely to do with people - the many people who have worked here as team members, creative agents, freelancers, partners, local authority representatives, MPs, teachers, Headstarters and practitioners - all have been in and out of this building – met here, planned and devised projects, evaluated programmes - all in these offices .
We have hosted hundreds of international visitors - from the Netherlands, Sweden, Japan, Spain, Australia, America, Taiwan, and once the whole staff team of a Middle School in Norway – initially for a days INSET on creativity in Discovers basement – which then had to be extended for a week as all 40 of them were stuck in London because of the Icelandic volcanic ash cloud. Happy times!

I will miss the large scale magnetic map of London in our meeting room created by Howard Mathew (Lynne Brackley's knitted map of the world is coming with us to Old Street). I will so much – the energy and directness of the place – it is what it is - the Falafel wraps from the Olympic cafe round the corner.
It's been great to here and it's just beginning to hit me that we're moving, so much change has happened to us in this place, to me! So 20- 26 Brunswick Place N1 6DZ tomorrow - a new route to work – blimey 11 years of my life – I think it's ok to have a moment to be sentimental.