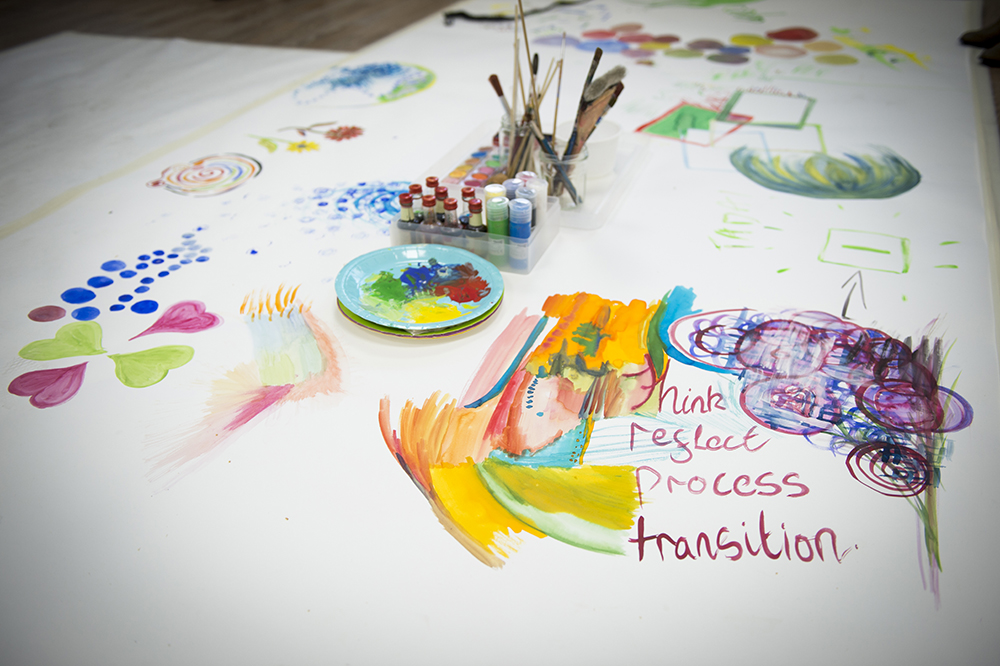 Working at West Thornton Academy Primary School in Croydon, creative practitioners Alex McIntyre and Abigail Hunt collaborated with teacher Maggie Delwiche and SLT Claire Bracher to explore a project that looked to support wellbeing within the school staff team and to create space and time for adults.
Alex and Abigail took time to reflect on the project, how it began, developed and evolved…
---
This creative catalyst project focussed on the needs of the adults in school and not the children. We wanted to help staff develop a language with which to talk about well-being, recognising that the experience of well-being is different for each individual. Our aim was to find ways for adults to discuss, understand, take responsibility for and improve their own wellbeing – both individually and collectively.
Why?
The project echoes nationwide media coverage of teacher stress, increasing pressure and burnout. West Thornton has recognised a problem with staff retention. Issues around why this is happening are in their very nature difficult for staff to acknowledge and discuss. The project ambition was, therefore, to begin to shift school culture and to find ways for the school community to support each other - to do 'things' differently.
What we did
The school employs an innovative use of space – big open plan teaching spaces, small spaces for individual children to work independently – even the staff room has grass, deckchairs and a gym. Yet teachers talked consistently about a lack of mental time and space.
We took a series of tiny steps to unpick ideas of well-being and create space and time for reflection:
The project had two strands:
Space 2… was a reaction to the school environment – a place for adults working in the school to visit whenever they found a moment. Visual artist Abigail set out carefully considered creative provocations within the space as invitations for staff to respond freely without judgement or failure. Processes were deliberately collaborative so there was less emphasis on who or what had been made, and more on a trace of things happening in the space being made up of small parts that built into a growing shared experience. Abigail was very interested in the way we use our bodies differently when we are making - the haptic touch and experience of holding art materials; the physically of the act of making a large-scale cardboard sculpture; the movement of your arm as you paint with ink. When you are using your hands to make something, your mind is working differently. Through that touch, you are here, present, embodied in this moment, and that moment away from the other things going on in your day is important – even if it is only for a very short time
Artist and coach Alex offered 1-2-1 and group sessions with selected members of staff. These were confidential in nature. Using drawing and coaching techniques she facilitated a listening space, which was directly responsive to the needs of the individual/s. Each participant set a goal for the session and was primarily responsible for its content, outcomes and subsequent actions. The idea was for the individual to gain a deeper understanding of their chosen issue, to hear themselves more clearly and thereby gain a shift in perspective.
This project was a big creature. The school is enormous with lots of staff. The subject of wellbeing is uncomfortable and tricky. It was not possible to go in and say 'this is the answer' and even now it is very difficult to quantify or measure the results of what we have done.
What we learnt
The value of collaboration. Early project planning conversations meant the 4-person team formed a strong partnership through which we were able to articulate thinking and challenge each other.
As practitioners, we had the sense that the school's open plan spaces had removed architectural boundaries and with them a metaphorical loss of social and professional boundaries. Adults needed private spaces in which to mentally rebalance. Artists often use and create these sorts of spaces within their practices and so creatively this was an interesting way in.
Space 2… was a really supportive environment, which acted for Abigail as a positive reminder of the importance of the process of creativity, and the value of immersing yourself in materials and making.
Alex valued the collaborative partnership which was based on mutual trust and an ability to articulate, share and challenge each other safely. Each individual brought different skills and perspectives creating rich opportunities for the exchange of ideas. This provided a welcome contrast to her personal art practice which is studio based and usually solitary.
The teachers we worked with were amazing. Maggie and Claire's generosity and sense of personal responsibility, combined with a moral compass and dedication to building a better world through teaching and education, is extraordinary. They have inspiring ideas and hold the potential to fulfil them. On reflection, the key to this project was us acting as support for the teachers. They are climbing a mountain, and for a short time, we acted as Sherpas offering to carry bags, give water – offering permission and encouragement as they marched upwards. They will continue to address the issue of adult well-being in school – we just helped create an environment for them to begin the journey.
---
These ideas have informed a tool and case study for the MCS Learning Resource - read about it
here
.