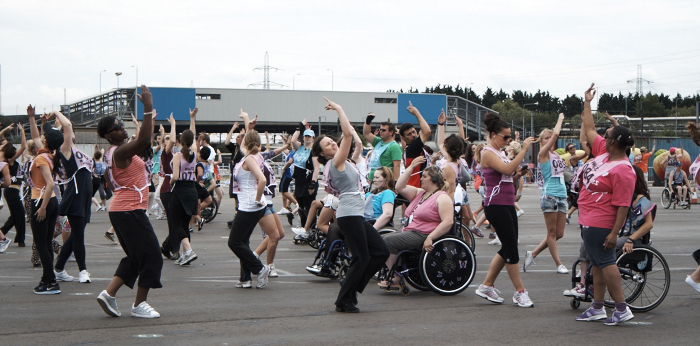 (Image credits: Tahmina Rahman)
Jenny was the co-director of the opening ceremony of the Paralympic Games last summer, together with Bradley Hemmings.

Did you like the film?
The film is just stunning, because it represents a whole journey. I was very aware when I got all those professionals together that some of them didn't identify with being artists and some didn't identify with being disabled. But just putting them under one roof was the beginning of something quite extraordinary. I think the film has really captured that.
Was there a sense of community amongst the performers?
I don't think I have ever felt so much at home as I did on the first day, when we had 44 performers in our bespoke room in Circus Space. We were a majority rather than a minority. There were a lot of deaf artists there. We had sign language interpreters there; everyone had to work out the best way to communicate with everyone else. I was in heaven. I was at home. It was an overpowering feeling.
By the end we identified as a family. During rehearsals we talked about disability all the time. Because we had to adapt to one another, it was there in the mix of everything all of the time. Some of the humour was fairly sick - legs getting lost, going awol and so on. But out in everyday life - being disabled is never the most important thing that defines what we're like. Being deaf is who I am - it's not the only thing that identifies me.
Does being more aware of communication make you a better manager and director?
Because my whole world is visual I can be sitting at my desk in Graeae or in rehearsal watching people dancing and I can see quickly that there's a person in the middle and they're not very happy. At rehearsals I could tell through their physicalisation and their hesitancy that they can't get the information, and that they're unsettled. So I was able to zoom in and say look 'are you feeling unhappy? Do you want to go over there?'. That's a skill because I people watch.
How did you go from a blank-sheet of paper to an opening ceremony?
I was directing The Tempest with a group of young people from the Orpheus Centre and I was asking this gorgeous young woman called Charlotte, who is autistic, 'what do you think 'oh brave new world, that has such people in it' means?'
She said, 'well, Miranda - she looks without judging...' and I went, 'Thank you Darling! That's it!'
I legged it over to Bradley and said, 'I know what we're doing. I've got a hook and it's about how wonderful mankind is - it's Miranda! It's The Tempest!'
So when we met the organisers they laughed out loud said and said, 'this is such a coincidence - Danny Boyle talked about The Tempest, Kim Gavin talked about The Tempest and now you're talking about The Tempest.'
So Miranda was always there, Spasticus - Ian Dury - was always there (the organisers didn't know that - we knew that) from the start. And then we added the most famous disabled person living in the world. So we had Miranda, Spasticus and Stephen Hawking. When went into our blank room, we put those pictures up.
Has doing the opening ceremony opened doors for Graeae?
I was really hoping that the phone would be ringing (not that I'd hear it). But it hasn't. And I feel particularly upset, not for me, but for my colleagues like Nicola and Miranda. She is the most beautiful actress. Who's employing her? Nobody. It's wrong. What about Lauren? Why isn't she doing something else? Why!? She doesn't want to be doing Snow White and the Seven Dwarfs every single Christmas. She really doesn't. She's better than that.
I'm probably the only artistic director that wants to close their theatre down: in 2013, why do we have to have a company like Graeae? We should be on at The National, we should be at The RSC. 1 in 8 people are disabled - theatre should reflect demographics of society. I have so many brilliant actors that get rusty because they don't get used. I need people to see beyond them playing disabled characters. That's the battle that I'm fighting and I have been fighting the last 25 years. I don't really want to be fighting anymore, but it's still there to be fought. And I'm not ready to hang up just yet.
Can a film change perceptions?
I think the exposure of this film is really important. The newspapers can say 'yes! we've transformed our perception of disability' and then weeks after the Games has finished - *silence*. And I'm like 'we're still here!' We're still fighting against government cuts in benefits and the rest of it - don't push us away now. I also fundamentally believe that art has a huge ability to affect change. All art is informative, it's educative, it's about emotional literacy, it explodes your mind and opens it up to thought processes, opinions and feelings. You have to believe as an artist that what you do, can change people's lives. The question 'what has changed?' needs to be asked 3 or 4 times over the next year - to carry on the conversation. The change takes a long time to filter through. And if we're still out there campaigning as Graeae, maybe it'll get to the 29th August 2013 and it'll seem like something has.
Check in tomorrow for our interview with Jacqui Adjenii-Williams.