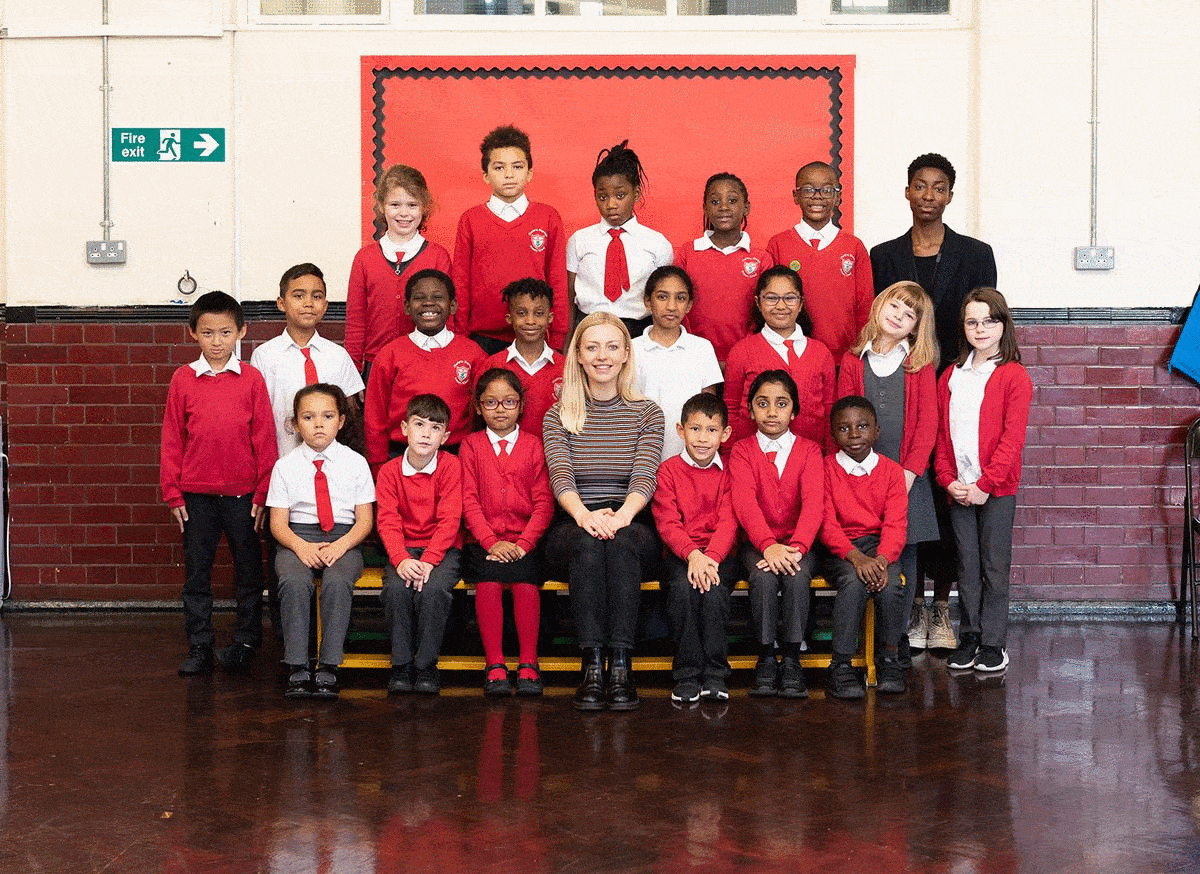 (Year 3 Class Photograph. © Steve MᶜQueen and Tate.)
A New Direction was approached by Tate and Artangel to be part of Year 3 in early 2016; initially to offer advice, support and help. I was immediately drawn to the simplicity of the idea – it was such a brave, simple and wonderfully audacious idea – which had the potential to involve every school across the capital - it was too irresistible to NOT be part of.
For me being part of these early conversations was important – how might the values behind such an endeavour be integral to how the artwork would be realised? How would the children be central to the whole piece? How might the invitation to take part - be meaningful and authentic?
All I could think of was - what an amazing opportunity for the 7 and 8 year olds of the city, for their teachers, their teaching assistants and also for their parents - to be part of something so huge, so visible - to take centre stage – to be seen – to be proud of who they are – and to be integral to a major new artwork at one of the nation's largest galleries and across the city through the public exhibition!
Much of the work we deliver at A New Direction is invisible. We support and hold a number of initiatives, relationships, partnerships and programmes. We work all over London – we help create new infrastructure, we support individual young people, schools, networks of schools, arts organisations, libraries, youth projects, the cultural sector. We create networks, work in partnership - that is the nature of what we do.
But occasionally, just occasionally it is important to be part of something bigger, to put our head above the parapet and do something unexpected. Something brave - and that is why we are part of Year 3.
In the summer of 2016, we were commissioned by Tate and Artangel to develop a feasibility study to look at how the school engagement would be approached.
We worked with the brilliant Jen Crook to scope the logistics and challenges. From our early conversations with Heads, Year 3 staff and pupils we knew this was an idea that would capture the imagination of the city.
When meeting Steve, he was charming, passionate and funny, and this meeting confirmed that I wanted us to be part of this in some way.
Time passed, money needed to be raised, plans developed, risks identified and solutions scoped. Tate then commissioned A New Direction to manage the schools engagement in the project. We were to act as delivery partner, advisor, facilitator and to be a core partner to help realise the project.
I am incredibly proud of this piece of work and particularly proud of the A New Direction team and what they have achieved. Year 3 has been a unique opportunity for us to create something new, strategic, bold and different. It's been a privilege to be part of.
There are so many people to thank as part of the Year 3 journey, but more importantly there is so much that London's Primary Schools should be proud of.
We have some of the most improved schools in the country, with exemplary leaders, fantastic kids in some of the most inclusive, welcoming learning environments in the world. We also have phenomenal assets and resources in the cultural sector. When these two worlds come together, the results can be magical and can help us understand who we are in new and important ways.
If you haven't seen the artwork across the city I suggest you get yourself down to Tate Britain to see and experience the future of London!