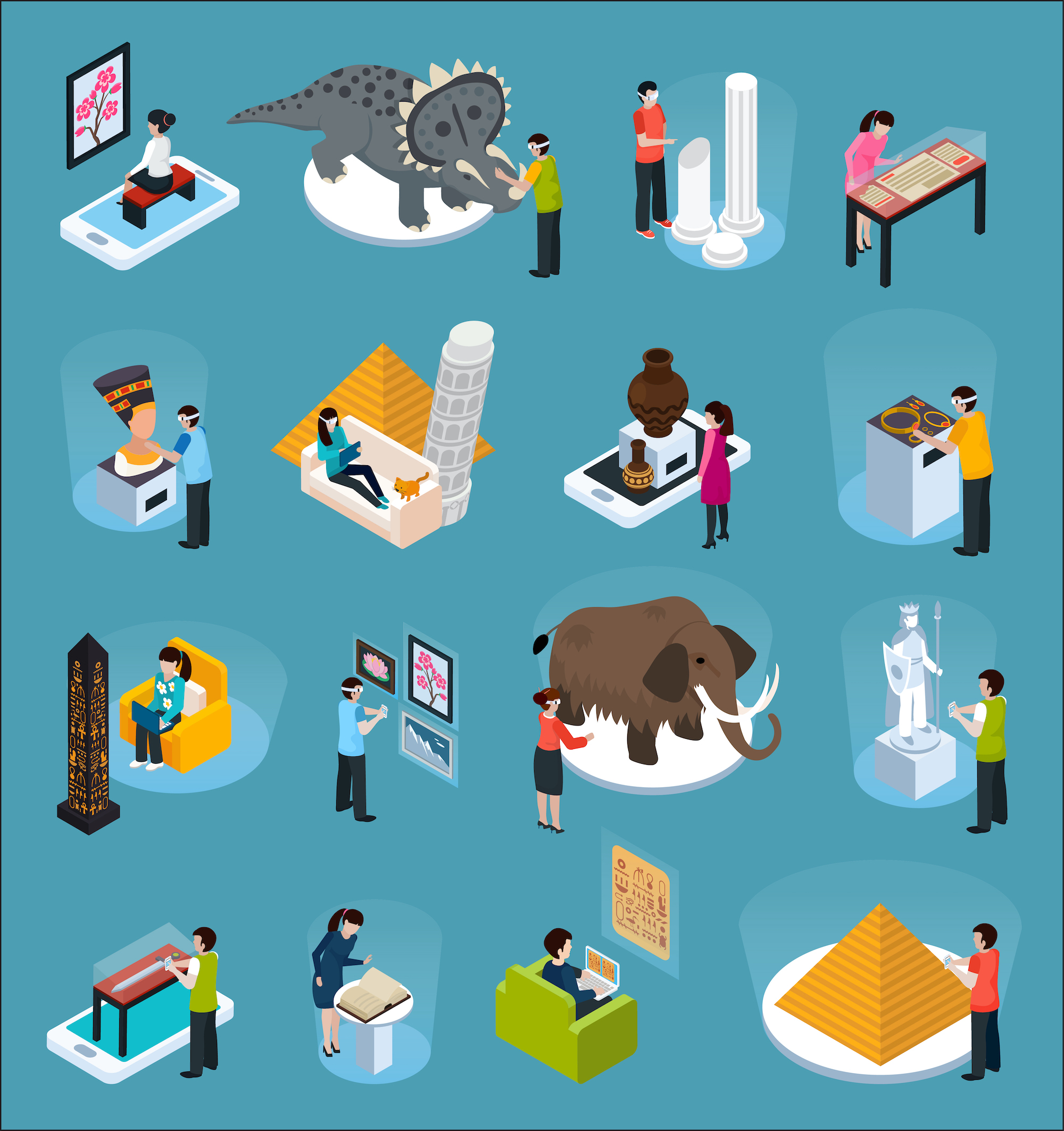 Image designed by macrovector / Freepik
Even when schools are open again, it is unlikely that students will be able to go on school trips in the same way they used to – at least for a while. However, there are ways to recreate the experience online or in the classroom.
The first step is to have the topic or theme you want the trip to focus on. Think about what the benefit of going on a school trip would normally be for the students: a lived experience; seeing real objects, organisms, buildings or landscapes, and having the chance to explore and engage with them; taking part in a collective experience, consolidating learning in a new way; meeting and speaking to experts; having fun.
How can you recreate (some of) these things so your students can learn something new or revise something you have taught them? We've gathered some ideas below...
1. Book a live workshop session
Lots of cultural organisations have moved their education offers online and are running workshops through live streaming – some ones to check out: Shakespeare's Globe, Royal Museum Greenwich and British Museum.
These offer a great chance for students to speak with experts and engage with exhibitions collectively. If you had thought of a gallery or museum you would usually visit, check their website to see what online offers they might have.
You might need to get a little more creative than before – a local trip such as visiting a synagogue might not be able to happen at the moment, but the Jewish Museum are running virtual classroom workshops for all ages which are linked to the curriculum and include sessions designed specifically for GCSE.
If you had planned on visiting a theatre to watch a play for English, why not instead watch a recording of a performance, and then book an online session with a theatre or a freelance practitioner to bring it alive?
Once schools are open again it is also worth looking into outreach programmes where organisations visit your school for workshops rather than you going to them.
2. Check out offers in your local area
If you haven't already, check out the 'visit' tourist attraction site for your local area, such as Visit Richmond or Explore Haringey. These can usually be found on the council website, and there will often be a section on leisure or culture.
There might even be a local authority newsletter you can sign up to. These will include digests of 'what's on' near you, which, although possibly not specifically aimed at schools, can provide great ideas for trips, with more and more organisations starting to tailor events and activities to work with lockdown restrictions.
3. Book a freelance artist workshop
Some freelance artists are still running workshops online, such as illustrator Emily Fellah. If you have a theme or topic in mind, try then thinking of an artform that could be used to revise and consolidate some of the learning in a new and interesting way. You might have wanted to plan a history trip to a museum – instead, can you challenge students to share their learning through a graphic story?
There are organisations who can support schools in engaging with artists, such as Artists in Residence, and you can use the 'Programmes' or 'Events' tab on our LookUp directory to find projects which can be done remotely. A New Direction can also help point you in the right direction if you can't find what you're looking for.
4. Explore museum collections online
Lots of galleries and museums have virtual tours, either on their own sites or through Google Arts and Culture. You can explore collections and stories at your own pace, and sometimes you can even walk around the actual exhibitions. Sometimes you can even control the viewpoint with 360-degree videos – such as these videos from Kew Gardens.
Select the 'virtual tours' search option in the 'type' drop down box on LookUp to see a selection on offer from London's arts and cultural sector, and please do let us know if you've found a really great one that isn't listed!
5. Have an immersive adventure day
Similar to going on a virtual holiday, you might want to have an immersive adventure day based around a relevant curriculum theme. If you are studying the Anglo Saxons – why not 'go' on an archaeological dig to Sutton Hoo? Or for the Vikings, time travel back in time to their first raid on Britain in 793 AD. You might have a day out at the zoo or go on a live safari watch.
You can read about how to make an adventure immersive in the My Creative School Compendium of Ideas, and there are some ready-made packages available like this one from As Creatives Connect. Encouraging students to be imaginative and inquisitive is the key to making it work! You will also need to have creative offline activities to link to the online experience.
Another way to have an adventurous 'school trip' is to use an offer such as Now Press Play's immersive audio resources for KS1&2– they currently offer four free for schools, including Stone Age and Mission to Mars. Immersed in sound, the children become the main character in a story, meeting people, discovering places and solving problems.
Some schools have even managed to do adventures remotely during lockdown school closures – with the whole school getting ready to go exploring, before becoming 'stranded' on a desert island. There were videos created to set the scene (making excellent use of the Zoom background!) and students were challenged to create shelters, map the island, and write about their experience.
If you are a teacher and have any tips or suggestions based on your experience of running a virtual school trip, please get in touch. If you are a freelance artist or cultural organisation with offers for schools, please add them to LookUp here.
---
Where next?
More creative tips for teachers blogs
reset Recovery curriculum resource