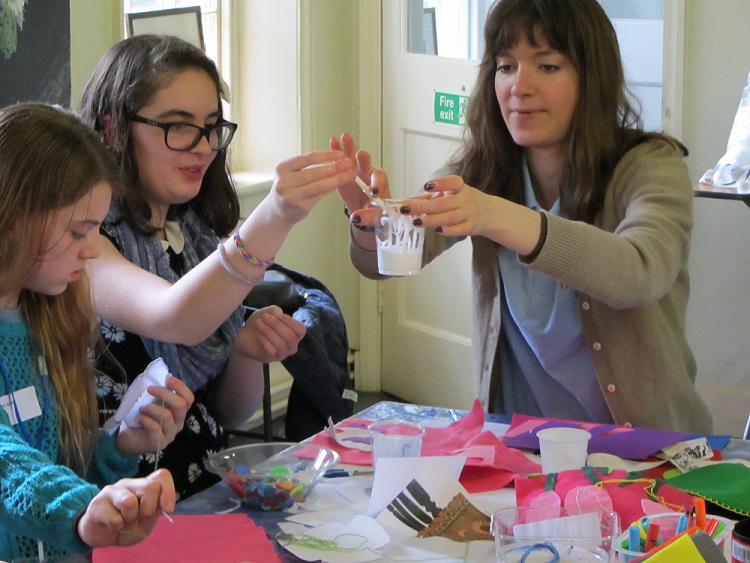 Image credit: Geffrye Museum

There are currently 2,036,975 children and young people aged 5-25 in London, and since Arts Award started ten years ago, 24,372 young Londoners have achieved the award.
However, some parts of London have fewer opportunities for young people to consistently achieve Arts Award and progress through levels. To support more young people to achieve Arts Award, A New Direction is supporting three area-based pilots to develop and strengthen the delivery of the award in London.
This new approach focuses on the conditions and partnerships that need to be in place to make Arts Award work in areas of low engagement, and is supported by an action research programme that aims to develop a deep understanding of how schools, local authorities, cultural organisations, freelancers and informal settings can all support children and young people to achieve through Arts Award.
Last year we asked anyone working with Arts Award to apply to be a part of this new programme – and we identified three organisations and places that we are supporting to lead on this work:
Eastside Educational Trust:
Working In partnership with schools and colleges in Redbridge to enable progression in Arts Award Silver and Gold with a focus on what needs to happen in order to make progression (Silver to Gold) easier for schools and for professional organisations to offer support in a meaningful and engaging way.
Kingston Music Service:
Working in partnership with Kingston University's Stanley Picker Gallery, the Rose Theatre Kingston and Anstee Bridge to build capacity and align with exisiting schools programmes to explore how the borough can create an infrastructure that offers young people in Kingston a greater range of opportunities to engage and make progress within the Arts Award framework.
Swiss Cottage:
Working in partnership with SEND schools in Bromley to estsblish how a Teaching School can support its partner schools to help learners with Special Educational Needs and Disabilities overcome barriers to achieving Arts Award accreditations.


Over the coming months we'll be sharing more about what we have learnt works when establishing Arts Award so that more children and young people can achieve the award. We'll also be re-opening applications to this programme in late Spring 2016, so please do make sure you sign up to our newsletter here to be the first to know when the new programme is launched.
You can also read about our High Impact Arts Award work here