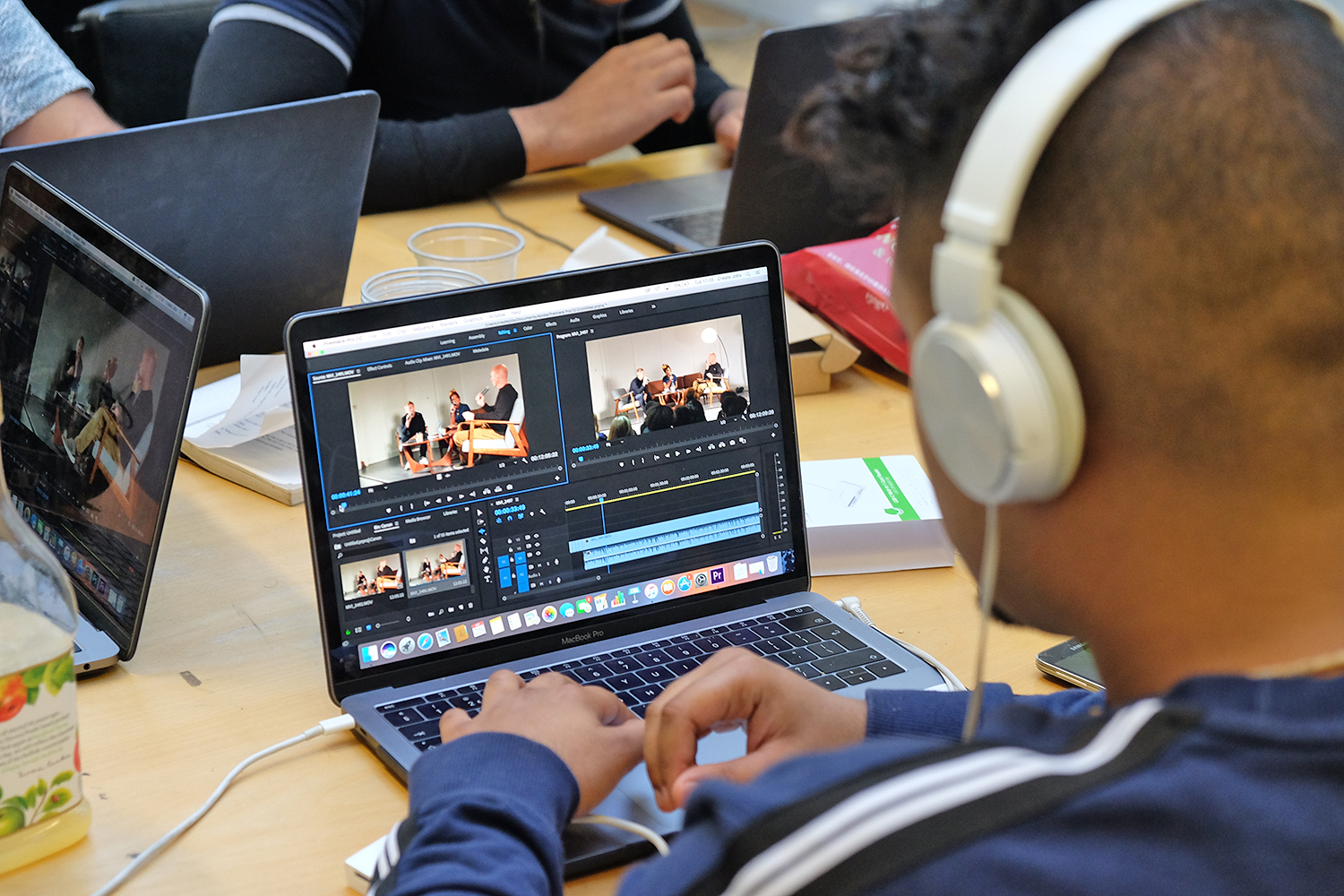 Image credit: Eric Aydin-Barberini for A New Direction
Our Big Change Series is designed to support London's cultural sector with a space for innovation, challenge and learning. Our first event in the series focussed on continued professional development opportunities in digital skills education. The afternoon was run in partnership with TechPathways London, a new programme offering free training for educators of 11-24 year olds, facilitated by London Connected Learning.
The afternoon featured workshops on online safeguarding, and sessions exploring practical tools for engagement and creative documentation. Participants also heard about the support on offer from Arts Council England's Tech Champions - a group of digital specialists who can provide support and training for the arts and culture sector.
The afternoon ended with a session from Kieran Akhtar, a young filmmaker and grauate of Future Start Up Now - a digital skills project co-ordinated by A New Direction's creative employability programme, Create Jobs. Below, Kieran tells us more about himself, what he's gone on to do after and his experience of the day.
---
Hi, I'm Kieran. I'm Creative Director and Business Manager of Rococo World, an LGBT+ representative Media Production Company. After buying a DSLR camera in 2017, I left my computing BTEC as I wanted to utilise the business, project management and e-commerce knowledge that I gained there. Fast forward 6 months, and I was attracting musicians to work with me based on a tester edit which I had put together.
I started learning filmmaking via YouTube videos. Realising I had a knack for it, I applied for many free opportunities such as Eastside Film Crew with Eastside Educational Trust, Young Programmers with Barbican Creative Learning, Future Start Up Now with A New Direction and Create Jobs, and, more recently, Creative Leaders workshop programmes with Art Clubbers and Spotlight. These opportunities allowed me to make connections, develop skills and gain the flexible knowledge needed for a creative career.
I was approached by A New Direction to host a workshop at the Museum of London for the first event in their Big Change Series, where I would also be able to present my journey to industry representatives to think and learn about digital opportunities for children and young people. After presenting on my journey so far, I ran a workshop with attendees. I posed some key questions about digital opportunities and diversity to the room.
The week before the event, I did my research. I had some frank conversations with other young creatives around diversity in the film, digital and tech sectors. I fed their responses back to the room at Big Change to spark debate and delve deeper into different perspectives.
Below are a few of the responses I shared as part of my workshop:
At the beginning of my career I benefited from partnerships between organisations, meaning that I could gain experience across different settings
Joe Steele - freelance musician and creative facilitator
Joe made great use of this cross-organisational collaboration and is a testament to the benefits of this idea for increasing the worth and networks of young creative people.
Young people of all backgrounds must be reached where they feel comfortable being. There is a diversity issue in the creative industry which must be solved differently for each ethnic group, rather than collating all diversities [which aren't white] into a 'minority ethnicity' category.
Helena Morais - actress and script writer
After experiencing the struggles of being an actress of African origin in Britain, Helena is tired of terms like "People of Colour" and "Black Asian and Minority Ethnic" when referring to people that may face discrimination and typecasting. She believes the best approach to increasing diversity is going to where these people can be found.
The scope and prospects someone has are impacted by social mobility – for some people a career is only about survival. Unfortunately, the art industry is catered to the middle class. We can't see an easy way to climb the ladder creatively when we are raised being told that art won't pay the bills
Saira Khan - design graduate
Saira originates from a Pakistani family in Blackburn, Lancashire where the prospects and career pathways suggested to her were usually not of a creative nature. This has been a hinderance but also motivation in her life to succeed in London where opportunities like these are booming.
From these responses, it seems that young creatives in the digital sector understand that opportunities are about area, place and progression. And that there is great power in working within cultural and creative spaces that are authentic to young people.
---
The next Big Change event will take place on 22 January, and will focus on engaging audiences. We are delighted to be hosting two different workshops run by the Shakespeare Birthplace Trust and Korantema Anyimadu - a freelance curator and Communities Manager at Arts Emergency. Both will examine work with audiences at scale, segmented audience engagement and inclusive programming.
Kieran's work can be found at: www.rococoworld.com
Company e-mail: rococo.world.mov@gmail.com
Company social: @rococo.world (Instagram)
Personal social: @kianivision (Instagram & Twitter)