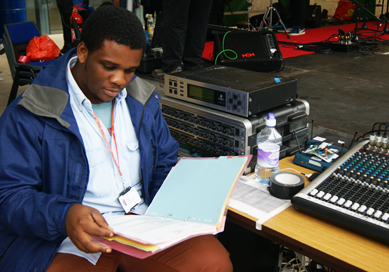 (Kelvin Ghann is an Event Assistant Intern at the London Borough of Hackney/ Hackney Music Service. He started in August as part of our CREATE Jobs programme)
The Creative Employment Programme (CEP) is a £15m fund to support the creation of traineeships, formal apprenticeships and paid internship opportunities for young unemployed people wishing to pursue a career in the arts and cultural sector. It's funded by Arts Council England and Creative and Cultural Skills is the national provider for the CEP.
This Wednesday 18 September (4.30-6.30pm), together with Create London and Hackney's Ways into Work, we are hosting an employer event at Hackney Empire to promote the CEP scheme that provides wage contributions for employers to create new paid positions. (click here if you want to attend)
The event presents financial aid available through CEP, along with other government schemes in the Youth Contract and the Apprenticeships AGE grant. We will add up numbers, discuss the minimum wage, and look at the business case for taking on a local young person.
The geographical context we target is the East London Boroughs of Barking & Dagenham, Greenwich, Hackney, Newham, Tower Hamlets and Waltham Forest.
This is Europe's largest cultural quarter with over 14,000 creative and arts business – a sizeable workforce boasting the rising Tech City and the Queen Elizabeth II Olympic Park. In amongst this energized scene however, lies some of the UK's most deprived wards in the country.
East India and Lansbury estates, Spitalfields and Banglatown, Canning Town North and Custom House boast some of the highest indices of multiple deprivation. We are interested in the proximity and distance to business centres and cultural hubs, investigating what relationships young people might be brokered with these establishments (eg. employers in an around Tech City, the general Whitechapel area along with Spitalfields).
Our intervention, albeit a small one uses existing funding to make something new happen. So why are we doing this? Here is a brief summary of why youth unemployment is such a problem now.
Youth unemployment in the UK
There are a number of reapons for high youth unemployment. It is not straight forward with contributing factors ranging from young people lacking of sector knowledge and technical skills, to poor writing and communication skills and lack of work place experience. Figures remain consistently high with East London boroughs having some of the highest levels of youth unemployment in London.
According a recent report by the Institute for Public Policy Research (IPPR) more than one in seven 16-to-24-year-olds – over a million young people – are not in education, employment or training in the UK. Whilst just over half of this young people are actively seeking work.

Figures from the Office for National Statistics (ONS) revealed that youth unemployment rose by 15,000 in the second quarter of 2013 to a total of 973,000, meaning 21.4 per cent of 16-24 year olds are out of work.
One issue follows, that competition for new paid positions is crazily high. One well known contemporary art gallery received more than 800 applications for a job offering the London Living Wage (£8.55). That's hard going.
What is the situation and who are these young people?
Who are these one million unemployed young people? Looking briefly through recent articles highlights some complex issues and concerns.
Here is some of our further research:
The British Chambers of Commerce say that school leavers and graduates don't have the skills they need to join the workforce. Their poor literacy, numeracy, behaviour and attitudes do not meet business expectations.
"Businesses I speak to want to work with young people and are happy to train and employ them. But they are often disheartened and frustrated to find school leavers and graduates do not have the skills they need to join the workforce" said Nora Chambers, president of the British Chambers of Commerce in a recent blog post.
According to a recent survey carried out by the Association of Accounting Technicians (AAT), parents don't realise the value of apprenticeships. Nearly two-thirds (63%) of parents don't understand apprenticeships well enough to explain them to their kids. 81% of parents don't realise that higher apprenticeships are on a par with foundation degrees and, in some cases, even bachelor's degrees.
"Apprenticeships are being overlooked because parents' knowledge is incomplete and based on archaic stereotypes. While parents recognise the imperative value of workplace experience, they don't know that Higher Apprenticeships are a high-quality route to getting that vital experience", highlights Jane Scott Paul OBE, Chief Executive of AAT.
There are quite a few articles that talk about issues related to careers advice for young people and careers education in schools.
For example, the National Careers Council warns of a disconnect between young people and the world of work, with high levels of youth unemployment reported at a time when employers say they have difficulty recruiting suitably qualified staff.
As a large number of schools are failing to provide decent advice, a third of school children are turning to television programmes for careers guidance, says a study published by Pearson UK.
This week a 'damning' report published by Ofsted found that more than three-quarters of schools were failing to provide impartial guidance to pupils in the last few years of secondary education.
A more global perspective
More globally, the situation is similar, with a recent news piece from Finland describing a Lost Generation of 30,000 young adults aged 15 – 24 who have completely dropped off from local service usage, having only completed their basic education, and who have not completed military service, tertiary education or even had a job.
In America, hundreds of universities are taking up a new final year assessment that measures students' analytic, reasoning and communication skills in an essay format.
The test is a potential answer to a growing complaint from employers who are looking for employees with more than just a degree. According to a study of this year's employers' hiring priorities, more than 75 percent of employers said they are looking for employees with skills in critical thinking, complex problem-solving and written and oral communication.
Better networks, better connections
The above is a glimpse into the complexity of youth unemployment. It also paints a negative picture for a generation of young people who may fear they will never get a paid job let alone a career they value.
More constructively, there is a huge movement looking to change this situation, working to improve the life chances of unemployed people, and find new ways of getting young people into work and enterprise.
The Forward Foundation is an organisation that works in London with vulnerable young people securing a fulfilling and productive livelihood. One of their main focuses relates to employability as they aim to prepare young people for the world of work by developing their soft skills, providing work experience and helping them to market themselves.
Another great example is Enstitute, a not-for-profit organisation (based in America) that runs a two-year apprenticeship program providing an alternative or supplemental path to traditional post secondary education.
The Opportunity Partnership: The scheme brings together youth related schemes run by four charities: Catch22, St Giles Trust, The Prince's Trust and Tomorrow's People. The aim is to expand their employment skills programmes and support up to 25,000 of the UK's most vulnerable young people by the end of 2015. The initiative is being funded by HSBC.
Fluency: A London-based social enterprise that combines online and classroom learning to tackle youth unemployment. The education technology startup uses a unique method of training young people in the skills that small businesses in the UK need. Its aim is to bring the young unemployed people in the UK into sustainable employment.
Work with us
"She's perfect, we'd like to take her and get her to start tomorrow", says Claire Martin from The Mill Co Project.
Claire is the director of the organisation and appointed Melissa Remai a young person from our CREATE Jobs programme. Melissa will be completing 8 weeks of work experience as a Studio Coordinator / Gallery Assistant.
This Wednesday we will push the next drive to recruit employers on to our scheme, aiming to add to the 21 new positions we have already created.
The money is small, but with employer match funding, and with access to apprenticeships AGE grants and the government's work programme incentive, creating a job is not so far removed. If you want to know specifics, you can get in touch or attend.
Our pitch is a business proposition:
Work with us to create new positions
Take on a talented young person on work experience (where they are still able to claim their JSA)
See if the role and individual are worth investing in, and then create a paid role
Use the time you have with the individual efficiently so you have more time to do what you do
At the end of their time with you -6 months, 12 months or more- you can work with us to help guide the young person on to another opportunity where now they'll have a much greater chance of succeeding because you have been able to show them some ropes about how your business works.
And this isn't just one way – during the placement's time, you've become more organised, more time ready.
We will be working on this over the next year, posting stories and following experiences. If you're interested and want to know more, please do get in touch with us.