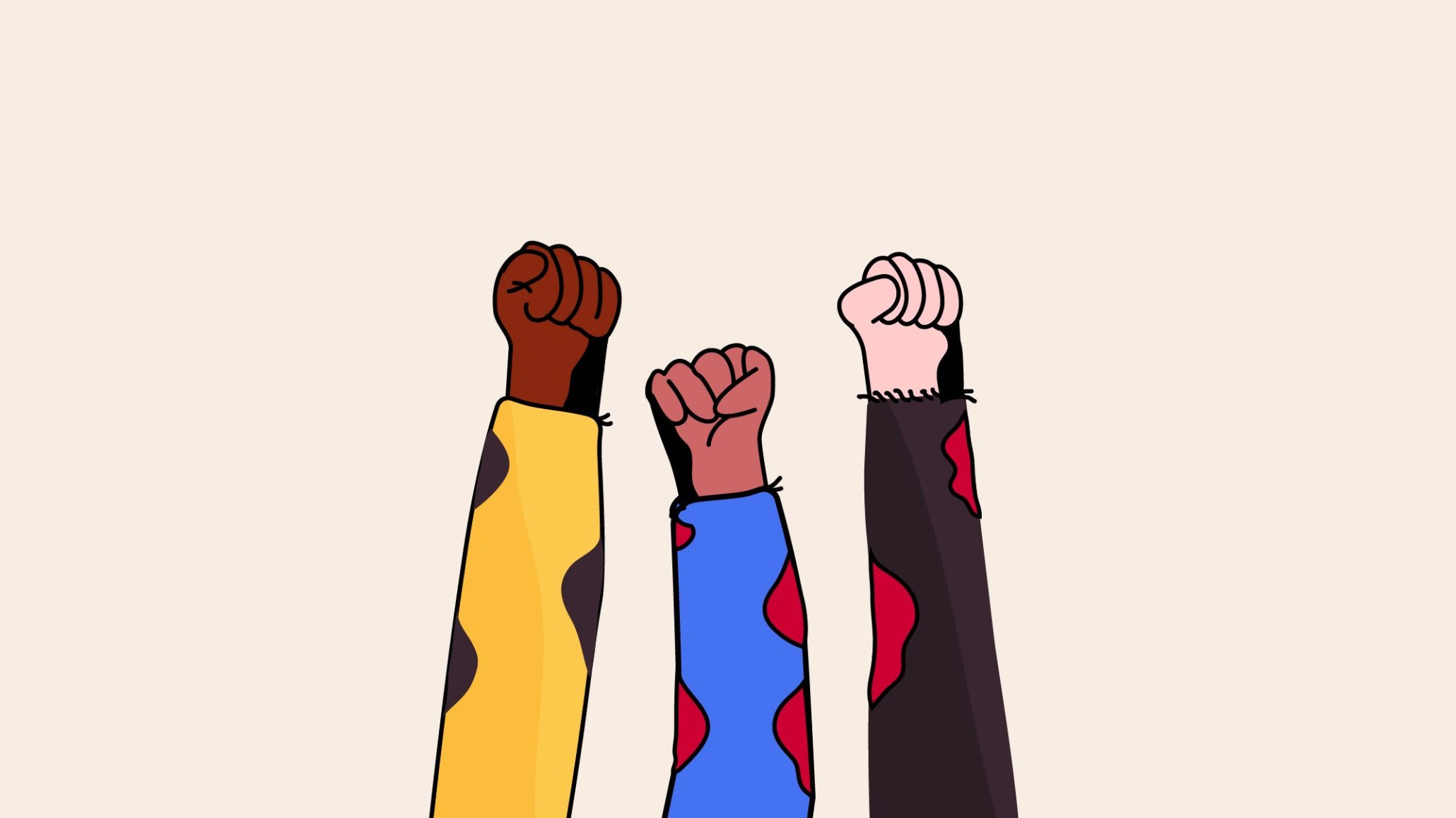 Image credit: Ivy Liu via Digiday
This summer, the importance of making Black history and cultural diversity a compulsory part of school life and learning was debated in Parliament, following a petition calling for a curricular overhaul which received over 200,000 signatures. While June's debate signalled near-universal recognition of the necessity to diversify the historical narratives young people are encountering in the classroom, the proposals were not taken forward by policymakers.
A false dichotomy also emerged between being 'informed' and being 'equipped', due to the emphasis placed 'knowledge-rich' syllabuses. A New Direction, along with many others, believe a truly enriched curriculum ensures all young people are both informed and equipped with a wide base of skills for life. Only then will a generation of young leaders, thinkers, and creatives truly learn to question, critique and understand our past, how it has led to the present, and what it can help us imagine about the future.
This blog invites teachers to consider a few ways to creatively reimagine Black history teaching at your school, with a focus on embedding Black history across subjects and throughout the year.
1. Sign up for a CPD course
The Black Curriculum have teamed up with Future Learn to provide this free teacher CPD to support educators in exploring how to embed Black British history in their subjects in line with the national curriculum. This informative online course will connect you with other teachers and provides creative activity examples for inspiration. The Black Curriculum offer resources too, and a range of services from teacher training to class workshops.
2. Embed into History lessons year-round
The endeavours, achievements and active contributions of Black Britons throughout the years are intertwined with the very history of this country – from its constitutional pressure points and conflicts, to its cultural production and celebrations. A great way to honour the tapestry of Black British life throughout the decades is by viewing these different strands through the lens of subject-specific history resources. If you are a history teacher, there are lots of resources out there to help you ensure Black History is taught all year round in all topics.
The Imperial War Museum (IWM) has put together a 'broad and balanced' series of CPD films about the British Empire to guide you through the process of thinking about the connections between different communities, diverse places, and distinct events through time.
To build upon these CPD learnings and craft your own history lesson plans, check out BBC Bitesize for resources about Black soldiers and civilians during the First World War, as developed in partnership with IWM. And to give your students an opportunity to cultivate their independent learning skills, Mangorolla CIC are running co-produced – but student-led – enrichment sessions with notable historians and researchers. These sessions aim to make Black History topics as accessible, engaging and immediately relevant as possible.
History will be relevant to other subjects too, one example being A New Direction's Geography resource: What are the Links Between Colonialism and the Environment?
3. Make use of literature
There is a renowned (and eminently repeatable) line from an essay by the author Zora Neale Hurston. Hurston – a Black woman born into the American South in the late 19th Century – describes the feeling of being contrasted against a 'sharp white background'. In essence, Hurston describes the feeling of being racialised and, ultimately, othered. The written word is a powerful medium for those who find themselves in the margins – those who find themselves othered – to better understand the world that surrounds them and to invite the world to understand them better too.
All students deserve to have access to literary works that give new insights, mirror aspects of their lived experience and, of course, illuminate realities so often obscured. Lit in Colour – a landmark partnership between the Runnymede Trust and Penguin Random House – has not only illuminated the current (non-inclusive) reality of the English Literature curriculum through their research, but also stands as a torchbearer for more inclusive and more diverse literary learning. There is a Lit in Colour newsletter – filled with opportunities for teachers to access practical support from Penguin – as well as the Lit in Colour resources, which offer a comprehensive range of author talks, book lists and practice tests for Key Stages One to Four.
Booklove is a multicultural travelling bookshop, which also has an online shop, committed to bridging the representation gap in children's literature. In London, you can also find specialist shops of diverse literature, such as Roundtable Books in Brixton.
4. Inspire with role models
Black History Month assemblies often focus on inspirational people from Black history. While biographies are a great first step, students will really start to feel inspired when considering how they can learn from those positive role models and relate them to their own lives. Alongside figures such as Ignatius Sancho and Mary Seacole, you could also spotlight John La Rose (poet and founder of New Beacon Books, the first Afro-Caribbean publishing house in Britain) as well as Barbara Blake Hannah (the first Black person to be an on-camera reporter and interviewer on British TV).
A simple activity to get you started is the 'There's a First for Everything' activity in our Teaching for Creativity Taster Cards. This activity offers a great way to introduce young people to luminaries and leading lights who have broken new ground within the Black community and the wider world.
Role models can make a huge difference to the aspirations of young people. You could use career-related learning as a framework for this to show young people what opportunities are out there for them – making sure to include people from diverse range of backgrounds in your examples.
5. Don't be afraid to have difficult discussions
Last summer marked something of a turning point in the way we talk about race and the effects of racism on Black communities. To talk is not to act, of course, and it is imperative that we do not lose sight of the need to organise, mobilise, and support initiatives that work to effect change. But to talk is to recognise and to reckon with an issue – to find a point of departure on the long journey of action. And to ensure the gains of open, and sometimes uncomfortable, discussion are not lost, we must continue to find ways of making as many of these conversation points as activating to young people as possible.
You could use Serpentine Galleries' Cracks in the Curriculum resources which aim to help teachers create spaces for discussions about racism with their classes. Our Culture, Community & Activism resource uses poetry and zine making to consider the history of racial and social justice activists Eric and Jessica Huntley, exploring issues around identity, community and voice. Some of our Teaching for Creativity Taster Cards can also be used as jumping off points for conversations, such as 'Predicting with Pictures', 'Four Corners', 'In Their Shoes', and 'Chalk Talk'. The Stephen Lawrence Day Foundation – in bringing together the legacy of a life taken cruelly too soon, the brutal truth of institutional racism, and the unrelenting struggle and staggering quest for justice undertaken by Baroness Lawrence – is a vital site of resources, opportunities and instruction on the many ways to start turning talk into action.
6. Know your rights
Conversations about rights and (racial) justice should not just be relegated to one calendar month – much like the teaching of Black History. These can be sensitive topics to broach, and it is understandable that you may not feel equipped or informed enough to navigate long-term discussions with your students. However, it is important to make that first step – to model an interest in and commitment to issues that affect us all, no matter how unsure you may be. Over the summer, we released a Boredom Buster resource filled with creative, fuss-free ways to nurture youth voice and get young people championing the causes close their heart.
You could link this to a history lesson or assembly – for example, using the 1960's Civil Rights Movement as a historical point of departure to unpack contemporary rights issues affecting young people today. Our Speeches that Changed the World resource offers one approach for this by asking students to create their own speeches on issues that are important to them.
7. Encourage active participation
Black History can be participatory too. Music Mark have a Black History Month listening calendar, providing an opportunity to appreciate music from African and Caribbean backgrounds. The English Folk, Dance and Song Society also have some free resources that reflect on music-making among enslaved people in former British colonies in the Southern United States and the Caribbean.
If you are using art, dance, or music in your lessons, why not take a moment to research whether you can diversify the representation of cultures you are using for inspiration. Tate Kids have artist profiles which are helpful for visual artwork, such as Sonia Boyce and Lubaina Himid. African Activities offer the opportunity to engage with Black and African Culture by sharing creative artistic experiences, including dance, singing, art and drumming.
8. Search on LookUp
Find more resources from arts and cultural organisations on our LookUp site using the Black History Month tag, with new resources, events and projects being added throughout the month.
You can also find more tips in our Black History month blog from 2020.
---
Where next?
Explore our Teaching for Creativity resources