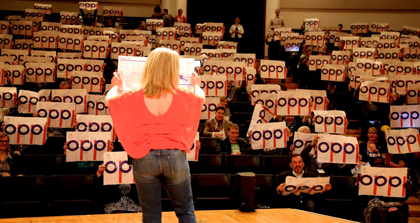 (Image credit: OPPI Festival website)
Last month I was invited to participate in the OPPI Festival in Helsinki. Described on the website as "a not-for-profit festival", this was a clever and inviting way of representing a gathering of leading international educationalists to celebrate all the best and all that needs to change within our global education system.
The festival was a real success. The two days were skilfully constructed to create an informal, stimulating environment where learning, participation and exchange were actively celebrated. Claudia Barwell (Co-Director of Suklaa, the organisation that curated and delivered OPPI) opened the two days with a challenge to all delegates: "Learn something new from someone you have never met before". Suklaa, by the way, is the Finnish word for chocolate.
It was cold, misty and the sky was grey, I hadn't brought a warm enough coat or a scarf. I'd forgotten how northerly Helsinki was – there were no buds on the trees and the only sign of spring was a few snowdrops emerging from the ground.
On the first day I wasn't feeling massively sociable (truthfully I was a tad anxious as I had been asked to run a session on "failure" – and I was feeling nervous about sharing my failures in a new context), but I was seduced by the whole OPPI energy and had two brilliant days. I learned so much about Finland's education system and its culture and acquired lots of new ideas from an array of people I had never met before. This blog is a collection of some of my random OPPI reflections.
Great speakers, great learning
Simon Breakspear from Learning Labs anchored and grounded all the key note presentations on the main stage. He was a charismatic and clever speaker. I really enjoyed his humour, positive energy and his Australian directness. He launched the festival with a provocation that we (and our education systems) are better by being different, and encouraged a more co-constructed and bottom-up approach. He challenged us to think about what really creates the conditions that enable learning ecosystems to be developed. More and more I hear people talking about the concept of educational ecosystems and this is something we really need to think more about at A New Direction – what is the ecology of Cultural Education in London?
Simon's key message was that "Relationships are still the killer app of learning". The relationship between the teacher and student is everything. Young people enjoy learning when they are excited by what they are doing, and they want to belong to the place where that excitement is taking place. The best teachers and schools facilitate that excitement.
Krista Kiuru, Minister of Education and Science, talked about the place of Finland in the PISA system. A key challenge for her and her job is obviously that Finland is no longer at the top of the league table – the Premier League. In the 1960s the Finnish government committed to establishing a basic free comprehensive education system. But key findings from the recent round of PISA scores showed that Finnish secondary school students are not engaged or excited about learning. 16 -19 year olds didn't do well, either, in OECD scores, so a key area of focus for future policy will be how best to motivate young people (particularity teenagers) to be interested in their learning.
The physical design and layout of schools has also not changed in 50 years, they all look the same. Another new area of policy development will be how to make schools more attractive and exciting as 21st century learning environments. I was really surprised to hear that another priority is digital technology. Finnish schools, and teachers in particular, are not using digital technology effectively.
Professor Pasi Sahlberg, a distinguished and charismatic Harvard Academic, shared his thoughts on the OECD PISA scores. He described how recently Finland has become a place for educationalists across the world to visit, observe, scrutinise and experience a new kind of learning holiday through 'edu-tourism'. PISA has created a new global competitive market, and Finland is still one of the top five, particularly in maths, reading and science. South Korea, Japan, Canada and Estonia are in the top four. But for Parsi the key future issue is not the league table but equity. Equity and equality was a recurring idea of the two days and a significant theme throughout OPPI.
The Finnish people I met talked openly about equity as an important value of their culture and society. I squirmed in my seat when I was reminded that the UK education system is average in terms of equity and equality – we are in the middle of the PISA league table. Average feels so ordinary – and it seems that the more money you spend on your education system, the worse things get. We spend more (pro rata) on our education system than Finland.
Key Finnish challenges include gender inequality and high learning outcomes, but also a significantly negative attitude of young people towards learning. This is a paradox as there is no apparent joy of learning, particularly with teenagers. Parsi also reinforced that Finland has a low level use of technology in school and yet is one of Europe's most technological societies – I can vouch for that – everywhere I went had free fast good Wifi. Ironically the UK is doing well on the use of technology in schools. Phew!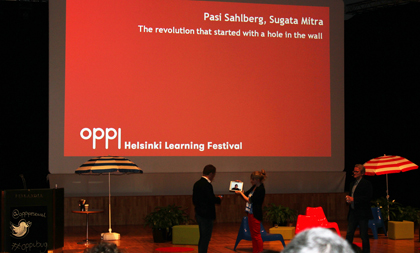 Tim Walker is a teacher from the USA. His wife is Finnish and he and his family moved to Finland at the start of last academic year. He has a blog where he writes about his experiences. In his first week in school he was amazed by the independence of his students. He described them as "Students having their own agency". He was surprised by the freedom teachers have to interpret the curriculum. Unlike in the US, teachers in Finland are trusted and valued. There is serious focus on the wellbeing of students and staff, an example of this being that there is a 15 minute break after each 45-minute lesson. The number of hours for Finnish teachers to teach is incredibly reduced. It was refreshing to hear his perspective, his experience and his passion for his job.
Esko Aho, a former Prime Minister of Finland, was another articulate Professor from Harvard (OPPI had loads of them!). He talked about governance and how he feels that existing democratic decision-making processes are exclusive, inherently traditional and based on a model that is out of date. The time frame for government decision-making is slow, and his argument was that we need a new radical concept of government. This was interesting and exciting particularly as he talked about the new Digital revolution and its ability to fight and address inequality. He believes that schools, education and the Digital world are essential to creating equity and will play a significant role in the democratisation of government in the future.
I hadn't quite realised that as many as 7 billion people in the world have used a mobile phone and that the 1969 moon landing was guided by the equivalent technology of one phone. That is pretty incredible and I was quite shocked that I didn't know that!
It's hard to capture the stories of Neil D Souza. He runs a programme of learning labs and innovation in schools across India through an organisation called Zaya. The scale of the challenge to deliver a high quality education in India is unprecedented. There are over 300 million young people attending some form of schooling across India and Neil is working with a new emerging low cost private solution involving part time fee-paying schools (10 dollars a month) in shopping centres.
Neil's background is development work in Silicon Valley where he created a prototype to take the cloud into classrooms. It was captivating to see photographs of children sitting on a rug (10 per tablet) in a former shop / warehouse all focussed and learning, with about 100 children in the space. Neil has developed a platform to support teachers with a consistent offer that supports a relatively low-skilled teacher with a set of tools. He gave an example of a teacher using an animation from YouTube to teach his pupils about space and gravity. I was sad to learn that there is significant corruption in state subsidised schools and the concept of low cost private schools is a way of parents guaranteeing their children a quality education.
On Skype we were joined by Sugata Mitra, winner of the 2012 Ted prize. He pioneered the "Hole in the Wall" experiment to see what would happen if you created access to a computer for young people who did not know how to use a computer or even knew what a computer was. The experiment happened over 15 years ago and, as Sugata predicted, the children began to explore, experiment and teach themselves how to use the computer. Through peer learning, the children found solutions and became incredibly adept and proficient at using the computer and its software. Much has been written on this and the findings revealed that groups of young people unsupervised for nine months were able to develop proficient skills in computing. The key to enabling this to happen was collaborative learning. This minimal invasive system of informal learning and self-organised learning is Sugata Mistry's argument that teaching and the way it is delivered is out of date. Overall, the session was fascinating and a really interesting approach to experimentation and enquiry.
On day two Sarah Brown introduced her charity: A World at School. The purpose of the campaign is to get all children into school and ensure that across the world every child's basic right to go to school is realised. It sounded simple enough but the message and values behind this initiative were incredibly clear and Sarah presented them with an elegance and gravitas that was inspiring.
I got through my session on "failure" and found that the experience of talking openly and candidly about what hadn't worked was quite cathartic and liberating. The Wikipedia definition of failure is: "the state or condition of not meeting a desirable or intended objective, and may be viewed as the opposite of success".
I realise now that my example of the Theatre Venture opening - an outreach site in a former play hut in a public park in Beckton (21 years ago) - would have never really been a financial and community liaison success. This was a personal learning curve. The opportunism behind the initiative lacked proper local community consultation and there was no real opportunity for local ,ownership particularly for the young people it was targeted at. An arts organisation doing what it felt was right but going about it in the wrong way. Looking back it was hugely naive.
'A celebration and a real learning exchange'
Overall, the OPPI Festival was clear, not naive and achieved its objective. It was a celebration and a real learning exchange. Nothing captured this more than my personal highlight at the end of the two days in Lily Kam's presentation, where four young people from the I.AM.ANGEL Foundation in Los Angeles joined us via Skype. It was 5 in the morning for them and they had organised a sleepover to be able to wake up in time to connect with OPPI. They had worked on a robotics festival and as part of I.AM.ANGEL's STEM programme. The energy and enthusiasm of these teenagers was a real delight. It was infectious – you could see the moment in their eyes when they realised they were communicating their ideas to an audience of over 200 international delegates – it was powerful – and they were revelling in it. It was a real pleasure to witness and participate in an extraordinary platform where young people could share their passion and excitement about what they had learned.
OPPI has lots of meanings. It is an older Finnish word that means lots of things. But in this context, its meaning was something like to "learn something new" and to "transfer wisdom". My conclusion from my Helsinki was that there is never enough we can learn and we all need a bit more OPPI in our lives!
---
Like this blog?
We send out a monthly digest of all our blogs, news and updates - sign up here to receive straight to your inbox - www.anewdirection.org.uk/newsletter
You can also follow us at @A_New_Direction