CENTRES Conference Presentations and Film (25 Jan 2013)
Thanks to everyone who attended, and contributed to making the day so interesting and dynamic. Here you can download the documents and presentations from the day, we hope you find these useful.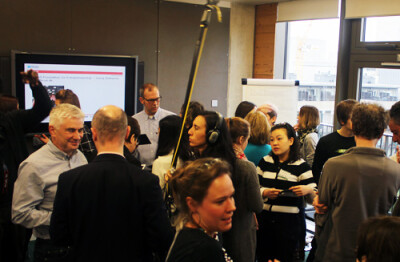 Programme of the day
Download CENTRES London conference programme (365.57 kB MSWord)
Attendees
Download CENTRES conference attending organisations (55.30 kB MSWord)
Film of the event
Watch the highlights of the event here
The presentations
Download 01. Introduction John Kieffer (426.44 kB Pdf)
Download 02. Keynote Somethin Else Steve Ackerman (464.00 kB Pdf)
Download 03. Keynote Entrepreneurship and entrepreneurial l (1.33 MB Pdf)
Download 04. Seminar Design Ventura Catherine Ritman Smit (2.69 MB Pdf)
Download 05. Workshop Gearing Up Real Ideas Organisation (1.13 MB Pdf)
Download 06. Workshop A Hurricaine of Creativity Peter Ra (356.60 kB Pdf)
Download 07. Keynote Finland a forerunner in the field of e (841.87 kB Pdf)
Download 08. Workshop Find Your Creative Passion ENTRUM (716.41 kB Pdf)
Download 09. Final Thoughts The Importance of Creative Entr (3.43 MB Pdf)

CENTRES (Creative Entrepreneurship in Schools) project has been funded with support from the European Commission. This publication reflects the views only of the author, and the Commission cannot be held responsible for any use which may be made of the information contained therein.