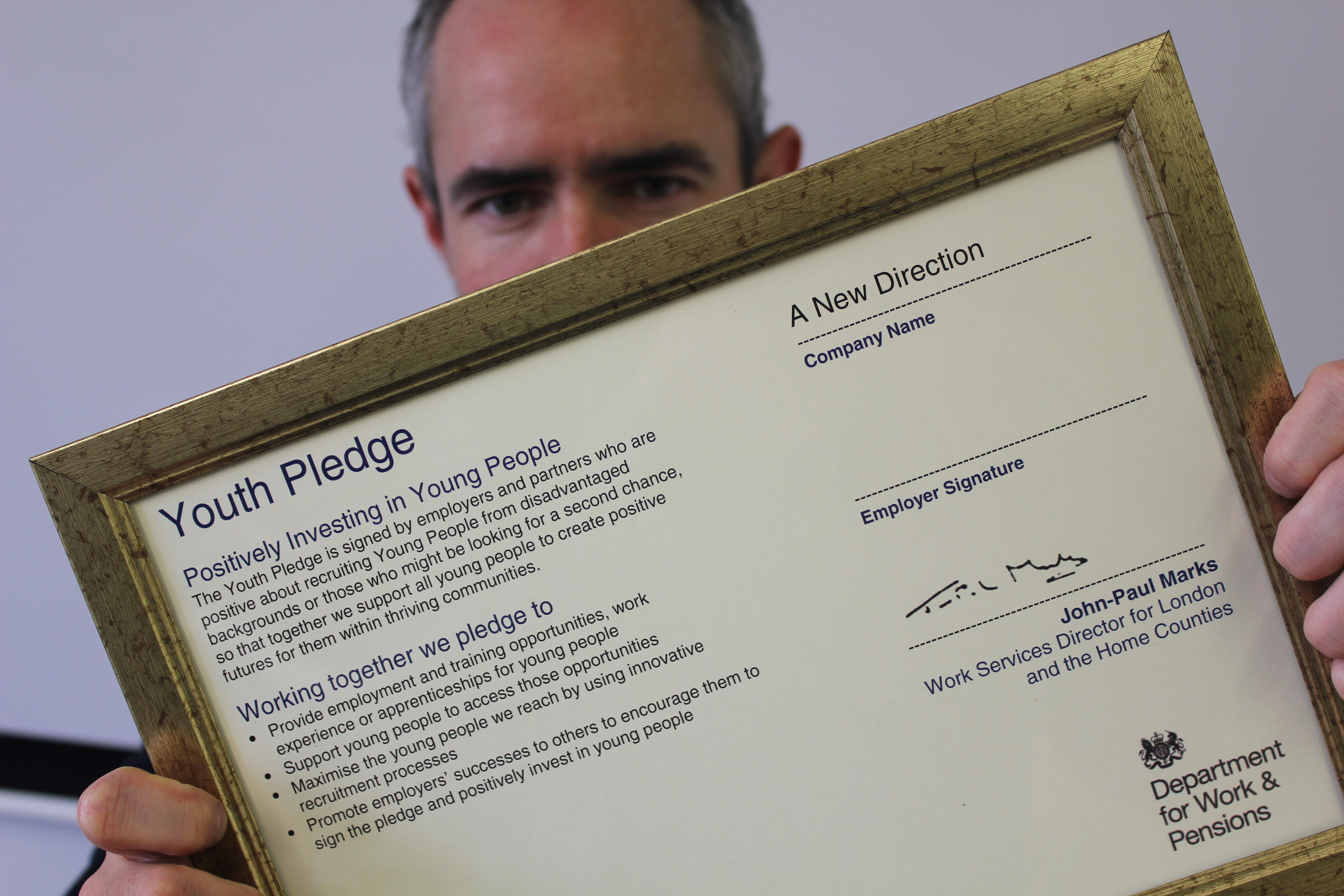 This morning, in a room within the Royal Exchange where Queen Victoria once spent the night, I had the pleasure of representing A New Direction and the Create Jobs employability programme at the Department for Work & Pensions Youth Pledge.
The scheme encourages employers who are 'positive about recruiting young people from disadvantaged backgrounds or those who might be looking for a second chances, so that together we support all young people to create positive futures for them within thriving communities.'

The core Pledge is for employers to:

Provide employment and training opportunities, work experience or apprenticeships for young people

Support young people to assess those opportunities

Maximise the young people we reach by using innovative recruitment processes

Promote employers' successes to others to encourage them to sign the pledge and positively invest in young people

It is relatively easy to stand up and pledge one's name to such an initiative. The cynic in me questions the PR behind it, while the pragmatic optimist sees the Pledge as an opportunity to mark the impact we have made, meet new organisations, and create new work together.
Through the morning, I heard some great examples of projects and programmes that meet local need by working innovatively and in collaboration.
Made in Tottenham, a new fashion label that works with young offenders who upcycling and design sweet looking clothes, makes me want to (almost) support Tottenham Hotspurs, while the Milestone Group are designing a very interesting social engagement programme focused on helping young people match interest and skills with vocational training and employment opportunities.

I am delighted to put A New Direction's name to the Youth Pledge and welcome wider involvement in creating positive employment pathways for young people across the city.
A great morning of meeting like-minded organisations. I very much look forward to working with them.
To make a link with us and Create Jobs do get in touch through createjobs@anewdirection.org.uk or direct to oliver.benjamin@anewdirection.org.uk