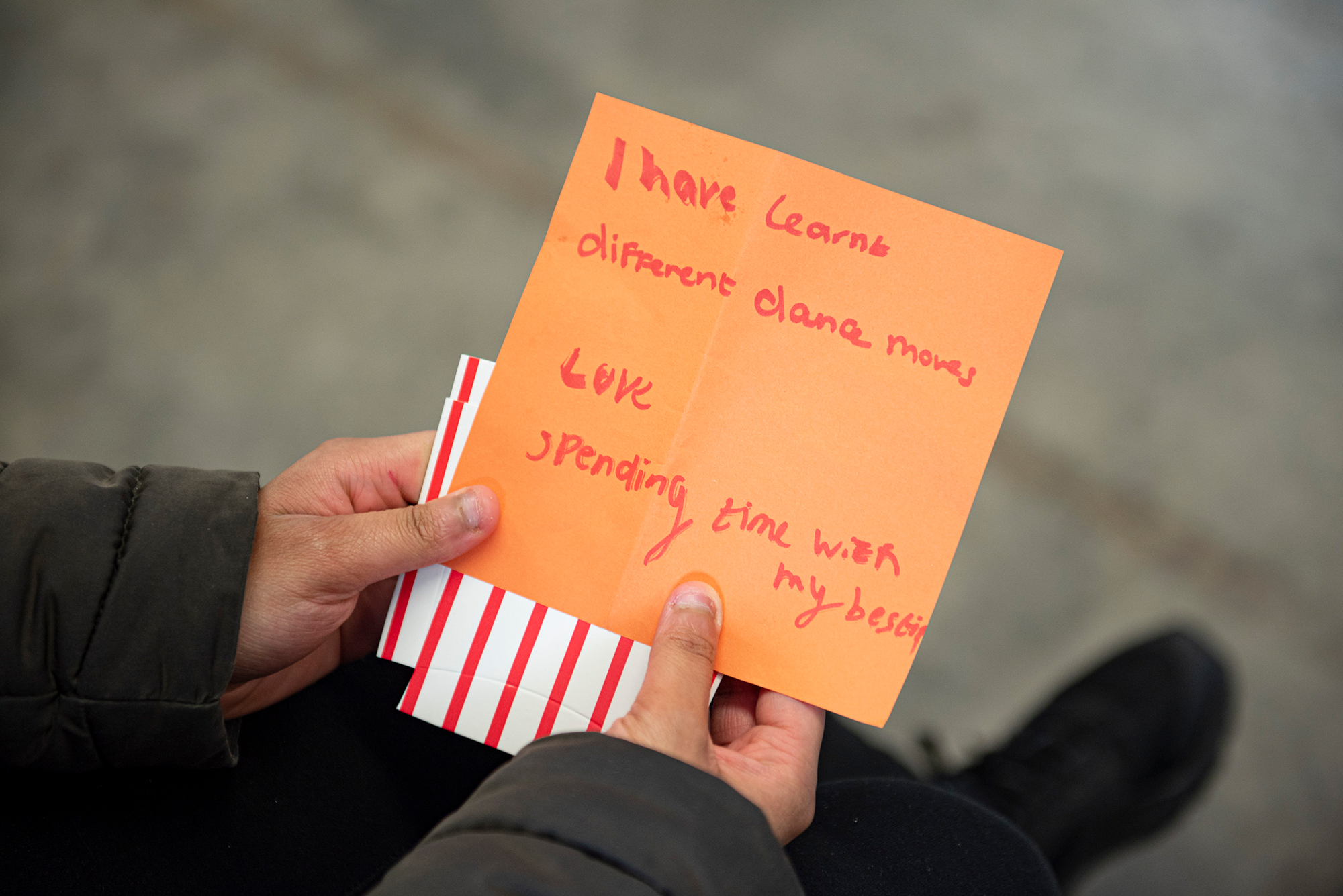 Image credit: Jessica McDermott for A New Direction
So much in 2020 was paused. Plans put in place long before anyone had heard of Covid-19 were suddenly on hold, and some had to be abandoned altogether. But that wasn't an option for We Belong – A New Direction's arts enrichment programme which aims to build connections between young people in care.
Just because we were no longer able to arrange workshops in person, it didn't mean the work had become any less vital; just because we all had to stay within our individual lockdown bubbles, it didn't mean we had to stop reaching out to the young people we had been connecting with.
Our new challenge was how to deliver a programme designed to decrease isolation… while everyone in the programme is in isolation! We were determined to find a way to make it work. We re-directed our efforts and experimented with new ways of working to make participatory projects that could be delivered remotely, such as online photography workshops with Jess McDermott. The group first took part in skills building sessions to learn new techniques – looking at photography over time and spending time offline creating a series of photographs that were shared with each other in online sessions.
From this we learnt that online workshops are not for everyone. There is an awkwardness that comes with everyone seeing you via a screen – and an awkwardness in seeing yourself as well! It can also add a certain pressure that isn't the same as when you're all in a room together. The pressure to come off mute and say something in front of everyone can be really off-putting. When you're in a room together you can diffuse this tension – you design activities which don't shine a spotlight on individuals. Asking everyone to turn up at the same time for a session online and interact with each other was not always the way forward, so we looked for new ways.
Introducing the We Belong Digital Zine
We developed a zine project which invited participants to explore zine-making in their own time, and then co-create a digital zine with other participants. Zines are small booklets which focus on expression and creativity, and can be either hand-made, photo-copied or digital. They are a great way for young people to share their thoughts, opinions and artwork with others. Our We Belong zine resource was sent out to all the young people involved in the programme across Barnet, Brent, Harrow and Ealing, and we made it clear that they could engage with it as little or as much as they wanted.
Featuring video tutorials from artist Kirsty Reynolds, the resource took them through a step-by-step making process with techniques and examples. This was complimented by a Menti guide for their creative process, designed to replicate what might happen in the room at the idea-generating stage. There was also an inspirational blog from Daikon Zine Collective, which explained their 'D.I.T. Do-It-Together' process of co-creation.
The We Belong Zine Resource is available to download for free here and may be something you'd like to try with your own children or students.
We sent it out into the world and waited for content created by the young people to be sent in… and to our delight, it arrived! Their beautiful art, poetry and creativity can be seen below in the collective digital zine which has been compiled from all their contributions.
Their zine made us smile, touched our hearts and convinced us we were on to something. Just because we are all going through this pandemic in our own bubble there is such a power in taking part in something together – even if we're not in the same room at the same time making it.
The zine-making process inspired us to think about the next steps for the We Belong group and their creative journeys. We've put together a team of inspirational artists and are planning a We Belong Digital Residency to take place in the Easter holidays. It will be five days packed with creative expression and discovery. Workshops will include storytelling, drawing, poetry, animation, collage, rap, making, design and drama. Participants will be able to choose their own path through the week and engage as little or as much as they want. We will explore together, in our own bubbles, what we want to say to the world.
We look forward to reporting back on this new adventure.
---
Where next?