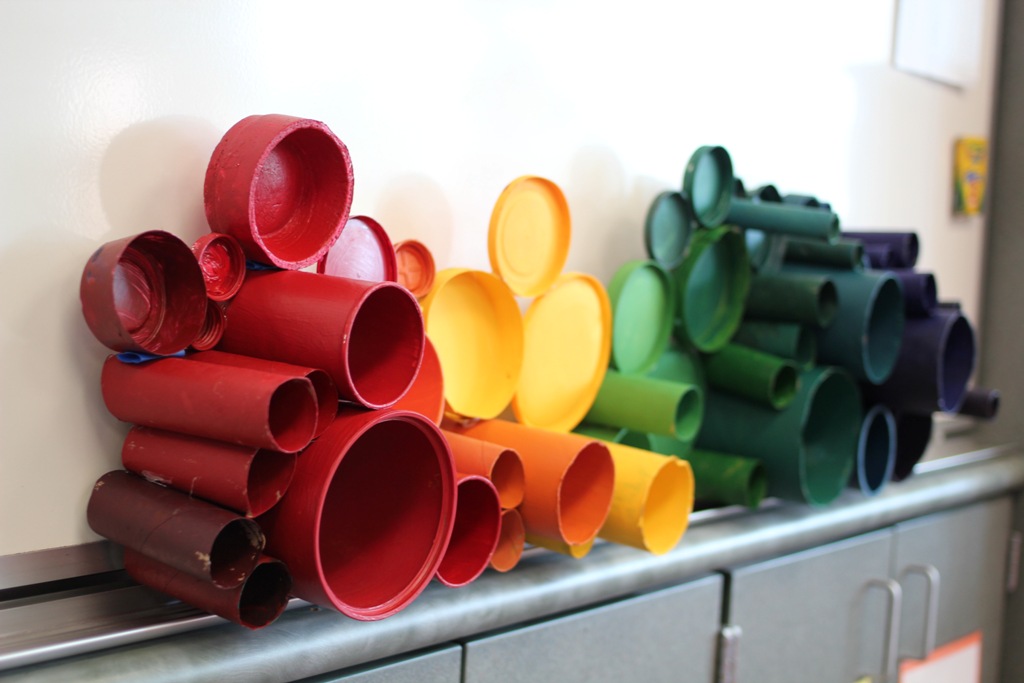 Image credit: PaperSeed Foundation
1. Use reclaimed materials
Let's start off with a somewhat obvious one. As we all know, teachers collect magazines for collaging like magpies. But nevertheless, it's an important point to remember.
ANYTHING can used in crafting and visual arts, including materials destined for the recycling or the bin. Wrapping paper, ribbon, plastic bottle tops, tins, bottles, cardboard tubes and boxes, you name it.
2. Take advantage of nature
Get outside to your local park and collect a stock of natural material, such as leaves, flowers, feathers, twigs, fir cones, acorns etc.
Spices from the supermarket with interesting textures such as star anise or cloves might also make relatively cheap interesting objects to draw, and you can also re-use them in future!
The surrounding area can be great for inspiration too, whether drawing landscapes or buildings, or looking for patterns or shapes by taking closeup photos of things the pupils can see on local walks.
3. Be sensible about building up stores
If you have the space in your classroom, build up an organised store of free items in advance, rather than waiting until the week before only to end up desperately pestering everyone you know to overbuy on cereal and give you the boxes (as I once did).
However, when it comes to buying supplies for your store, before you spend all the budget on new paint brushes, do a consultation with your teaching staff to find out what they will actually need resource-wise for the next year. You might not need to buy as much modelling clay as you thought!
4. Ask people to donate materials
Plan ahead and ask parents and staff to bring in what you need if you need a large amount of something or your stocks are running low. You might not be able to request paint or a new set of coloured pastels, but many parents will be pleased to supply unwanted household items such as old keys for drawing inspiration, metal coat hangers for sculptures, or bottle tops for mosaics.
Some schools find having a basket in the school foyer with requests for specific items works well, and takes your pleas directly to the parents.
If you are planning a largescale artwork, it might be worth contacting local business or hardware stores for donations of old rolls of wallpaper or carpet samples.
5. Find inspiration online
To save your pupils (and their parents and carers) from the dried pasta portrait, if you have a surplus of one type of resource and you aren't sure what to do with it, why not make use of the massive amount of inspiration to be found online.
Pintrest might not have lesson plans and guidance on how to deliver an activity, but it does have loads of visual ideas on bottle top art and other crafty projects to make use of your built-up store of reclaimed objects.
6. Know what not to spend money on
Visual arts will always require some spending on materials, but some resources can be scrimped on more than others. Make sure that you invest well in things that will last a long time and can be used again and again, such as decent water colour paint sets or brushes in a variety of sizes.
Your pupils might not always realise the high cost of equipment without being reminded. Those nice paint brushes you started the year with will last much longer if pupils are encouraged to treat them as special. A two-minute refresher on how to choose the correct brush thickness and how to hold it – not to mention making sure only one careful person washes them up at the end – may just save you from having to buy a new set every year.
If you want to use high quality paper, make it go further by cutting it in half. This will miraculously reduce the number of times you have to tell your pupils to fill the entire page too!
Other items such as clay, pastels, crayons, glue, and felt pens don't last, so these are the ones to buy as cheaply as possible in back to school or bulk buy offers.
7. Use staff expertise and interests
It's remarkable what unknown talents people have, so it's worth doing a staff skills audit and even a consultation with the wider school community, including parents and carers. You might have teachers who teach dance on the side and can lead on this in school, or a parent who works in animation who could help with some CPD.
8. Can you be more cross curricular?
Think of how to hit that cross curricular target but with budget in mind, and new opportunities to connect the arts with other subjects might flourish. Maybe one subject or department in particular has extra funding or surplus budget to spare which you hadn't thought of linking with before?
Music is also a topic in science, but there are amazing apps these days to link it with IT too. Tablets that your setting may have invested in already could be used to explore colour in place of actual paints or to create digital collages. Physical Education teachers might be eying up new footballs, but could you convince them to put some money aside for a dance workshop?
9. Pool your resources
You might already be part of a hub or a group of schools who share training, but can you also borrow and share resources? Some specialist teachers might be able to work across school settings, or perhaps a secondary school could lend out the use of their performance space to a nearby primary? If you want to use cameras and equipment for filming, another school may have the technology already and be able to lend it out.
Take a look at A New Direction's Connected Network Meetings to find out more about how to set up or get involved in a Local Cultural Education Partnership where you are.
10. Find a cultural partner
Arts and cultural organisations have lots of offers out there already for schools, and if trips are too costly, there is support for that too, such as the Culture Mile's School Visits Fund.
You can also go one step further – some galleries and museums will want to develop their own educational offers by collaborating with a partner school on their Artsmark journey. In exchange for testing and giving feedback, schools may be able to benefit from free or discounted workshops and lasting partnerships.
However, it's unlikely that these offers will come to you – you need to go out and find them, letting potential partners know why you are keen to work with them. Some organisations offer events such as The London Transport Museum's Teacher Forums where you can find out about upcoming projects. If you have a student arts council, ask them to help you research potential partners to approach, or even support the students to do the asking themselves!
A New Direction host regular Artsmark Connects and Arts Award CPD events, both of which give teachers the chance to network and experience creative offers from London's cultural sector in an informal evening setting. You can also check out our LookUp platform, featuring events and workshops from across London's arts and cultural sector. And, finally, if you're not already, sign up to our regular half termly e-newsletter to stay up to date with the latest opportunities.
---
A special thanks to our Brent 2020 Cultural Leads, who helped with suggestions for this blog.
Do you have any more tips for saving money in creative subjects? We would love to hear them. Get in touch with us: schools@anewdirection.org.uk
More blogs you may be interested in:
Exploring life sciences through visual art
Artsmark Connects: exploring consortium working