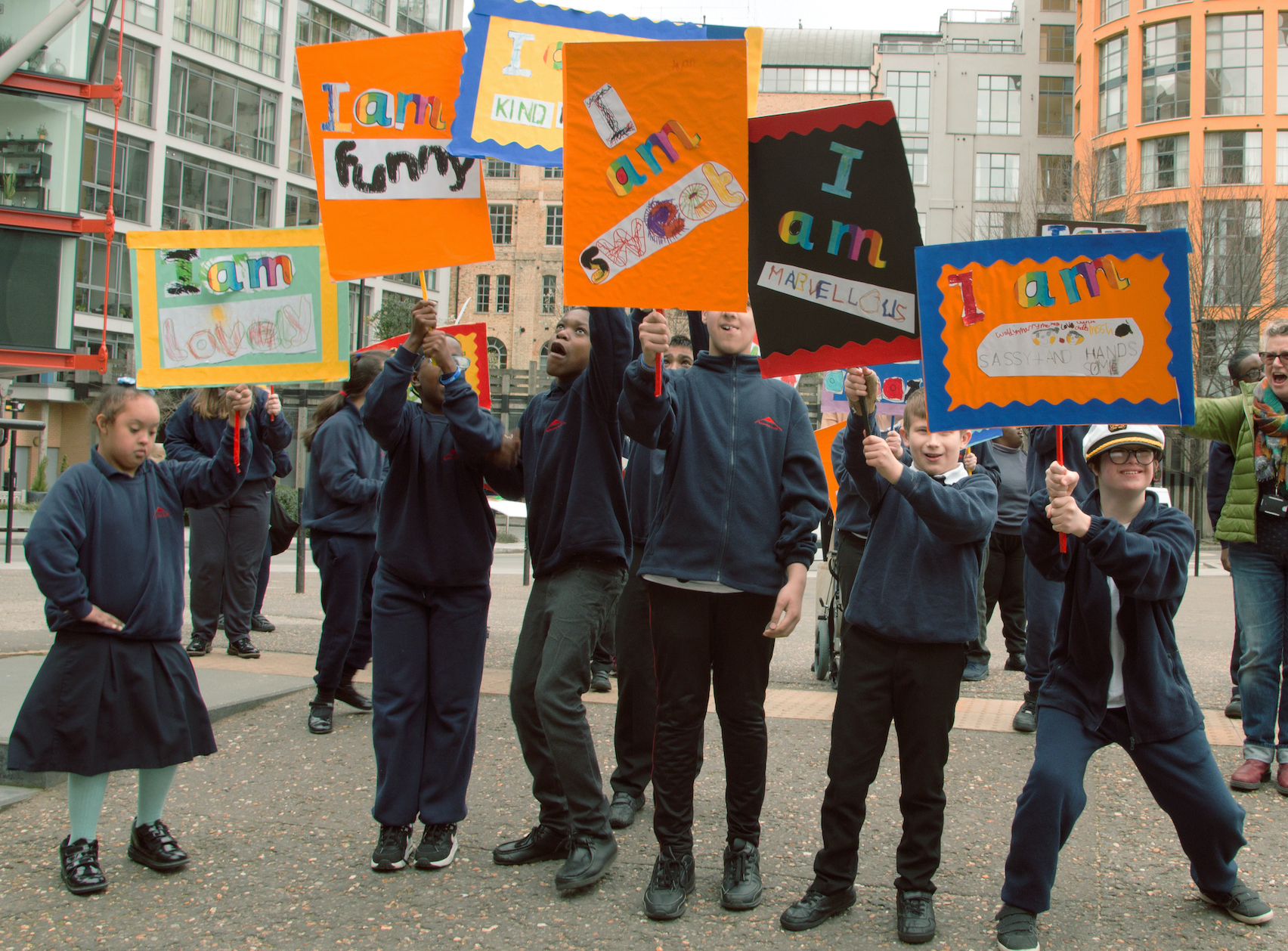 On 24 March 2020, 130 students and staff from SEND schools across London were due to arrive at Tate Modern to launch the fourth I Am At Tate Exchange Festival – our yearly celebration empowering D/deaf, disabled and neurodiverse young people to explore their creativity.
Over the past four years, the festival has provided a platform for young people to showcase their talents, leadership, ideas and opinions. However this year, due to COVID-19, the Tate Modern closed its doors, and, sadly, the festival was postponed.
Taking the theme of 'Power' as inspiration, schools, artists and the Festival Assistants had been exploring the power of choice, music, love and so much more in preparation for the festival. So, continuing in this vein, we've harnessed the power to adapt, and are happy to announce that from 29 June to 05 July, we will open the virtual doors to the first ever I Am At Home Festival! Join us for a week of online celebration, sharing and discussion.
Throughout the week we will be sharing content from the teachers, artists and young people who were due to be joining us at the Tate. There will blogs written by artists and SEN teachers, virtual events with disabled-led cultural organisations, along with videos, resources and more.
Book your free place at an upcoming event below, and follow the #IAmAtHomeFestival hashtag for updates across the week.
Q&A with Jason Wilsher-Mills - 29 June 2020
Disabled digital artist Jason Wilsher-Mills worked with two London SEND settings – Woodfield School and The Garden School – to explore the theme of 'Power' for I Am At Tate Exchange Festival.
Join Lynne Brackley, Creative Producer of the I Am Festival, as she talks to Jason about the work he created with young people for the festival, his creative process, and his amazing new inflatable sculpture project Jason & his Argonauts. Attendees will also have the oppotunity to ask Jason any questions.
Q&A with Flute Theatre - 30 June 2020
An opportunity to hear about the work of Flute Theatre, and in particular how they have adapted their performances from physical to virtual space.
This Q&A is preceded by a live event, observing how Flute Theatre work online with a young person and their family through Pericles. This is a closed event for those working within SEND settings or cultural organisations looking to develop their SEND work. Please contact schools@anewdirection.org.uk to request to join.
Big Change #3: Power in Practice - 1 July 2020
As schools and cultural venues consider reopening and map out their creative programmes for the next academic year, it is an opportune moment to consider how models of work can be rebuilt around access and inclusion.
Attendees at this Big Change CPD event will have an opportunity to learn about A New Direction's SEND Network, take part in a workshop with my AFK – a national charity supporting disabled children, young people and their families – and hear how other disabled-led organisations are responding to the current situation.
The COVID-19 pandemic has sparked actions on many fronts, including the We Shall Not Be Removed Collective's action and open letter to the Culture Secretary which advocates for safeguarding the future of disability arts in the UK. Now more than ever the sector needs to consider a joined-up approach that supports inclusion within the current workforce and opens pathways for the next generation of D/deaf, disabled and neurodiverse young people.
Whatever stage you are at in your considering commitment to access and inclusion during this time of recovery, this event will give those working in London's arts, cultural and heritage organisations and opportunity to hear from each other and share practice.